15 Jul. 2022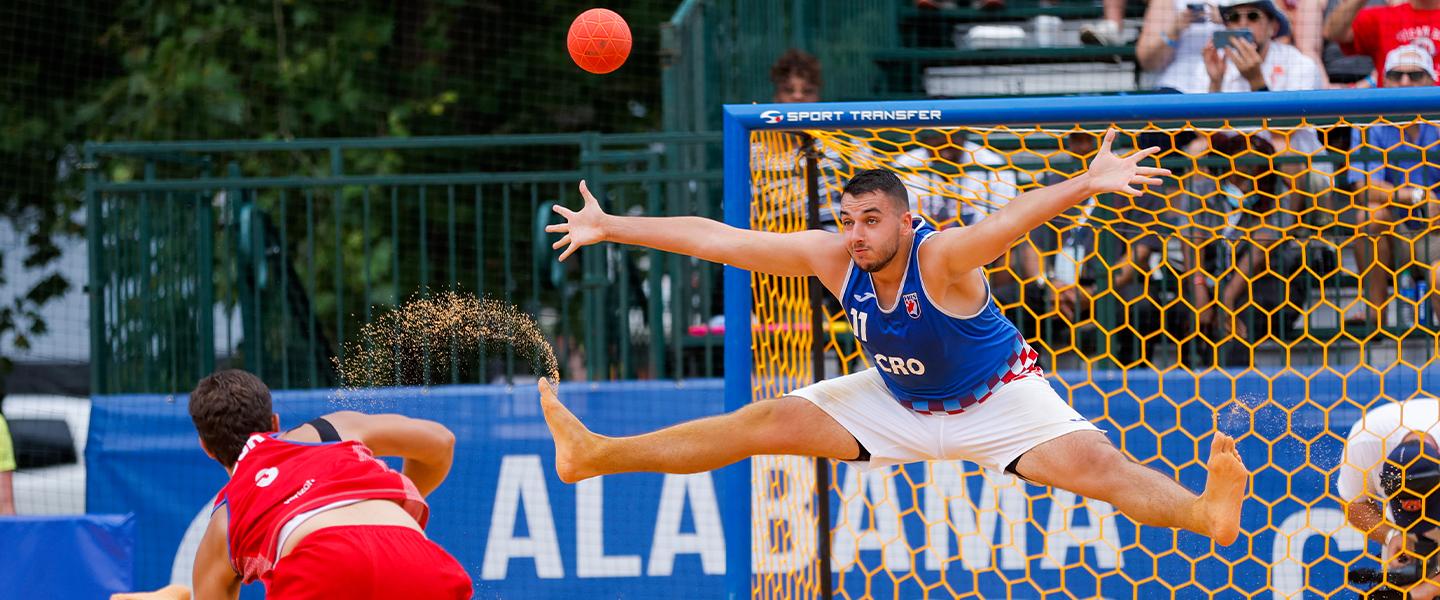 The final day of the men's beach handball competition at The World Games in Birmingham, USA will end with the 22nd and last game, when Qatar face Croatia in the gold-medal match at 17:30 local time.
Two hours before that, Brazil and the host nation will clash for the bronze medal.
The final: Croatia vs Qatar 
17:30 local time
In 2017, both Croatia and Qatar medalled at The World Games in Wroclaw, Poland with Croatia losing to Brazil in the final and Qatar defeating Hungary for bronze.
From 2005 to 2013, Croatia recorded three The World Games bronze medals in a row, but with their final appearance in 2022, they have now recorded two finals in a row after that 2017 loss.
Qatar finished fourth in their debut The World Games appearance, in Cali, Colombia, in 2013, after losing to the Croatians in the semi-finals.
Now, they have recorded their highest-ever ranking and will face a Croatia side who are the newly-crowned world champions after winning the 2022 IHF Men's Beach Handball World Championship in Greece just last month.
The two teams have already met in Birmingham. Croatia won 2-0 (29:20, 22:18) in a win which included 16 points from Greece 2022 MVP and top scorer Lucian Bura.
"In 2017, we gave them the game and they didn't believe what was happening then," said Qatar's Mohamed Ahmed Zaky, who played against Croatia in both 2013 and 2017, to ihf.info. "We were having a lack of self-confidence that we could win."
There was certainly no lack of self-confidence in Qatar's second period demolition of title-holders Brazil in their semi-final yesterday which led to a shoot-out win for the Asia continental runners-up.
"We were very nervous in the first period, but we were bored of getting kicked off every semi-final we have been through, so then [we knew] anger is not working, revenge is not working," said Zaky about the semi-final win.
"We calmed down and did what we are meant to do. That is: play beach handball and enjoy the show. No more stress, just give it all that you have in order not to regret anything later."
His side certainly have no regrets, with Croatian captain Ivan Juric watching and acknowledging a strong defensive performance, which saw Qatar restrict Brazil to just 10 second-period points.
"It was a great game to watch," said Juric, who is playing in his fourth The World Games after his debut in 2009, to ihf.info.
"Brazil were playing their game and made chances for open shots, but the Qatari goalkeeper was on fire, making some crucial saves at the beginning of the second set. We will just have to be very concentrated while shooting.
"It is difficult to beat the same team twice at the same tournament," he added about facing Qatar again. "They learn more from defeat than us from the win. I guess we will just have to play our game: patiently in the offence, and strong and focused in the defence."
Birmingham 2022 represents a chance for Juric to win gold for the first time and to complete his set after two bronzes (2009, 2013) and silver last time out (2017).
"These are my fourth The World Games since I started at Kaohsiung 2009," said the 35-year-old. "My happiest memory is reaching the final in Wroclaw 2017, but we had the best time in Cali 2013.
"Sleeping with any medal is one of the best feelings, just below winning a gold," he said about having already confirmed at least a silver. "But I feel that now it is time to go all the way through to the end, to win a gold."
Juric also credited the majority of his side in Birmingham playing and winning the inaugural IHF Beach Handball Global Tour held earlier this month in Gdansk, Poland. 
"We went to Gdansk to have a good preparation for The World Games," he explained. "Winning that tournament helped us maintain our 'winning mentality', but, on the other side, we didn't have much time to rest."
Bronze: USA vs Brazil 
15:30 local time
Historic record winners Brazil and debutants USA go up against each other for bronze two hours before the final, with Brazil last standing third on The World Games podium back in 2001, in the very first edition.
The South American side had won the last three editions and will face the USA again in Alabama – the two played each other in the preliminary round on Tuesday, with Brazil winning 2-0 (27:24, 21:20).
It was a close-run affair – the USA ran out of time to catch up in the first period and then lost the second to a golden goal after the teams had missed their six previous attempts between them.
Placement Round 5-7: Argentina vs Puerto Rico
12:50 local time
In the men's 5-7 placement round, Argentina take on Puerto Rico, with the winners ensuring a fifth-place finish. Both are The World Games debutants so whatever the result, they have both recorded their highest-ever rank.
Another debutant, New Zealand finished the competition in seventh place yesterday after playing and losing twice in the two opening games of the round.