07 Dec. 2019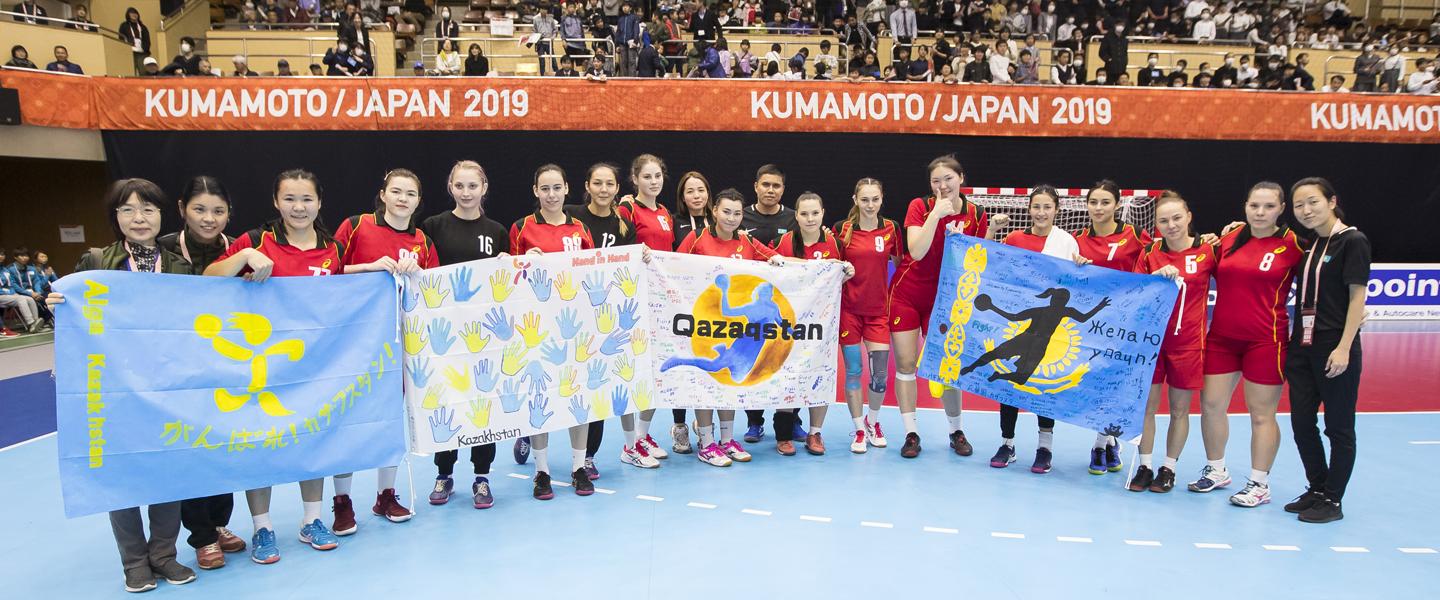 Throughout the 2019 IHF Women's World Championship, currently being held in Kumamoto, Japan, schoolchildren from around Kumamoto Prefecture have been attending matches at all the different venues as part of a wide-ranging educational programme with their schools.
Specific schools have been allocated teams and nations to follow during the championship, with children learning about the countries, their cultures and learning their language. Teams at Japan 2019 even visited their allocated schools before the championship started with children attending games, cheering for their sides, complete with hand-made signs to inspire those on court.
"I didn't know anything about Kazakhstan before this," said 12-year-old Anno from Ryokuto Junior High School, who was attending the preliminary group C clash between Kazakhstan and Spain at the Yatsushiro General Gymnasium.
"I didn't know anything about handball either before, but I like it now," she added. "Our physical education teacher gave us lectures and showed us handball before we came, and he made sure we played before we came here. We now play handball in PE classes as well and when we cheer for Kazakhstan, we become one team with them. They play very powerfully and attractively and that's why I like them."
Schoolmate Kana, 15, was also impressed by the Kazakhstan team, one of the lowest-ranked teams in Japan, who eventually lost 43:16 to the European giants.
"They are not the strongest team, but they tried very hard and tried to get as close to the goal as they could and that impressed me a lot," she said about the Kazakhstan team. "We have learnt a lot about their language, the capital city, their food and its inhabitants – Kazakhstan are so cool.
"We have been playing handball at school too, it's fun to play and I want to keep playing it."
For the players who are far away from home, the focused support has been a pleasant and much-need surprise, providing an extra boost on court.
"I am very happy to see our flag here in Japan with these young fans," said Kazakhstan line player Irina Baranovskaya to IHF.info. "It's very beautiful and it's a very, very amazing feeling and gives us extra energy on court.
"We are really surprised about all these schoolchildren here supporting us and shouting 'Kazakhstan, Kazakhstan', we didn't expect it, but it really gives us more energy – we get a lot more energy from it."
Another Kazakhstan supporter from Ryokuto Junior High School was 14-year-old Shonosuke, who revealed he would not forget the day any time soon.
"The board of education decided for us to cheer for the Kazakhstan team," he said. "This has been a great experience, one which I would never normally have, so that was great. It was so cool to have the opportunity to come to the arena and watch games which are being shown all over the world."
"They have all improved their knowledge a lot," said Principal of Ryokuto Junior High School, Yamada Tetsuro. "It's really important for everyone at this school to learn about different cultures and it was a great opportunity for them to come to this match and see a real game being played. 
"It has all been a great opportunity for them to watch matches, learn about all the different cultures and different people and they will never forget this experience."
Spain's Lara Gonzalez Ortega was also impressed by the support which her side received strongly from their own set of fans.
"We are really far away from home and we don't have so many people who came here from Spain, just some families, so it's really nice to play here with this support," said the left back to IHF.info. "Of course, this is not home, but we feel a lot of support from the Japanese people. 
"Before we started to play here, we didn't know how many people would be in the hall supporting us, so we were a bit afraid it would be a bit quiet for us, but it was the complete opposite. We really enjoyed it and we hope they will support us until the end."
Montenegro's Jovanka Radičević faced Spain in Yatsushiro, the following day and was also full of smiles when asked about the support for her side.
"I am really surprised about them," said Radičević when asked by IHF.info about her – and her teammates' – shocked faces when they came out to rapturous cheering, applause and 'Montenegro' chants, for the warm-up.
"From the very beginning of this tournament I have been saying that people from Japan are so kind. I have never seen in my life that kids from three years old have this discipline and they are enjoying supporting us. 
"We came to Japan about 10 days before the championship and visited schools twice and I was really surprised how they all were.
"For me, I feel really happy how they are looking at us, how they are supporting us, and I really need to say thank-you to all the people from Kumamoto because they are really with us."