09 Dec. 2021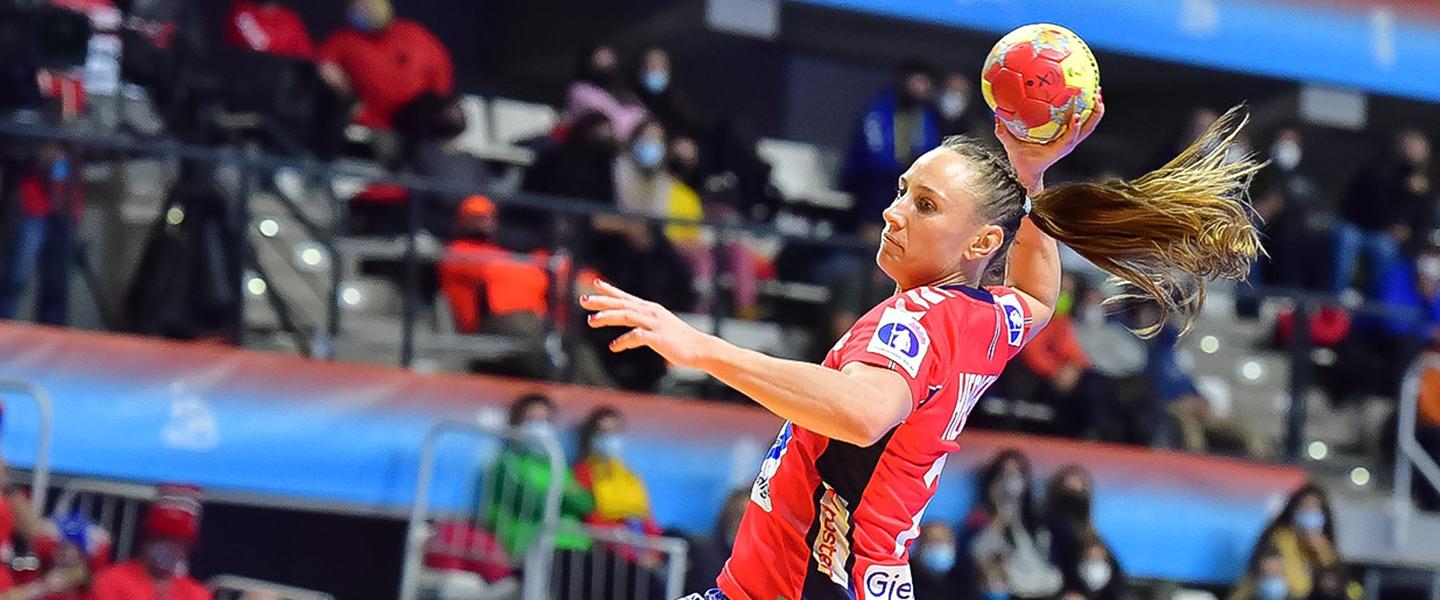 For the fourth time in the last six editions of the IHF Women's World Championship, Norway threw off the competition with four consecutive wins, after disposing of Puerto Rico and recording their largest win yet at Spain 2021, 43:7.
The Scandinavian side fell just one goal short of tying their record for the biggest win in the competition, which was set 16 years ago in Russia, 47:10 against Australia.
MAIN ROUND GROUP II
Norway vs Puerto Rico 43:7 (21:3)
Left wing Camilla Herrem needed seven goals to become only the seventh player in history to score at least 800 goals for Norway. Without any effort whatsoever, the 35-year-old, who won IHF Women's World Championship gold twice, in 2011 and 2015, hit that mark in the first half against Puerto Rico.
Herrem outscored the entire Puerto Rico side by six goals in the first part of the game, which was thoroughly dominated by Norway. The Scandinavian side made no concessions and tied their record for goals conceded in the first half at the IHF Women's World Championship, set against the Islamic Republic of Iran four days ago.
It was, basically, a lesson of handball taught by the Norway side against Puerto Rico, with 16 from the 21 goals scored in the first half coming from fast breaks and Herrem and right wing Marit Rosberg Jacobsen combining for 13 goals.
With an amazing depth, probably the biggest at Spain 2021, Norway changed the lines at half-time, with players such as Nora Mork, Sanna Solberg-Isaksen and Emilie Hovden entering the fray.
It made no difference for them, with Norway continuing to run and try to play their best game before the schedule toughens up, with games against Sweden and the Netherlands looming at the end of the main round.
With their largest win ever at the IHF Women's World Championship, a 37-goal drubbing against Australia (47:10) in sight, Norway pounced on and on, as Puerto Rico finally scored their first goal of the second half after more than 16 minutes and their first in the game after a 31-minute wait. By that time, Norway had already opened a 28-goal monster gap (32:4), continuing to convert fast breaks at an alarming pace.
As Norwegian stalwarts Kari Brattset Dale and Stine Bredal Oftedal were rested, Puerto Rico shot only 29 times at the Norwegian goal, hitting the target 20 times, as goalkeepers Rikke Granlund and Sanna Solberg combined for 13 saves. Granlund had an outstanding saving efficiency of 71%, while the gap was growing bigger and bigger.
Eventually, as Sanna Solberg hit double digits, finishing the game with 10 goals, Norway secured their second-biggest win in history at the IHF Women's World Championship, 43:7, only one goal shy of their record against Australia, set at Russia 2005.
Continuing their unbeaten streak at Spain 2021, Norway lead the group with six points, one more than reigning champions the Netherlands and three more than Sweden, who have a game in hand. The Scandinavian side will be tested on Saturday, when they play against their rivals Sweden.
On the other hand, Puerto Rico conceded another tough loss, after the 40-goal one against the Netherlands and the 38-goal one against Sweden, facing another European opponent on Saturday, Romania.
hummel Player of the Match: Sanna Solberg-Isaksen, Norway
Photo: RFEBM / Á. Bermejo