26 Jan. 2023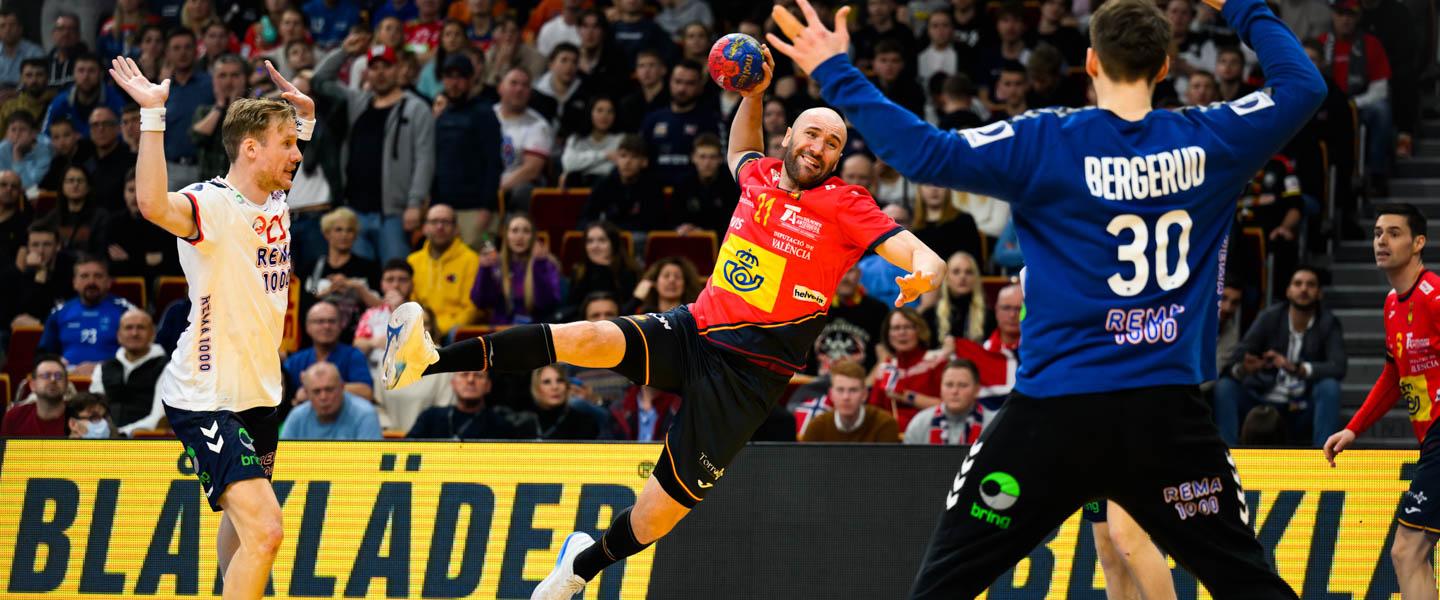 The ERGO Arena in Gdansk says goodbye to its brief encounter with the 2023 IHF Men's World Championship, as the third and final match in the Baltic seaport sees a mouthwatering semi-final clash between Spain and Denmark.
The match also concludes the Polish part of the co-hosted championship between Sweden and Poland, which will see a finale between two teams who have won three of the last five editions of the championship.
It is also a repeat of their 2021 IHF Men's World Championship semi-final, which saw the Danes take a 35:33 victory on their way to gold, with Spain later winning bronze.
18:00 CET Spain vs Denmark
The Danes are a team hungry to continue making history. 
After they eased to a 17-goal (40:23) victory over Hungary in the quarter-finals, the reigning champions set a new IHF Men's World Championship record of 26 unbeaten matches in a row, featuring 24 wins and two draws.
Should they win Poland/Sweden 2023 overall, they will become the first team in the history of the championship to win three titles in a row.
They have won six and drawn one of their matches so far at Poland/Sweden 2023 so far, a co-hosted tournament which has seen them move from Malmö to Stockholm for their preliminary round, main round and quarter-final matches before arriving in Gdansk to face Spain.
"We're in a semi-final of a World Championship and that's amazing," said Denmark's Emil Jakobsen to ihf.info ahead of the match.
"I'm like a little boy; I'm so excited and can't wait to play this match. This is why we play handball; for all of these matches, the semi-finals, the final and these titles."
And Jakobsen, who has scored 23 goals for his side so far, is well aware of the threat Spain face.
"Our defence has to be very good, and, of course, Niklas (Landin) needs to have a good match in goal," said the SG Flensburg-Handewitt player. "If we have a good defence, we will make easy goals in the fast break.
"We have an OK chance if our defence is good and our attack has a good flow and we make good chances. (Spain goalkeeper – Gonzalo Pérez de) Vargas will have many saves, so we have to create many chances to create a lot of goals."
Spain have made it this far thanks to six wins in their seven matches, losing once against France (26:28). While they played their quarter-final in Gdansk and have not had to travel, their last eight win over Norway (35:34) went to additional time – an extra 20 minutes of intense physical and mental effort.
"I'm feeling exhausted physically, but I'm even more exhausted mentally," said Spain goalkeeper Gonzalo Pérez de Vargas to ihf.info immediately after the victory, to which he contributed 17 saves.
"With the win in our pocket, it feels different. I could not be prouder of my team with what we've done, fighting against one of the best in the world for 80 minutes with a lot of ups and downs.
"Even if we had lost, I would be so proud of these guys," added the FC Barcelona shot-stopper. "It's amazing to be here and be in the semi-finals again," 
There are well over 400 national team appearances between the first-choice goalkeepers, Spain's Pérez de Vargas and Denmark's Niklas Landin, and they are likely to make the difference about who will be playing for gold again and who will be searching for bronze.
"It's two teams who match each other very well," said Denmark coach Nikolaj Jacobsen on the eve of the match.
"It will be a very good and exciting match and Spain have been in this situation many times before, but both teams have got some of the best goalkeepers in the world and that could decide the match in the end, which one of them will have the best day."
Looking to gain some sort of revenge for 2021 is Spain's left back Daniel Dujshebaev. He scored seven times in that loss against Denmark two years ago and he single-handedly kept his side in contention this year, equalising with a second left at the end of their 60 minutes against Norway two days ago to take the match to additional time and ultimately victory.
"We know they are an amazing team, of course," said the Poland-based club player with Kielce to ihf.info about Denmark.
"It's like Norway. I can tell you of course Norway have (Sander) Sagosen, Denmark have (Mikkel) Hansen, but behind them, they have a lot of players that are at the top level, like (Niklas) Landin, (Mathias) Gidsel, (Simon) Pytlick, everyone – even their injured players are amazing."
So, how do they beat Hansen and co?
"Fighting, like we do in every match," summed up the 25-year-old.
"We are a team that fights for 60 minutes or even 80. We have to be focused all the time and try not to make mistakes, we must not let them feel comfortable on court, and that's important."
Gdansk, Poland and the whole handball world cannot wait to see the story unfold.