17 Jan. 2023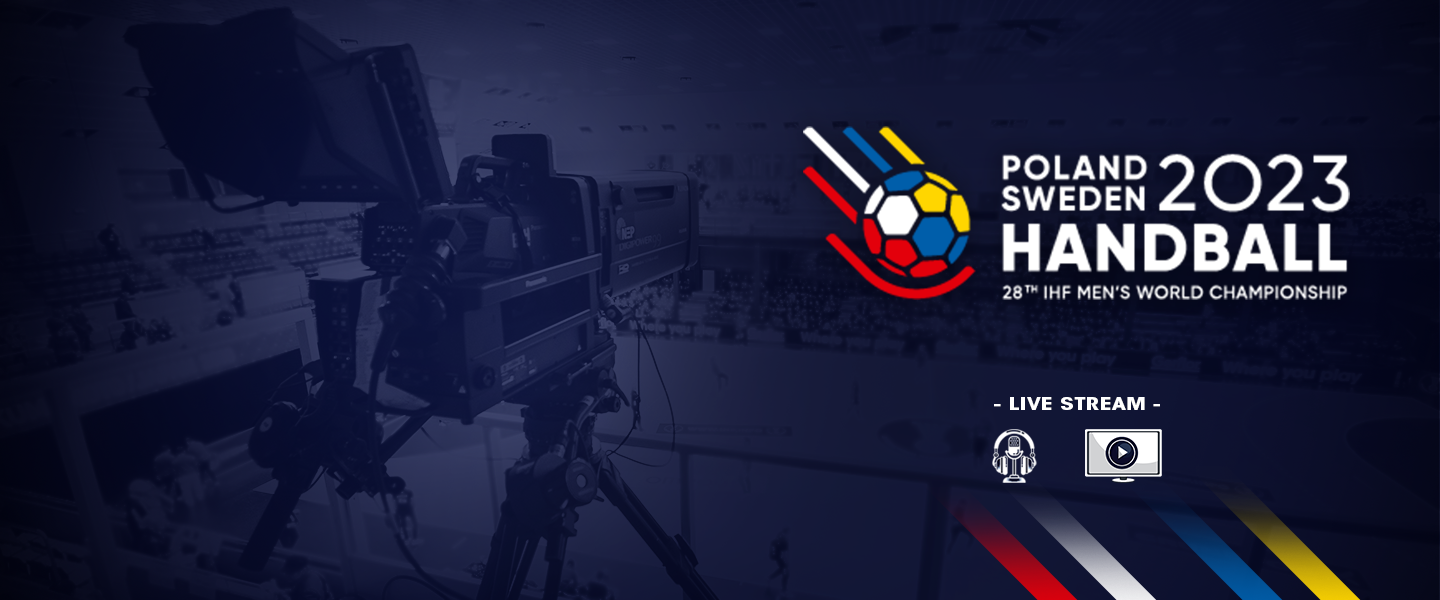 The 28th IHF Men's World Championship in Poland and Sweden is a truly global event, with 32 countries from across the world competing for World Championship glory. 
For those fans who cannot come and experience the fast-paced action of one of the most popular sports in the world live, there are numerous opportunities to watch and listen to the competition through a variety of television, radio and streaming outlets across the globe – thanks to our partner SPORTFIVE, the official media distribution agency of the IHF.
Free live stream
For all territories without rights-holder agreements, all matches will be streamed live via the official IHF - Competitions YouTube channel.
Television rights-holders
Geo-blocking will apply on the IHF – Competitions YouTube channel, check local station listings, some broadcasters may not show every match live.
To find out where you can catch all the excitement of the championship, see the list of broadcasters in territory and country order below.
Poland/Sweden 2023 – Global TV and radio
*All information correct as of 10:00 CET, Tuesday 17 January 2023
Africa
Cape Verde (CPV): Radiotelevisão Caboverdiana (RTC) (all CPV matches plus final)
Egypt (EGY): ONTIME Sports (all EGY matches, semi-finals plus) finals
Middle East & North Africa: ASBU
Morocco (MAR): Société Nationale de Radiodiffusion et de Télévision Maroc
Tunisia (TUN): Télévision Tunisienne
Asia
Bahrain (BRN): ASBU
China (CHN): Huya (20 Matches live and VOD)
Israel (ISR): Charlton TV (Sport 1)
Japan (JPN): Sportsbull
Qatar (QAT): Al Kass
Saudi Arabia (KSA): SSC (Saudi Sports Channel) (All KSA matches plus many more) 
Europe
Belgium (BEL): VRT (all BEL matches live, delayed, highlights, clips on all platforms) + RBTF (all BEL matches live, delayed, highlights, clips on all platforms)
Bulgaria (BUL): B1B (17 matches)
Bosnia Herzegovina (BIH): Arenasport
Croatia (CRO): HRT (news access, all CRO matches) + RTL
Czech Republic (CZE): Czech TV
Denmark (DEN): DR + TV2 
Estonia (EST): Viaplay
Finland (FIN) Viaplay
France (FRA): beIN Sport France + TF1 / TFX /TMC
Georgia (GEO): Silknet
Germany (GER): ARD & ZDF (all GER matches live, clips & highlights of other matches) + Eurosport (15 matches tbc, no GER matches) + Sportdeutschland.TV (all matches live and VOD on Handballdeutschland.tv, GER matches incl. on Sportdeutschland.TV Plus) + Axel Springer/ BILD (highlights GER matches) + Bundeswehr TV (closed circuit) + kicker.de (highlights GER matches) + RTL / n-tv (News Access all GER matches) + Servus TV (News Access all GER matches) 
Hungary (HUN): MTVA
Iceland (ISL): RUV
Italy (ITA): FIGH Italia (min. 15 matches)
Kosovo (KOS): Arenasport
Latvia (LAT): Viaplay
Lithuania (LIT): Viaplay
Montenegro (MNE): Arenasport + RTCG (all MNE matches)
Netherlands (NED): Viaplay
North Macedonia (MKD): Arenasport + MKRTV (all MKD matches)
Norway (NOR): Viaplay (Norway matches + the most interesting ones on TV3, the rest on Viaplay stream)
Poland (POL): Viaplay + TVP (all POL matches plus semi-finals and finals)
Portugal (POR): RTP
Romania (ROM): Prima Sport
Serbia (SRB): Arenasport
Slovakia (SVK): RTV Slovenska
Slovenia (SLO): RTV Slovenija (all SLO matches)
Spain (ESP): RTVE (on Teledeporte. TVE 1 in case ESP reach semi-finals and finals)
Sweden (SWE): Viaplay (TV6 will be main linear channel, all SWE matches and other studio broadcasts will be aired on that channel. An assortment of matches will be on linear channels TV10 and V Sport Extra. All matches from the world championship will be streamed on Viaplay.)
Switzerland (SUI): SRG (10 matches live plus news access of other matches)
Ukraine (UKR): Poverhnost TV (PVP+)
United Kingdom* (GBR): Viaplay 
* England, Scotland, Wales and Northern Ireland
North America and the Caribbean
Caribbean*: DirecTV
United States of America (USA): ESPN
* Caribbean: Bahamas, Barbados, Belize, Dominican Republic, Guyana, Haiti, Jamaica, Antigua and Barbuda, Dominica, Grenada, Saint Kitts and Nevis, Saint Lucia, Saint Vincent and the Grenadines, Sint Maarten, Suriname, Trinidad and Tobago
South and Central America
Argentina (ARG): TYC 
Colombia (COL): DirecTV
Ecuador (ECU): DirecTV
Peru (PER): DirectTV
Uruguay (URU): TVC Sports
Venezuela (VEN): DirecTV
Radio
France (FRA): Europe 1 + RMC Sport
Pan Europe – Eurovision (EBU) all EBU member territories