09 Aug. 2023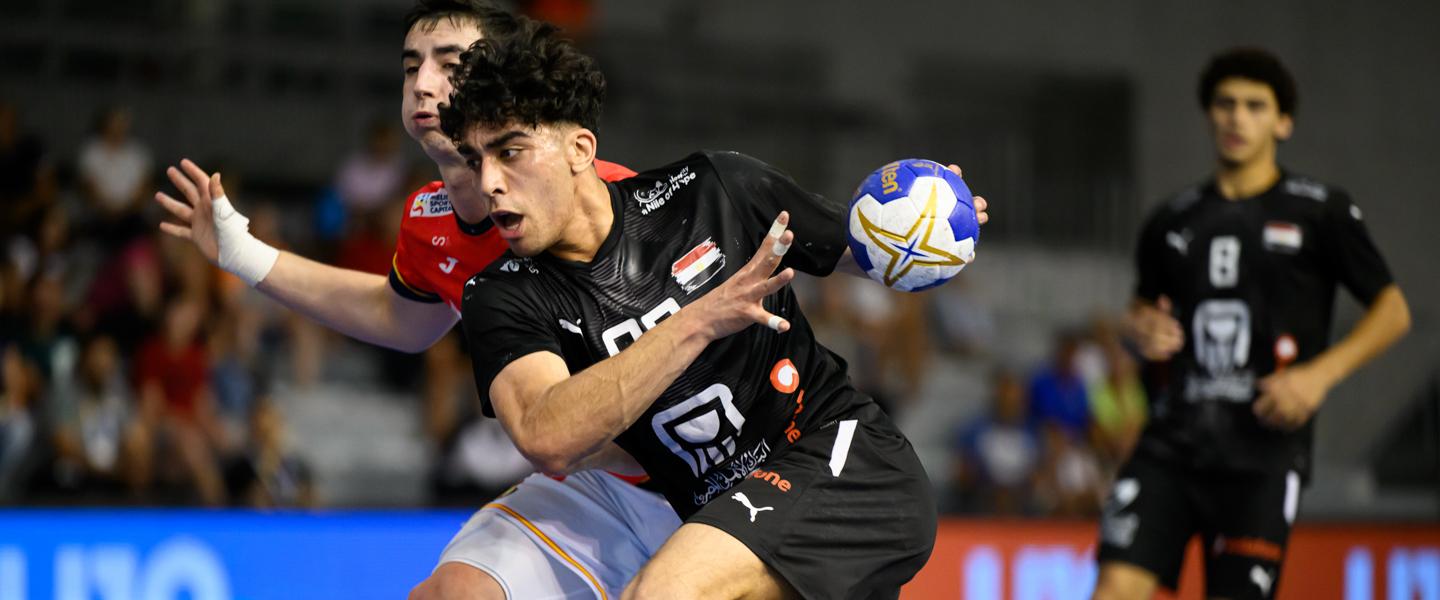 Varaždin is ready for the most exciting games as eight teams enter the fray for the semi-final spot. Hosts Croatia hope to succeed in front of their fans and send Norway to the placement matches, while debutants Faroe Islands want to keep their dream alive and knock out the only non-European team among the top 8, Egypt. Current European champions Spain take on another European powerhouse, Germany, and lucky Portugal will go head-to-head with the second Scandinavian representative, Denmark.
Quarter-finals
13:00 CEST Faroe Islands vs Egypt
Quarter-final day in Varaždin will be opened with the clash of two teams that have never met before. Debutants of the competition keep on giving after claiming their main round spot with an impressive win against Sweden. Their perfect streak was extended by defeating strong Germany and overrunning Saudi Arabia. Now, the small country wants to take a step further and reach the historic semi-final.
Faroe Islands have strong support from the stands as their fans enjoyed their days in Opatija, and they will be a string wind in the back for the players in Varaždin too. The Faroese attack was progressing in each match and currently, they are the fourth-best attack in the competition. Most of it goes to Oli Mittun, the competition's top scorer, who has been unstoppable since the start of the 10th IHF Men's Youth World Championship, with his tally being 54. 
The 2022 CAHB African Men's Youth Handball Championship are coming in after a tough defeat, 35:42 against Spain. Even though their top scorer Mohamed Elbattawi had a great day, scoring seven times, his goal outing wasn't enough to catch up with the Spaniards. One thing Egypt need if they want to qualify for another semi-final is to have a stronger defence with goalkeepers having a good day.
European champions proved the role of the favourites at the competition with a perfect streak at Croatia 2023. With a recognisable Spanish style and talented players, Spain didn't break a sweat in the first six games of the competition. Now they are headed into the game against a familiar opponent.
Germany and Spain met only a year ago in the M18 EHF EURO 2022 semi-finals, with the Spanish side taking a 32:29 win. The Germans now have a chance to get their revenge and go into their second in-a-row battle for the medal at the IHF Men's Youth World Championship. Their main force will be their defence. Germany is at the top with only 109 goals conceded at Croatia 2023 and 21.8 goals per game on average. As a result, Marc Julian Buchele is among the top goalkeepers, with a 40% save efficiency overall.
"The anticipation for this quarter-final is huge; the boys worked hard for a year to get this chance for the semi-finals. We're approaching the game with joy and fun. Spain plays a strong and aggressive defence, so we have to find solutions. Above all, we have to keep the number of technical errors very low. Otherwise, it will be punished directly," said Germany's head coach Emir Kurtagic for handball.net.
However, strong Germans will have to face one of the best attacks of the World Championship. Relying not only on punctilious wings and fast breaks, Spaniards have also shown a well-balanced play. Led by Victor Romero Holguín and Petar Cikuša Jeličić, who have 54 goals between them, they will be a tough opponent once again.
18:00 Denmark vs Portugal
Denmark are the second team with a perfect streak at the IHF Men's Youth World Championship, alongside Spain. Their dominance was continued with a win against Norway after a top offensive display by Tobias Tombak and Lasse Sunese Vihelmsen. It's not a surprise they are also one of the best attacks, right behind Sweden, scoring 39.2 goals per game on average.
Will they continue to perform on the same level, or will lucky Portugal surprise and return to the former glory? Judging by the game at the M18 EHF EURO 2022, when the Scandinavian side narrowly won 33:32 in the 5-8 placement match, it can be a close game if Portugal deliver the same energy as in their last two games.
Portugal secured a quarter-final berth after a spectacular two straight wins against Hungary and Slovenia, leaving the Hungarians out of the battle for the throne. Having five players who scored at least 15 times in the competition with a good amount of fast breaks, Portugal have a strong base for dreaming of progressing further and Nuno Oliveira want to add a few more to his 27 tally.
"We are going to take Denmark fully seriously. We are here and now we want more. Since we are in the quarter-finals, we want to beat Denmark. There is no other solution. We want to carry on and continue our path because these boys deserve everything. They have exceeded everyone's expectations, so to speak, and I am very proud of them," said Portugal's head coach Nuno Santos for portal.fpa.pt.
Hosts Croatia reached their first objective for the IHF Men's Youth World Championship even though they couldn't extend their winning streak. But still, without a defeat in the competition, they had to agree on a tie after leading throughout the game against Hungary. Strong Croatia aim to get a medal after a somewhat disappointing eighth place at the M18 EHF EURO 2022.
Croatians are full of confidence and they have a reason to be. Krešo Ivanković's team is the third-best attack and second-best defence in the competition. However, they have some problems in the squad. Tonći Ivanišević has a feet injury and is yet to be seen if he will be able to help his team, while some others need a deserved rest if they want to be ready to fight until the end. Yet, they can count on the competition's best goalkeeper Marko Prpić who is at 43.8% save efficiency and 9.2 saves per game on average.
"Norway are the team running all 60 minutes, not allowing you to slow down. They are the team that always goes for the goal more, a real Scandinavian run-and-gun handball. We played with them last year at the European championship and it turned out well," said Croatian head coach Krešo Ivanković.
Norway progressed with each day at the competition. From a 27:25 win against North Macedonia to convincing victories against Georgia, Montenegro and Austria. However, on the last day of the main round, they struggled against Denmark, not being able to respond to a similar style of handball but also against a stronger opponent. After their first defeat at the World Championship, Norway have a tough task of redeeming themselves against hosts. Pack leaders Marius Olseth and Lasse Sunde Lid will try to break Croatians in the attack.
Photo: Croatia 2023/Kolektiff images