14 Aug. 2019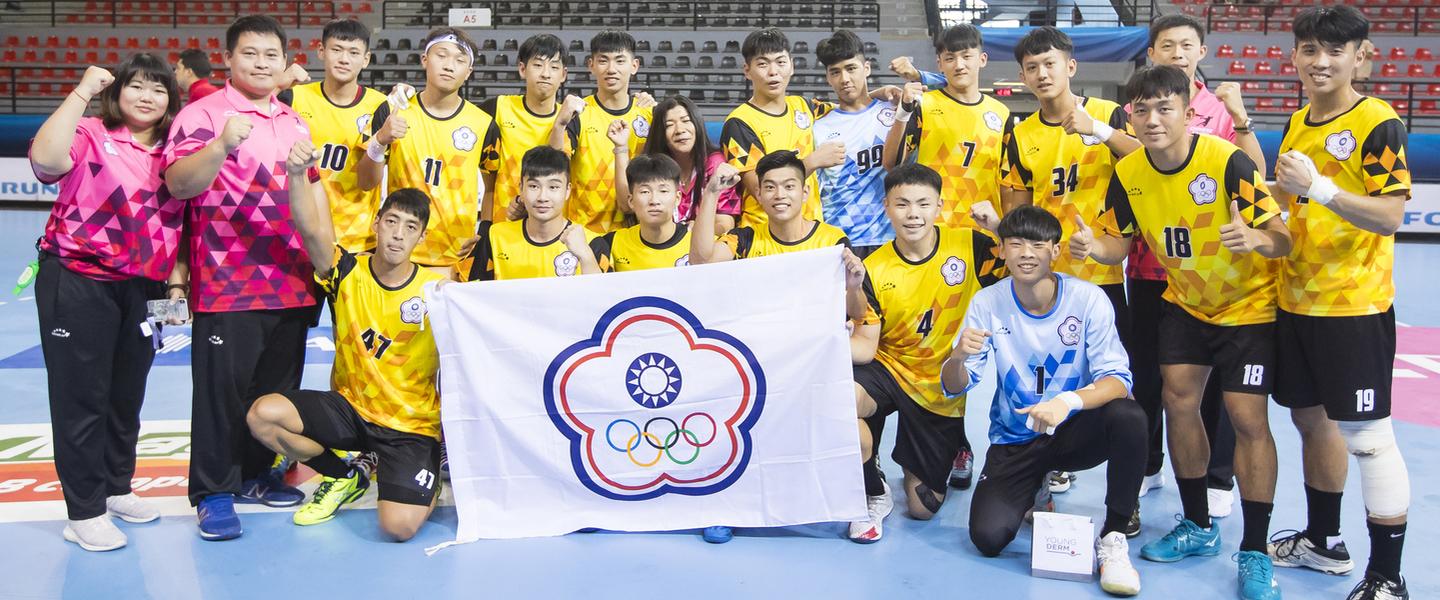 Chinese Taipei are one of five debutants at the 2019 IHF Men's Youth World Championship – a participation that follows their first medal at the Asian Men's Youth Championship, in 2018. After placing 10th on their most recent participation in the continental championship in 2012, Chinese Taipei returned much stronger and claimed the bronze medal thanks to a 29:26 win over Saudi Arabia in the 3/4 play-off. That ranking earned them a place at North Macedonia 2019. 
"It means a lot for us, for the whole country, that we have a taken a big step in our handball culture," left back Wei Hsiang Tseng told ihf.info. 
At North Macedonia 2019, Chinese Taipei finished fifth in Group B following four losses and one victory. Though they were beaten clearly in their opener by Hungary, then by Sweden, Egypt and France, they improved game by game. 
By the time they took on France in round four, Chinese Taipei had enough form to keep the distance to nine goals at the final whistle. For some debutants, finding rhythm can be difficult in such an unfamiliar setting, but Chinese Taipei have managed to challenge their opponents with their offensive defensive systems and fast attacking play. 
"We had a little frustration, but we did a good job of fixing those things really quickly," Tseng said regarding their fast improvement. "We all do great defence so we can do good fast breaks in offence."
In round five, Chinese Taipei celebrated their first victory, as they defeated Canada 33:17. 
"We all did a great job on placing the bad things we did in the games before and we did a great job fixing them in this game," said Tseng after the win.
With that, the Asian side booked a place in the 17-20 placement round, where they will hope to win both games and take the President's Cup trophy. 
A focus on youth age competitions
Overall, their campaign at the Asian Youth Championship was Chinese Taipei's fifth in history. After placing fifth at the debut event in 2005, they clinched eighth place in 2008 and 2010, 10th in 2012, and finally third in 2018. They have been a steady presence at the Asian Junior Championship over the years, with 10 participations in 16 editions. Most recently, in 2018, Chinese Taipei placed 10th. 
The story is a little different on a senior level however, as Chinese Taipei have not played the Asian Men's Championship since their fourth-place finish in 2000. Tseng outlines the reason for this record when speaking about the domestic competitions, which are mainly played by school and university aged students. 
"We have four competitions in a year, at different levels: elementary school, junior high, senior high and college. We have a lot of teams – 20 to 25 in each level. I think it's a pretty big competition in our country, so we could bring good players out to play here," said Tseng, adding that there is not such a domestic focus on senior players.  
On Wednesday 14 August, Chinese Taipei will meet Saudi Arabia for their first President's Cup clash, in a rematch of the bronze-medal game at the Asian Championship. It will be a competitive match, but the history suggests Chinese Taipei will have the edge to book a place in the 17/18 play-off. 
"We are going to do our best to win the President's Cup," concluded Tseng.