31 Mar. 2020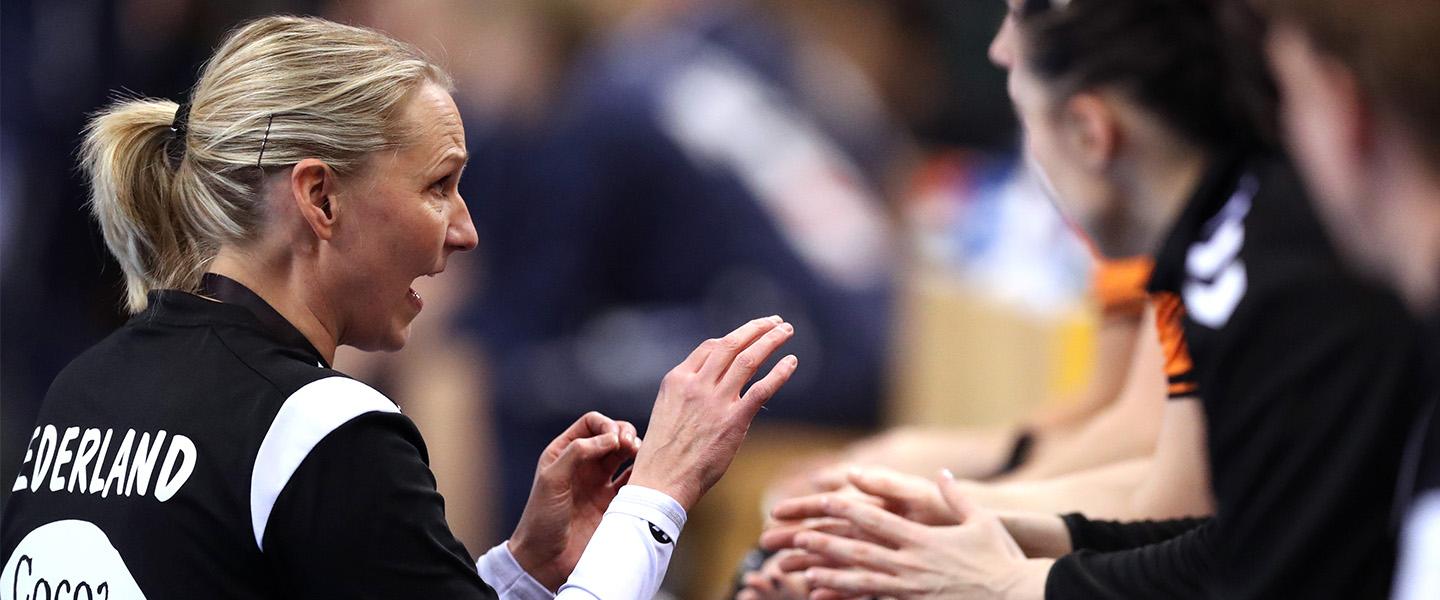 Throughout Gender Equality Month in March, the IHF celebrates women in various roles in handball in a special series. Part five focuses on coaches Helle Thomsen and Ekaterina Andryushina, who have both enjoyed success on a club and national-team level. 
There are few female coaches at the top of handball today. Two of the most visible in recent years have been Helle Thomsen and Ekaterina Andryushina. 
Most recently, Thomsen has been coaching Norwegian club Molde HK, after stints as head coach of the Netherlands, Champions League side CSM Bucuresti, Sweden and top Danish club FC Midtjylland. Thomsen has been one of the most successful coaches in women's international handball in the last years, winning medals at three consecutive editions of the continental championship, the EHF EURO, and one at the World Championship. 
Starting in 2014, as co-coach of Sweden alongside Thomas Sivertsson, Thomsen won the bronze medal with Sweden. She became head coach of the Netherlands before the EHF EURO 2016, and led the side to their first medal in the event – silver. One year later, Thomsen guided the Netherlands to bronze at the 2017 World Championship, then in 2018, she repeated the result at the EHF EURO. 
Thomsen's role with the Netherlands ended in 2019, after which Emmanuel Mayonnade and Ekaterina Andryushina took the helm and went on to win the trophy at the 24th IHF Women's World Championship in Japan. 
It is the second team Mayonnade and Andryushina guide together, after the two rose to prominence as the head and assistant coach of French club Metz Handball, whom they have led to a number of French championship and Cup titles. Under the guidance of Mayonnade and Andryushina, Metz were also the first French team to reach the Champions League semi-finals. 
Both Thomsen and Andryushina were players before transitioning to coaching. Thomsen played in the top league in Denmark, while Andryushina was well-known as one of the stars for Russia. Andryushina collected medals at all major international events before ending her playing career. 
"It was mentally difficult, but more physically difficult. My last year I was a player/assistant coach and I started coaching this year too," says Andryushina of her transition from player to coach. "More at the end of my career I started to think about it. I also took part in training with young girls, who gave me this idea too."
Looking at the small number of female coaches at the top level, it is clear there are challenges to reach such a position – and the challenges keep on coming once there. Thomsen is currently experiencing one challenge that is quite specific to coaching – needing to find a new role after an unexpected end to another. 
Due to the situation with COVID-19, the Norwegian handball league have ended the season early. Thomsen's contract with Molde was set to finish after the 2019/20 season, but with the early end to the league came the early end to her time with the club, just as they were preparing for the play-offs. 
It is not a completely unfamiliar situation for the experienced coach. Coaching is one position where changes are often made abruptly and quickly, but Thomsen acknowledges this to be part of the job – and it is not a job for those who do not like to take risks. 
"In one way I think it's OK, because when you are a coach you are the leader of the team. The club and the players, they want to win. If you choose the big clubs and you don't win games, you can't kick out all the players – you must take the coach. Sometimes I think they do it too early, but I also understand the clubs are under big pressure from sponsors, from people, from the city, from the country," says Thomsen. 
"I think this is the way it is to be a coach and if you know how it is, then it's also OK. You can't start crying if you get fired. That's just the way it is and you know that. If you want to be safe, you must take a team that doesn't play Champions League, that doesn't play in the top of their league."
Having worked with both national and club teams, what kind of role will Thomsen seek out next? "If I can choose my next job, then it must be – how can I say it – it must really be something I really believe is good for me. It must be something that I feel 'this is really, really, really good.' I'm not a person to take a job just to have that job," says Thomsen. 
"I must feel that this is the right thing for me, because then they will have the best version of me. If I don't find the right job, then I will not take another job as a handball coach – then I will find another thing to do."
In such a challenging and unpredictable career, both Thomsen and Andryushina see the importance of prioritising being themselves. 
"I must be myself because it's important to me to be honest, and I also expect the people around me, the players in the team, they are honest to me. If you are yourself, then you are being honest, to the players, to the team. If I must be the best coach for the team I have, then I must be myself," says Thomsen. 
"It's OK if you don't do it the same way, but it's really important for me that people are honest and that you can talk together and you can build a team up. If you want to build a team up, then you must trust each other and you must know where you have people, and if you want to do that, I think, all players and the team must be themselves. 
"It's the same when I say I should find an assistant coach – I don't want an assistant who's just like me. I want an assistant that wants to be him or herself. They don't have to do it in the same way like me, cause then it's a double me and I don't think that's good – for sure that's not good! [laughs]"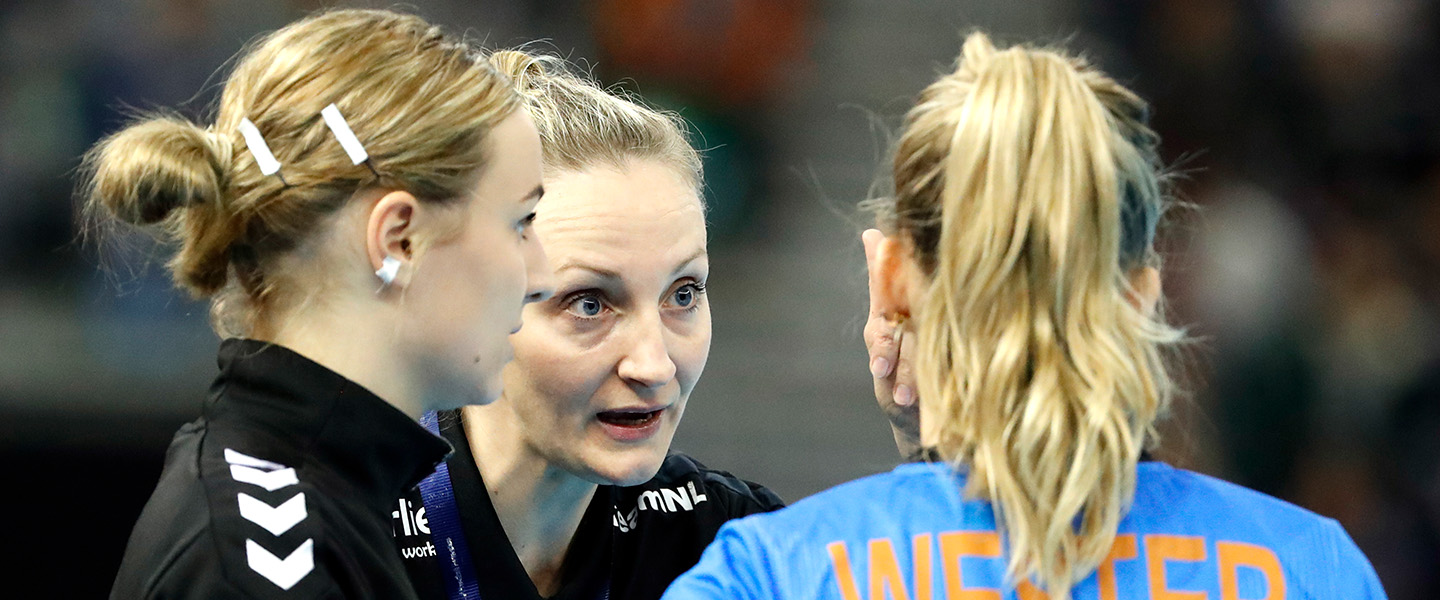 Andryushina is on the opposite side – being the assistant that complements the head coach and forming a successful partnership with Mayonnade. Mayonnade may be the head coach, but his insistence for Andryushina to join him with the Netherlands as well as Metz makes it clear that her contributions are key to the success. 
"I learn a lot with him. He works to the maximum. It gives me great pleasure that he wants to work with me. I try to do my best to help him," says Andryushina. "Afterwards, we listen to each other. I think it's important, even if we don't always agree." 
Both Thomsen and Andryushina have been involved in handball for many years, and neither see any serious concerns with inequality in the way men's and women's versions of the game are treated. Indeed, it is not something they think of often.
"I hear a lot about this, but I never thought too much about it. I work with women's handball. Everyone does their job. Now in women's handball there are clubs with a very good salary," says Andryushina. 
Thomsen agrees that the focus should remain on everyone doing their utmost to continue moving the sport forward, but there is no purpose in comparing the situations in the men's and women's games. 
"There are a lot of people who do a lot for female handball. I think they have stepped up a lot. I think there are many people working hard for it, and I also think that handball has grown a lot," says Thomsen. 
"I don't think we should compare with the men – I think we should look at what we have: we have a lot of people working so that female handball can be better and better every year, and I think that's good."