15 May. 2019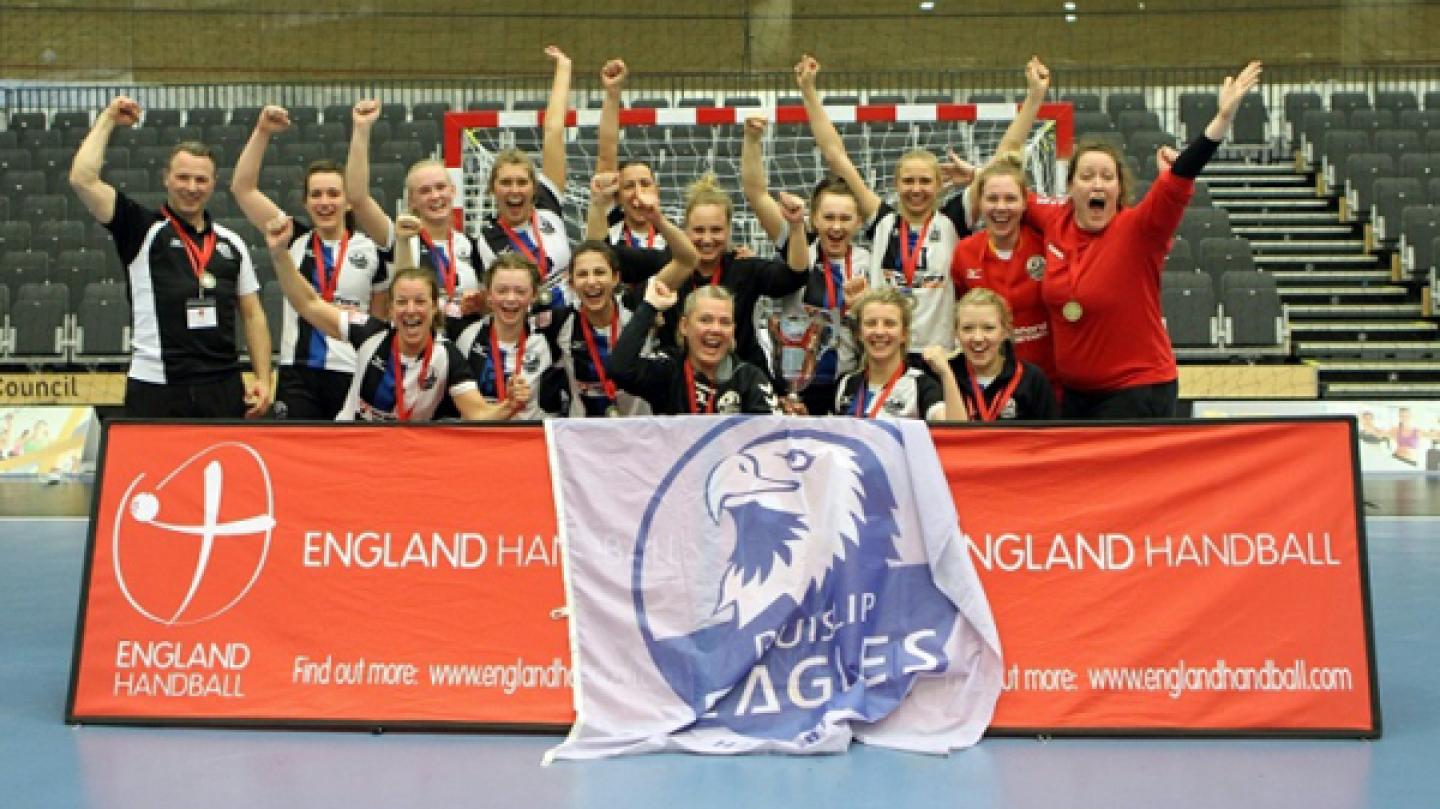 The England Handball National Cup Finals took place in the city of Derby last weekend (11-12 May) with eight finals held at the impressive Derby Arena in the centre of the country.
Billed as the 'Ultimate Face-Off', it packed in U16, U19 and adult finals in both men's and women's handball, with the two-day event quickly becoming the showpiece event for the sport in England which continues to grow and develop nationwide.
In addition to live coverage of all games on the England Handball Association YouTube page, national broadcaster BBC streamed the senior men and women's national cup finals live on the BBC Sport website, BBC Sport app, and connected televisions, with all commentary provided by Paul Bray - known for his English-language commentary at senior IHF World Championships - and former GB player Mark Hawkins.
"Live-streaming the National Cup Finals on the BBC is great for the sport," said England Handball CEO David Meli. "It takes us to a bigger audience and enabled more people to watch great finals and enjoy our exciting, high-scoring, action-packed team sport."
Women's National Shield: Northampton vs London GD II 27:20 (15:9)
Northampton made it a double delight as they won the national shield to add to their Women's Regional League – Midlands title they grabbed earlier this season. Opponents London GD II had also won their respective league - Regional League South East 1 – but could not keep up with their opponents.
Men's National Shield: Guildford Sabres vs Essex Hurricanes 22:24 (11:11)
It was all-square at the break in the men's shield final with Guildford Sabres and Essex Hurricanes all tied up (11:11), but the second half saw Essex do just enough to pull in front and, thanks to six goals from their top scorer, Giedruis Zyvatkauskis, they took the title by two in the end (24:22).
Under 19 Girls Final: Stroud vs West London Eagles 24:22 (13:11)
Stroud made up for their one-goal loss last season in the same final, squeezing past West London Eagles by two (24:22) with their playmaker Alex Nielsen grabbing 10 strikes at one end and goalkeeper Akira Adeniran-Lowe doing her bit at the other end, which included three penalty shot saves.
Under 19 Boys Final: Warrington Wolves vs Nottingham 34:22 (20:13)
A number of Great Britain U18 players appeared in this match with Nottingham's left back Josh Plumridge doing his best to keep his side in the game against an historically-dominant and passionately-supported Warrington Wolves team. 
Despite 10 goals from the young GB star, it was not enough as Warrington, from the north-west of England, picked up their second Under-19 boys title in two years.
Fellow GB U18 player Jack Booth proved too tough to beat in goal for the Wolves as their strong defence did not allow the Nottingham attack to prosper, tactics summed up by Booth. "We wanted to out and hit them hard in defence," he said, "and then get them on the attack." 
Under 16 Boys Final: Warrington Wolves vs West London Eagles 21:22 (17:17, 10:9)
The West London Eagles managed to come back from a 10:9 half-time deficit against Warrington Wolves to take the Under 16 Boys Final – but needed extra time to do it.
They thought their chance to win had alluded them when they failed to convert with their last attack in normal time and with the score at 17:17, the game went into additional time.
As expected, the extra time was tight with the teams deadlocked until the final 30 seconds when the Eagles went one-up. But, in more drama, Wolves were granted a free throw at the buzzer, knowing a goal would have taken the match to a shoot-out, but the shot was missed and the Eagles flew high with the title.
"It was a very, very tough match," said Eagles coach Alexander Djelic. "Our idea was to close down their left and right backs as much as possible because they are the two main players for their team. Our defence was resilient in that respect and we made things happen."
Under 16 Girls Final: Shropshire vs Stroud 15:22 (12:7)
Stroud added another title to take home to south-west England as their Under 16 girls beat Shropshire to complete a second gold medal in as many days, after their Under 19 side took their respective title.
Five players had played in that first game for Stroud and the effects of the victory less than 24 hours earlier appeared to be taking their toll as they were down by five at the break (12:7). But, after failing to score in the second half for eight minutes, Shropshire allowed Stroud to get back into the game and with 10 minutes remaining Stroud were four in front (18:14) and did not look back, winning by seven (22:15).
"We wanted to show how much we wanted it in the second half," said Stroud player Florence Jones-Jobst. "We talked about team resilience, how important it was we all came together, and got our heads in the game. It's all in the mindset. I'm chuffed, and so proud of everyone – it's such a team game, we all carry each other on our shoulders."
Men's National Cup Final: Warrington Wolves vs Cambridge 33:21 (15:6)
Warrington had already put the men's national cup final to bed at half-time, restricting their opponents Cambridge to just six goals and scoring 15 themselves in a one-sided opening half.
However, a spirited second half performance saw a much closer game, with Wolves taking the second period 18:15, but the damage was already done by the side who were desperate to get back the trophy they won five times in-a-row before 2018.
Wolves' Nate Green smashed home 13 times to end as top-scorer in the match.
Women's National Cup Final: NEM Hawks vs West London Eagles 40:42 (35:35, 31:31, 13:14)
This battle ended the weekend of cup action in fitting style as West London Eagles defeated NEM Hawks 42:40, following two periods of additional time.
Both sides could not really be separated throughout normal time, with the Eagles leading by one at the half-time break (14:13) in an action-packed, fast-flowing, attacking game.
With a four-goal lead (28:24) 10 minutes from the end of the game, the Eagles appeared to be cruising towards their silverware, but Hawks came back impressively to make it 31:31 after the regulation time and then the two teams were stuck together after the first period of extra time, 35:35.
But in the end Noelly Chevallier's 16 strikes proved to be a key part of the Eagles win, who are coached by Great Britain women's coach Paul Dempsey.
Both days of the weekend can be watched again on the England Handball Association YouTube page HERE.
RESULTS
Saturday 11 May
Women's National Shield: Northampton vs London GD II 27:20 (15:9)
Men's National Shield: Guildford Sabres vs Essex Hurricanes 24:22 (11:11)
Under 19 Girls Final: Stroud vs West London Eagles 24:22 (13:11)
Under 19 Boys Final: Warrington Wolves vs Nottingham 34:22 (20:13)
Sunday 12 May
Under 16 Boys Final: Warrington Wolves vs West London Eagles 21:22 (17:17, 10:9)
Under 16 Girls Final: Shropshire vs Stroud 15:22 (12:7)
Men's National Cup Final: Warrington Wolves vs Cambridge 33:21 (15:6)
Women's National Cup Final: NEM Hawks vs West London Eagles 40:42 (35:35, 31:31, 13:14)
Photo: England Handball Association