03 May. 2022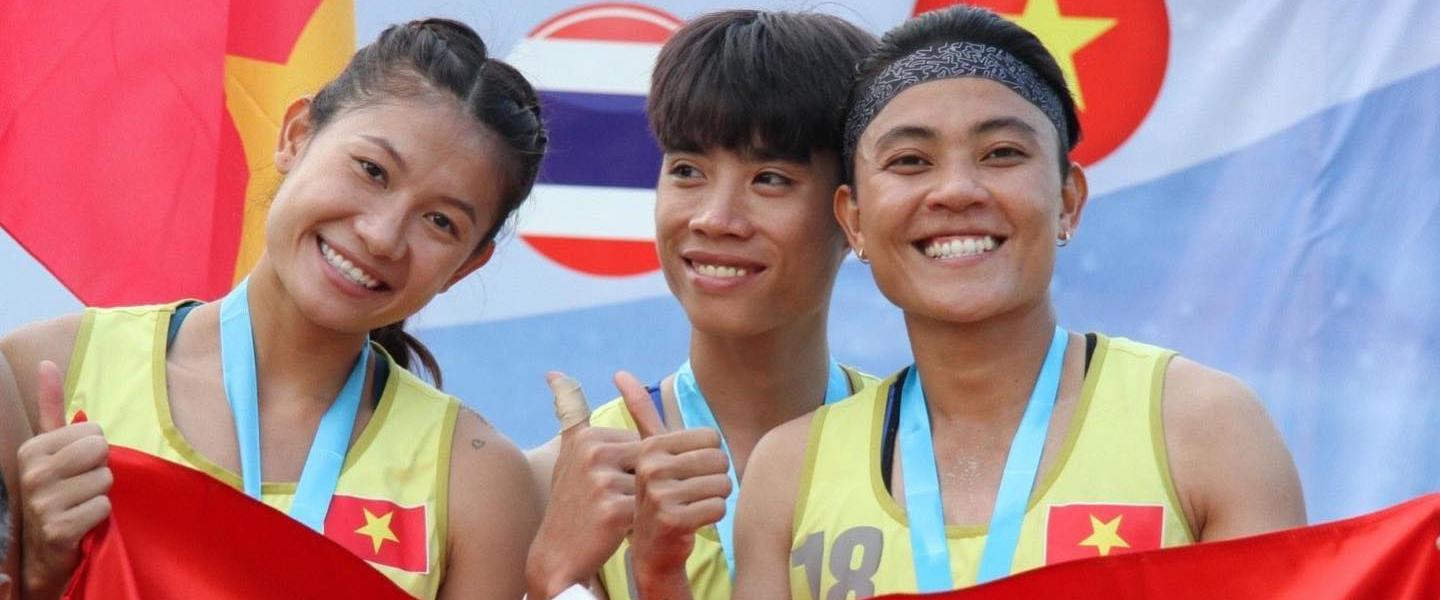 Vietnam's women have won the AHF Women's Asian Beach Handball Championship which concluded in Bangkok on Saturday.
The result means they have qualified for the 2022 IHF Women's Beach Handball World Championship in Greece and The World Games 2022 in the USA, which will be played in June and July respectively.
The senior competition in Bangkok saw hosts Thailand, alongside Vietnam and India compete in a round-robin league featuring six games with teams playing each other twice.
After an opening day 2-0 win against the newly-formed India team, the host nation went on to beat their biggest regional rivals Vietnam via a shoot-out and then proceeded to take out India 2-0 in their second meeting.
With Vietnam defeating India twice 2-0, it all went down to their last game against Thailand to decide the continental champions.
The Vietnamese went on to see out a comprehensive 2-0 (22:20, 22:18) rematch victory against the hosts thanks to 10 points each from Nguyen Thi Phung and Pham Thi My Hang. This sealed their third win and saw them finish joint top with Thailand, but with the better head-to-head score against the hosts, better set and points difference.
The 2022 result marked a step up from their runners-up spot at the last edition in PR of China, back in 2019.
It was not all sadness for the host nation though as their second place also meant a spot at Greece 2022 and their youth team did deliver a gold medal in the AHF Women's Asian Youth Beach Handball Championship, running parallel at the same venue.
In the younger-age tournament, it was just continental pride to play for with all three teams – Hong Kong, Thailand and India – securing their places at the 2022 IHF Women's Youth Beach Handball World Championship in Greece in June.
India, with just a squad of six, impressed early on, with Jassi top-scoring on 13 points to seal a 2-0 victory over Thailand, but this appeared to shock the hosts into showing their quality as they went on to win their three remaining games, including a return 2-0 (12:7, 17:13) victory over India, thanks to 14 points from Bunrueang Rossukon with her side limiting Jassi to just five points.
In the end, Thailand finished top on six points, winning three games like India but with both sides beating each other 2-0, it went down to points scored and with 124 and 92 (+32) compared to 100 and 94 (+6) Thailand took the title.
The first edition of the younger-age championship took place in Pattaya, Thailand in August 2016, with China taking the title, followed by Thailand, Chinese Taipei and Hong Kong.
Final rankings
Women's competition
1. Vietnam*^
2. Thailand*
3. India
*Qualified for the 2022 IHF Women's Beach Handball World Championship in Greece
^Qualified for The World Games 2022 in the USA
Youth Competition
1. Thailand*
2. India*
3. Hong Kong*
*Qualified for the 2022 IHF Women's Youth Beach Handball World Championship in Greece
Photo: Asian Handball Federation