07 Sep. 2020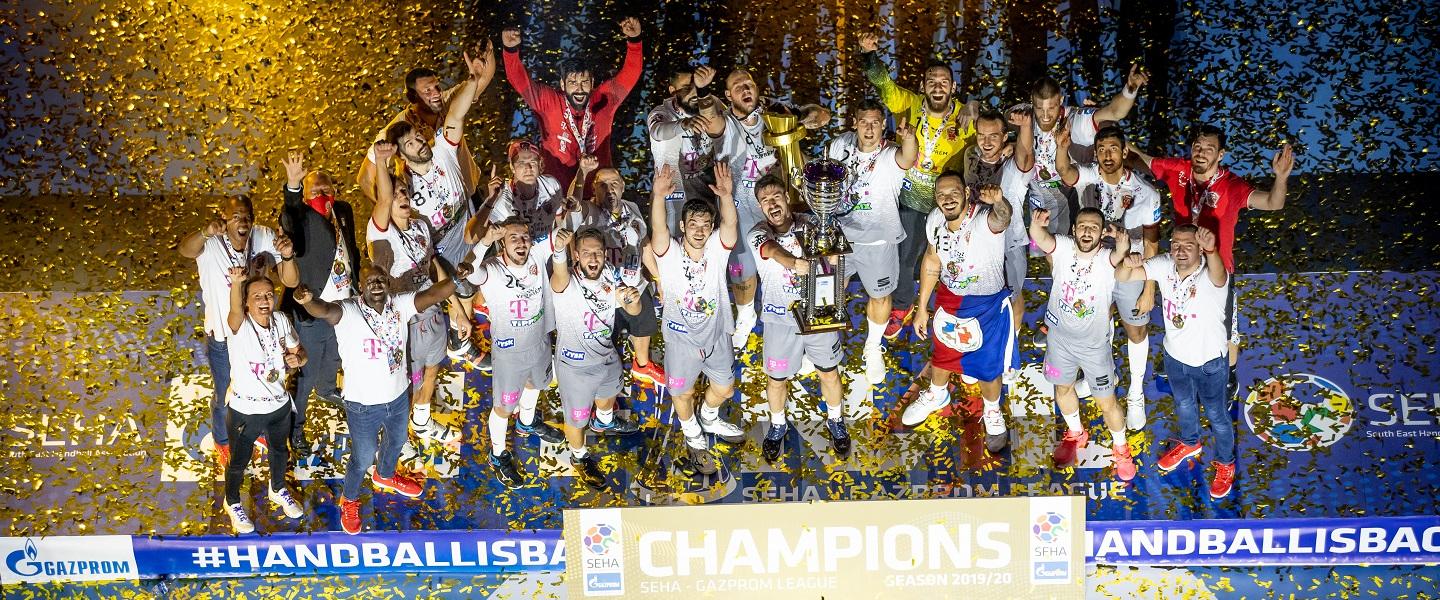 Hungarian club Telekom Veszprém HC won the 2019/20 SEHA – Gazprom League title when the season culminated this past weekend in Zadar, Croatia. After the end stages of the season were put on hold for several months due to the COVID-19 pandemic, the Final 4 event was able to be played and the 2019/20 trophy awarded. 
To earn the trophy, Veszprém dethroned the three-time back-to-back title winners from North Macedonia, HC Vardar. Veszprém's win in Sunday's final was clear, with a result of 35:27 in their favour after a 15:12 score at half-time. 
"We were aware we'll have to fight throughout the entire course of it and that's exactly what we did. We opened the first half on a great note and that was one of the keys for our win here today in my opinion," said Veszprém coach David Davis after the final. "I'd also like to use the opportunity to dedicate this win to our supporters who I'm sure would've been here for us if we weren't dealing with this global pandemic."
Belarusian side Meshkov Brest secured their second consecutive bronze medal thanks to a victory over a Croatian club in the 3/4 play-off – after beating RK Nexe in this match in 2018/19, Brest defeated record Croatian champions HC PPD Zagreb 29:24 (14:12) on Sunday. 
In the semi-finals, played on Friday, Veszprém beat Brest 28:24 (12:13) and Vardar took the narrowest of wins over Zagreb, 30:29 (13:16).     
In the all-time standings for the SEHA League, Veszprém have now inched closer to record winners Vardar, who have taken five titles. While Veszprém stay in second with their third trophy, Zagreb remain the only other winners of this competition, with one title.
📍VESZPREM IS THE FIRST HOME FOR OUR NEW #SEHA 🏆🔥 Congratulations 🎉#HANDBALLISBACK #SEHAFinal4 #SEHALeague #Gazprom #HEP #viseodstruje pic.twitter.com/YyNNTMNfWP

— SEHA-GAZPROM LEAGUE (@SEHALeague) September 6, 2020
During the weekend, fans were able to cast votes for the Final 4 All-star Team, including MVP and defensive specialist. 
Spanish goalkeeper Rodrigo Corrales started his first season with this new club Veszprém with a bang, after transferring from Paris Saint-Germain over the summer. He earned the MVP award thanks to a total of 29 saves at an average of 37.2% across the two final matches. 
Corrales' performance was no doubt helped by the great defence in front of him, which was highlighted by the fact that his Slovenian teammate Blaz Blagotinsek was voted best defender. Blagotinsek has also been voted best defender in the Champions League for the past two seasons (2019/20, 2018/19). 
The remaining members of the All-star Team: 
Left wing: David Mandic, HC PPD Zagreb
Left back: Alexander Shkurinsky, Meshkov Brest
Centre back: Lovro Jotic, Vardar 1961
Right back: Jorge Maqueda, Telekom Veszprém
Right wing: Gasper Marguc, Telekom Veszprém
Line player: Andreas Nilsson, Telekom Veszprém
Goalkeeper: Rodrigo Corrales, Telekom Veszprém 
Given the timing, the 2019/20 SEHA League finals ended up being one of the first chances for the club's 2020/21 squads to test their new line-ups in highly competitive conditions. All four participants in the SEHA League finals are now in the last preparation stage for their next big international challenge: the upcoming Champions League season, starting from 16 September. 
More information on the SEHA League can be found on the competition's official website.

PHOTO: © ANZE MALOVRH / KOLEKTIFF