Venezuela and Guyana strike gold at the IHF Trophy South and Central America – South American Zone
13 Jun. 2022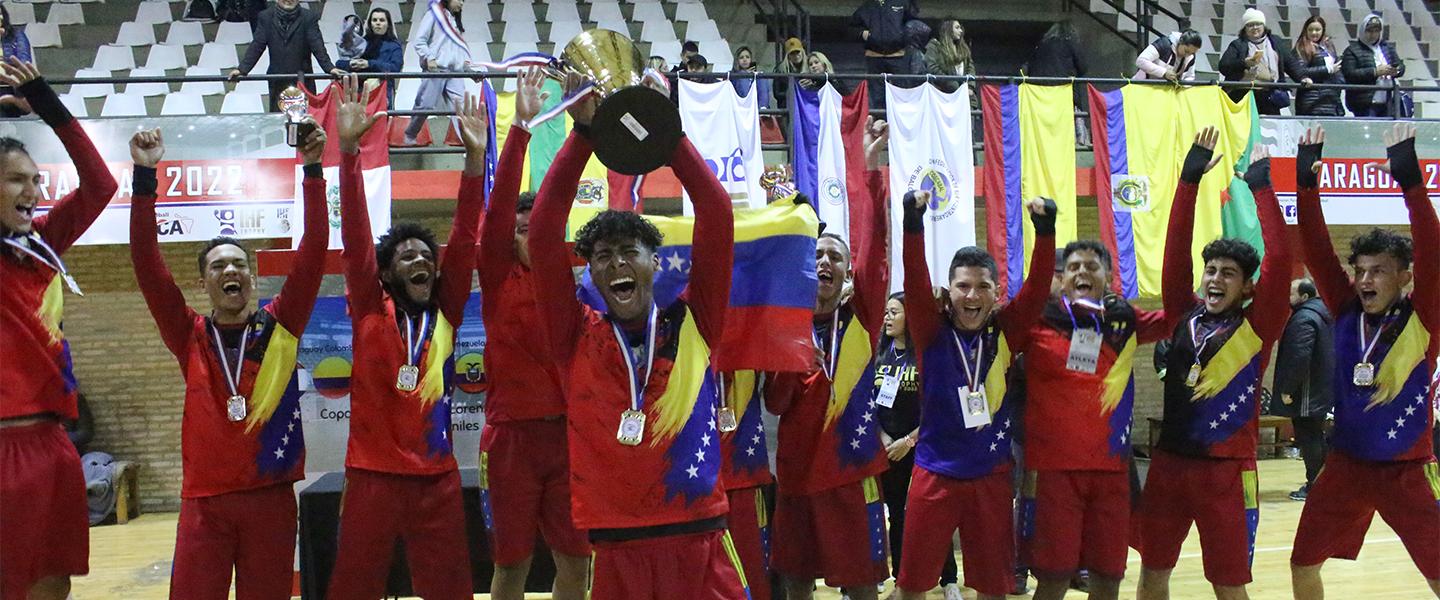 It was an action-packed week in San Lorenzo, Paraguay, with 12 teams competing in two tournaments – one reserved for the youth teams (U18) and one for the junior sides (U20) – at the IHF Trophy South and Central America – South American Zone.
In the youth tournament, Venezuela secured gold by winning all of the five games they played, while the junior competition was clinched by Guyana, with hosts Paraguay finishing second in both tournaments.
With five wins out of five games – 24:20 against Paraguay, 48:9 against Bolivia, 44:35 against Peru, 34:30 against Colombia and 67:17 against Ecuador – Venezuela clinched the IHF Trophy South and Central America – South American Zone for the youth teams, with an astonishing goal difference: +106 goals. 
The Venezuela side never fell behind and kept their composure against Paraguay and Colombia in their toughest games, with the hosts finishing in second place, thanks to a clear 41:28 win against Colombia, who finished in fourth place, on the last day of the competition.
The top scorer of the tournament was Paraguay's back Enzo Acosta, who scored 72 goals over the five days of the competition, including 18 goals in the match against Bolivia and 22 goals in the match against Peru.
The highest score of the youth tournament was registered in the last round, when Peru, the bronze medal winners, clinched a 93:22 win against Bolivia.
In the junior tournament (U20), Guyana, who started as underdogs, secured a superb win, despite not sweeping all of their opponents on their way to the gold medal, winning four games and drawing another one.
Down by two goals at half time in the maiden game of the tournament, 12:14, against hosts Paraguay, Guyana bounced back in the second half to seal their first win, 26:24, building up their confidence for the second game, against Bolivia, which they won 44:19 thanks to a 14-goal performance from Chrysdann Horth.
The third round saw Guyana drop a point against Peru, in a hard-fought draw, 37:37, before taking another hard-fought win against Colombia, 37:35. With a 51:25 win against Ecuador in the last round, Guyana clinched the trophy, taking advantage of the other team's losses in the competition which was played in a round-robin format.
The second place went to Paraguay, who won four games and lost the first one against Guyana, confirming their place with a last-gasp 26:25 win against eventual bronze-medallists Colombia on the final day of the competition. 
Another player from Paraguay, Nelson Ozorio, finished the competition as the top scorer of the tournament with 47 goals over the five games he played.


Final rankings
Youth tournament
1. Venezuela 
2. Paraguay
3. Peru 
4. Colombia 
5. Ecuador 
6. Bolivia
Junior tournament
1. Guyana 
2. Paraguay 
3. Colombia 
4. Peru 
5. Ecuador 
6. Bolivia 
Photos: Paraguay Handball Federation