08 Dec. 2019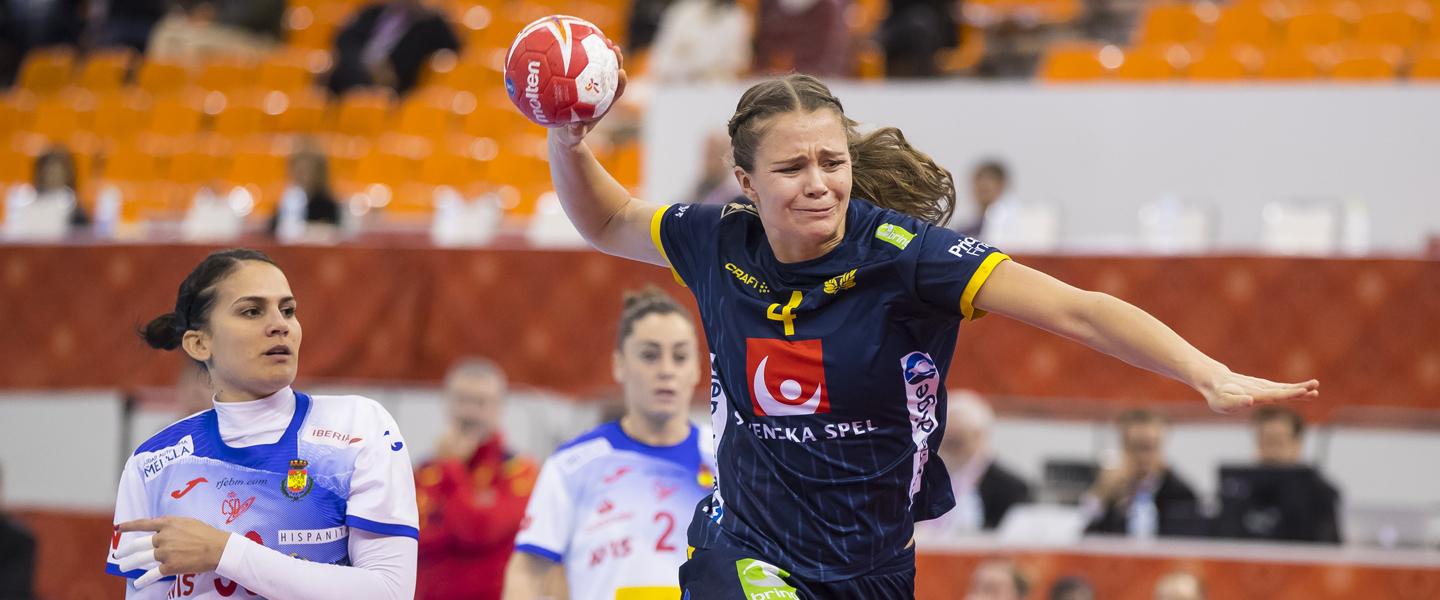 Nine goals behind as late as the 42nd minute (21:12), Henrik Signell's Sweden mounted a near-impossible comeback to draw 28:28 with two seconds remaining against Spain in Group II of the Main Round to keep their semi-final hopes alive.
MAIN ROUND - GROUP II
Spain vs Sweden 28:28 (14:8)
Park Dome Kumamoto
Sweden coach Henrik Signell had already taken his second time out after just 24 minutes in this match with his side seven goals behind at that point (13:6), but it got worse before it got much, much better for the Swedes.
At half-time the lead had been six (14:8) and there was change in the locker room, but it was with the referees as the Slovenian referee couple were replaced by the German reserve couple as a preventative measure for injury.
Sweden had no prevention against the Spain attack though in the second period as their deficit extended to nine goals with just over 15 minutes of the match remaining.
It seemed like an impossible mission, but the effervescent Filippa Idehn in the Swedes goal inspired her team who suddenly started believing and they embarked on a possible comeback which was looking more and more likely as the time went on, particularly in the 54th minute when a Nathalie Hagman strike brought the Spain lead down to just two, 25:23.
That strike saw a small piece of handball history made as with the goal Hagman – on her 150th appearance for the national team, and who later won the hummel Best Player of the Match award – clocked the 20,000 strike for the Swedish women's national handball team in all competitions and friendly matches, according to the Swedish Handball Federation.
But her side were busy trying to write modern history on court and the comeback was eventually complete thanks to Hagman and Mikaela Massing taking over scoring duties in the final few minutes.
It had looked precarious late on after Carin Stromberg had endured a nightmare few minutes, seeing her long-range shot saved, when she maybe could have spent longer building the attack, and then slipping on court to leave a wide open hole in the middle of the Swedish defensive line to allow Alexandrina Cabral Barbosa through for an easy strike to put Spain up by two with less than two minutes remaining (27:25).
However, a third Sweden time out saw Massing make it within one (28:27) straight after and Idehn then pull off another wonder save from Jennifer Gutierrez Bermejo setting up one last Swedish attack with under 40 seconds remaining.
Idehn then left the court to push seven players in attack and with two seconds left, a 74km/h shot from Massing hit the net and the game was tied. Unbelievable, but true - the comeback was complete.
"We are so happy with our championship so far, but not so happy with the end of this game," said Spain coach Carlos Viver Arza after the match. "But we must understand that a world championship is a complicated championship. Sweden played for 60 minutes and they didn't let it go, they fought until the end of the game.

"We will continue to fight until the end because we want to qualify for the Olympic Qualification Tournament."
His opposite number Signell was thankful his side came back and put it down to going back to basics. "We knew before that we were playing against a very good team and they really played well," he said. "With the first half we were not satisfied at all; we were thinking too much about tactics and made it more difficult for ourselves
"We had to start to play with our hearts and attitude," he added. "We talked about that at half-time and made it easy in the second half and we had two-minute suspensions on our side, but I am very thankful for the point."
hummel Player of the Match: Nathalie Hagman, Sweden