15 Jun. 2020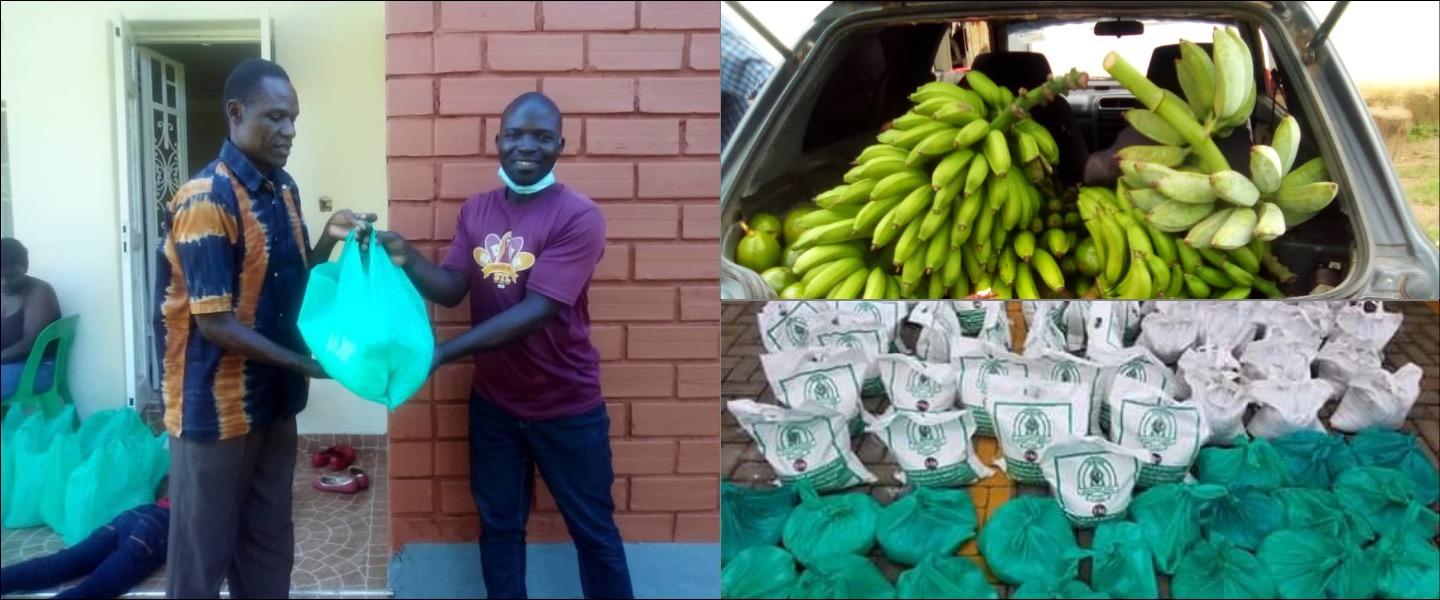 All across the world people and communities have been working hard to help combat the COVID-19 outbreak, and the handball community is no exception.
The Uganda Handball Federation (UHF) recently launched a 'COVID-19 Food Relief Campaign' to support and assist current and former handball players, coaches and administrators who have been badly affected by the lockdown.
"As the COVID-19 lockdown continued, the UHF started receiving information about current and former handball players, coaches and administrators who were stuck for food resources," said Carl-Augustine Mugalu, Assistant General Secretary of the UHF to IHF.info.
"After an analysis of the general situation for sportspeople in Uganda and seeing football and rugby players receive some relief from their governing bodies, we scratched our heads about how we could come up with a plan to raise something small for those involved in handball in Uganda."
Mugalu, alongside women's national coach Jimmy R. Orotin, men's national junior coach Ibrahim Kyaluzzi and men's youth coach Aziz Yakoub were then "fuelled" to develop a campaign to help people in their time of need.
After the practicalities of the campaign were decided, the group then presented the project proposal to the UHF Executive Board, and led by UHF President Sheila A. Richardson, it was immediately passed, with UHF Executive Members donating to the fund straight away.
Communications were then put in place to start the wider collection of funds, with names of those affected proposed, and then assessed, before donations were allocated.
The call for donations was answered by a number of different groups of people, including former and current players, coaches and administrators, alongside members of the UHF, representatives from Uganda Railways Handball Club, Uganda Prisons Handball Club, Makerere University Handball Club, KCCA Handball Club and Uganda Police Handball Club.
A variety of cash and food donations, including staples such as matooke (starch bananas), posho (porridge) and beans, were provided in what was the first phase of the project.
"In Ugandan handball, we have teams from the forces, like Uganda People's Defence Forces, Uganda Police Force, and Uganda Prisons Services, teams from schools and institutions of higher learning, and then those owned individually or by the community," explained Mugalu.
"Most handball players depend on the game and once it stopped everything is affected for them, but since handball in Uganda is voluntary, consideration was given to the players who are part of the clubs owned individually and communally as well as the schools and institutions of higher learning. We also reached out to former handball players, current and former coaches and current and former administrators of handball.
"Due to their service in handball being on a voluntary basis, most of our donors are employed elsewhere so they managed to raise what they could to help."
The nationwide lockdown due to COVID-19 meant Mugalu and his colleagues have seen big challenges in picking up and delivering the aid, but thanks to the support of the handball family, 47 members have already been helped with many more names on the list.
"Due to the curfew in place for lockdown, we only had limited times for movement and transport was halted, so long distances became a challenge, but we found a way using motorcycles and cars," said Mugalu. 
"Despite the generosity in phase one, it was not enough to cover the list and this, combined with the increasing daily number of players seriously affected by the COVID-19 outbreak, means we are now looking to start phase two of the fund which will look towards donations and contributions from the wider handball family, friends of handball and general well-wishers."
In addition to the call for support, Mugalu was keen to express his thanks to those who have already donated but was also looking forward to the day on which handball will return in the country which had big plans on the global stage this year.
"On behalf of the Uganda Handball Federation, I wish to extend my sincere thanks towards all the generous individuals who have come up to support our Handball COVID-19 Food Relief cause," said Mugalu.
"The President of the Republic of Uganda issued a directive in March which led to the lockdown of the entire country in order to ensure preventive measures against the further spread of COVID-19 which meant the UHF had to suspend or postpone all handball activities.
"These included the men's U20 and U18 training camps for the IHF Men's Trophy and the IHF Men's Trophy Africa Zone V championship in Ethiopia, the National Novice Championships, the National Handball League, National Secondary Schools Games our AGM and Elections of the new office bearers for the term 2020-24.
"Our national league is played outdoors on asphalt courts and our school championships are played outdoors on grass so when physical activity returns to normal, we will have to structure our standard operating procedures to suit how our exciting game is played.
"But we are optimistic that handball will be played at some point this year," concluded Mugalu. "We would like to appeal to all well-wishers for any kind of support towards our handball cause. We need at least one hall where we can play handball, and this will allow us to monitor the health and safety of the players, fans, coaches, referees and officials whilst adhering to the health and safety guidelines and protocols."
For any individual or business wishing to donate to the fund, please email [email protected]
PHOTOS: Uganda Handball Federation