27 Mar. 2023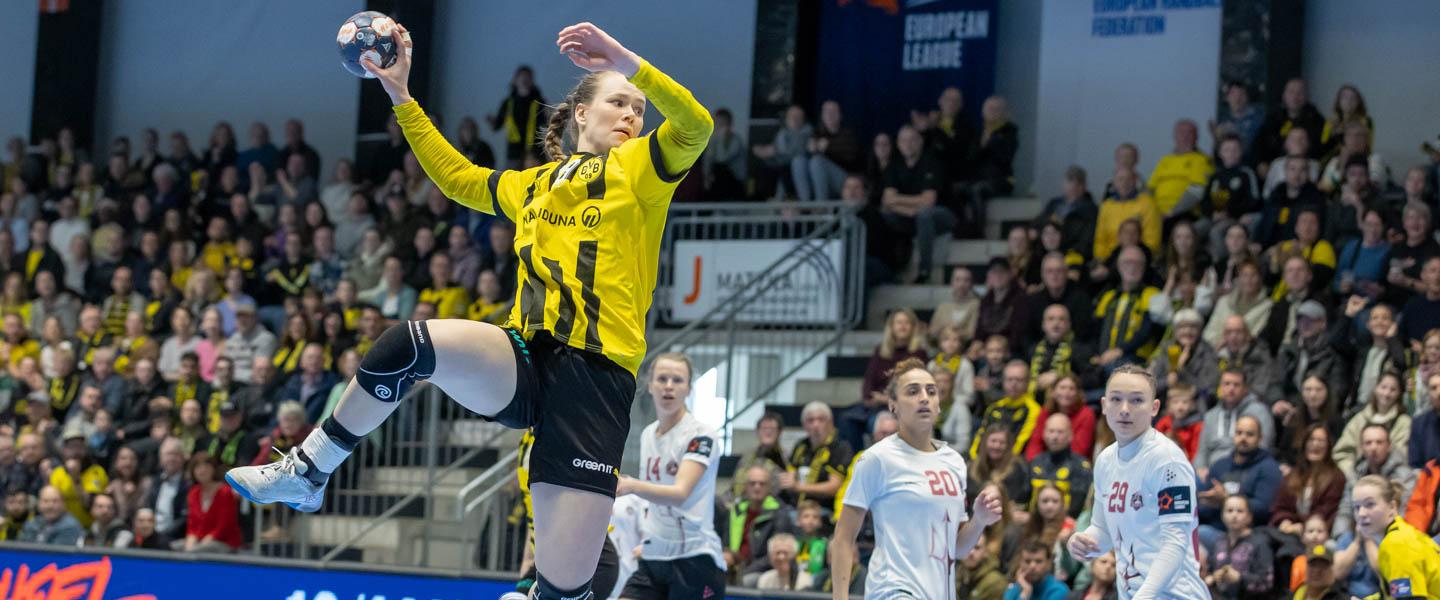 After four exciting doubleheaders in the quarter-finals of the EHF European League Women, the second-tier competition in the European women's club pyramid, two Danish teams, Ikast Handbold and Nykøbing Falster Håndbold, and two German sides, BV Borussia 09 Dortmund and Thüringer HC, qualified for the EHF Finals Women, which will take place in Graz, Austria.
By far the most challenging mission was Dortmund's one after the German side had little to show in a 19:28 loss in the first leg against Les Neptunes de Nantes. Buoyed by their fans, Dortmund provided an otherworldly comeback, an instant classic which saw them clinch a 30:20 win in the second leg.
It was a total collapse for Nantes, which had a two-goal deficit at the break (11:13), only for German centre back Alina Grijseels to take the matter into her own hands. A nine-goal outing for Grijseels lifted Dortmund to a 10-goal win which saw them clinch the quarter-final with a 49:48 aggregate win.
Nantes, who won the competition in their first European season in 2021, were eliminated, leaving the "Westpress Arena" in Hamm empty-handed without anything to show for their excellent game in the first leg.
Another comeback was made by Nykøbing Falster Håndbold, which mounted an impressive second leg against SCM Ramnicu Valcea after their 29:32 loss in the first match.  
Nykøbing took full advantage of their speed and depth, as they ran riot in Valcea's defence to clinch a 38:29 win, with left wing Elma Halilcevic, who shone for Denmark at the 2022 IHF Women's Junior World Championship, scoring 10 goals.
Elsewhere, Ikast Handbold made it three out of three, qualifying for each and every edition of the EHF Finals Women since the introduction of the format in the 2020/21 season with a dominating 61:41 aggregate win over Hungarian side Siofok KC, taking 10-goal wins in each leg.
Ikast are also the only team with an eight-match winning streak, being once again earmarked as favourites after finishing third in the competition last season and fourth two seasons ago, losing their semi-final each time.
Lastly, Thüringer HC shook off a 35:35 draw against Sola HK in the first leg to clinch a 27:24 home win, making it to the semi-finals of a European competition for the first time since the 2008/09 season, when they lost the final of the Women's EHF Challenge Cup.
The draw for the semi-finals of the EHF Finals Women will take place on Tuesday 28 March in Graz, Austria, where the final weekend of the EHF European League Women is scheduled on 13 and 14 May.
Thüringer's Annika Lott is the top scorer of the competition with 74 goals, two more than Valcea's Iryna Glibko and three more than Halilcevic.
EHF European League Women – quarter-finals
Les Neptunes de Nantes (FRA) vs BV Borussia 09 Dortmund (GER) 50:51 on aggregate
Siofok KC (HUN) vs Ikast Handbold (DEN) 41:61 on aggregate
SCM Ramnicu Valcea (ROU) vs Nykøbing Falster Håndbold (DEN) 61:67 on aggregate
Sola HK (NOR) vs Thüringer HC (GER) 59:62 on aggregate
Photo: Wolfgang Stummbillig