22 Mar. 2022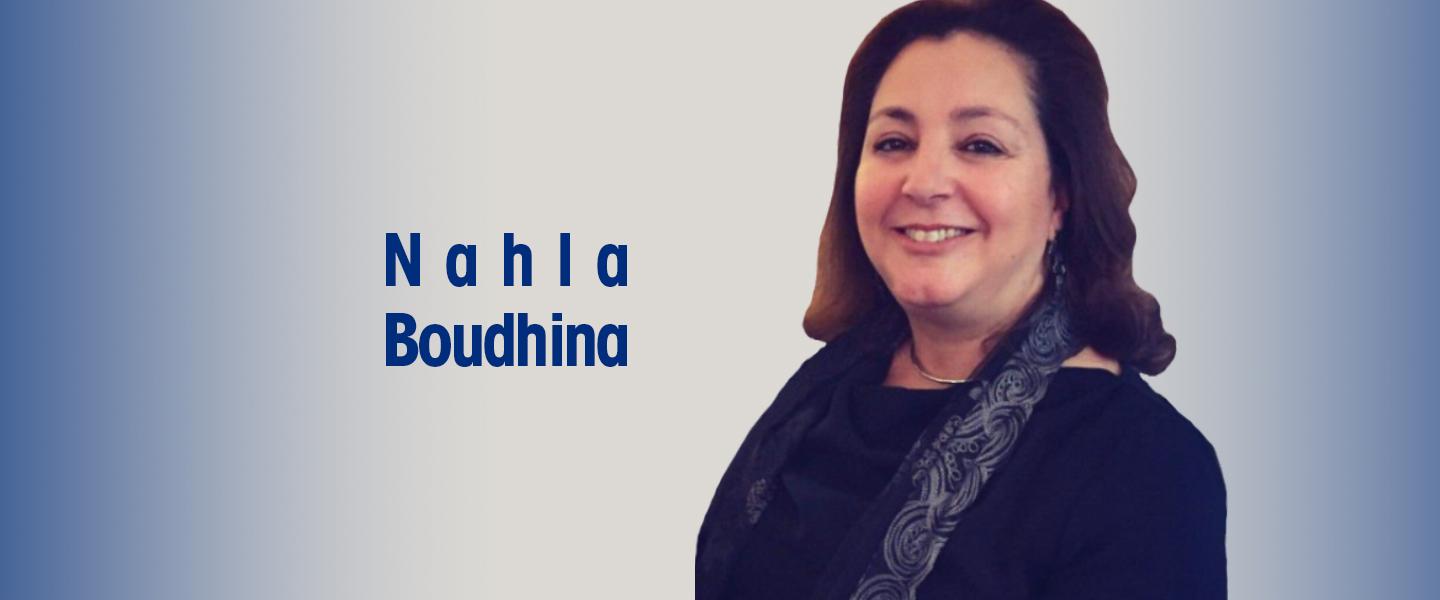 Throughout the month of March, the IHF celebrates women in various roles in handball in a special series. Part six focuses on Tunisia's Dr Nahla Boudhina. We hear from her about her variety of roles, her academic work and why teamwork is also important in the development of handball worldwide.
A packed schedule 
To just write about the positions Dr Nahla Boudhina currently holds is a feature article in itself, so we will start with a list:
African Representative – IHF Commission of Coaching and Methods (CCM) 
IHF Lecturer 
IHF Analyst
President – African Handball Confederation Commission of Coaching and Methods
Executive Office Member – Tunisian National Olympic Committee 
President – Women in Sport and Gender Equality Commission – Tunisian National Olympic Committee 
President – Scientific Commission – Tunisian National Olympic Committee 
Teacher/Lecturer – ISSEP, Tunis (Institut Supérieur de Sport et d'Education Physique) 
This list does not even include her variety of roles within Tunisian handball and the Tunisian Handball Federation (FTHB) where she is currently part of a provisional committee preparing for elections of the new office this May.
If we look back at previous roles, we would see even more, including four years working as a women's sport and sport for all project manager in the office of the Minister for Youth and Sport in the Tunisian Government.
And there was the 28-year playing and coaching career, with the former backcourt player spending her time at the Tunisian powerhouse clubs of Esperance Sportive de Tunis and Megrine, including 10 years with the youth, junior and senior national teams plus coaching teams at IHF World Championships.
All in all, as Dr Boudhina says, "since 1980, I have not left the field of handball".
Discovering, learning and spreading knowledge
"Hello I apologise for the delay, I am leaving today for Juba in South Sudan," is not a normal message you receive in an interview exchange but that is Boudhina in a nutshell – always involved in helping develop handball or develop the understanding and awareness of handball. Anywhere.
She is heading to the capital of South Sudan to deliver a D-Licence IHF Coaching Course and work on the IHF Former Players Seminar, starting this Thursday (24 March).
"Africa is full of talent," says the well-travelled Boudhina to ihf.info. "South Sudan will be a new experience for me and I'm excited to meet the talented former players from this country. I'm sure they want to teach their favourite sport on a scientific basis to young people.
"I consider myself lucky to be able to meet new handball enthusiasts on a regular basis and I thank the IHF and CAHB for this. They do a tremendous amount of work in this direction and each time, it's a new discovery for me. 
"Each time, the motivation grows. I enjoy contributing to the development of handball in countries where there are no strong handball traditions – there is almost always a strong enthusiasm among young people for handball in these countries. It's a great honour for me to contribute to their discovery and training, both theoretically and practically."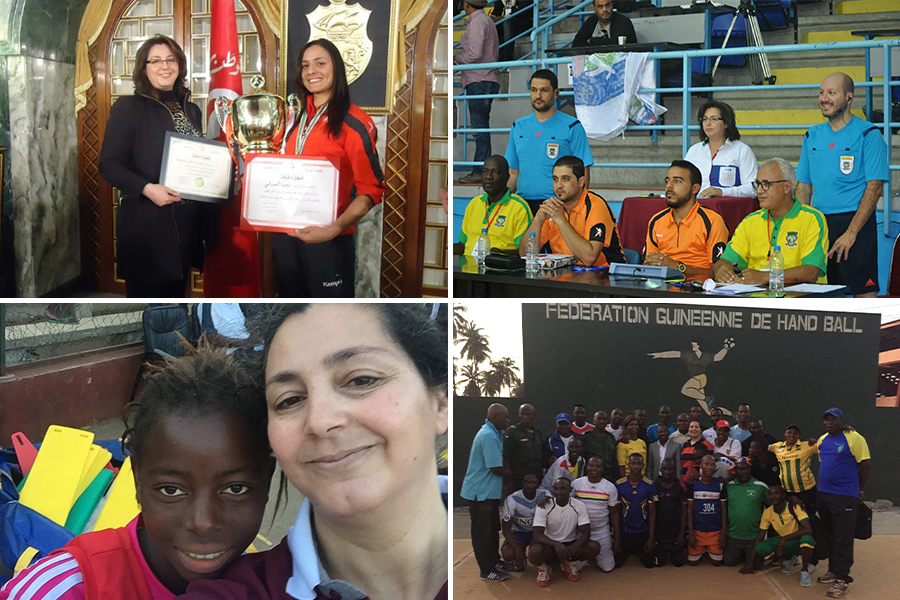 A simple internet search of Dr Boudhina's name will bring up pages and pages of academic work and it is here where she is best known: teaching and helping others learn about the sport.
"Since studying at university I have always been inclined towards scientific research," she explains. "This is how I specialised in the physiology of effort which allowed me to become a scientific expert for handball – at ISSEP now I teach the Physiology of Effort and Handball and participate in the training of teachers of Physical Education as well as handball coaches. 
"At the Tunisian federation I accumulated a lot knowledge, learning the functions of a national coach and was responsible for the scientific monitoring of the different categories of national teams for 15 years. This allowed me to introduce a system of evaluation and permanent follow-up of elite-level preparation.
"My interest was mainly focused on the detection of young handball talent as well as the determination of the physical, physiological and anthropometric profiles of players and their evolution during their careers.
"As Technical Advisor in charge of the Tunisian handball elite, I worked a lot on programming and planning. Today, and thanks to my responsibilities within the Tunisian Olympic Committee, I coordinate an action of scope in the field of mental preparation for all the federations."
As a former player and coach, Boudhina will be well-aware of teamwork on court and in the world of academia this is known as collaboration, with her handball and non-handball research being seen around the world thanks to the effort of a globally spread out team of academics.
"Research is universal and based on exchanges between experts from different countries," she explained. "This is why I adhere to any collective research initiative likely to develop my knowledge and contribute to the development of research in the world on themes specific to handball.
"The development of handball and its continued influence in the world is of concern to all. To continue to develop and establish itself as a spectacular and Olympic sport, it needs innovation to face strong competition from new sports. We therefore have a strong need to share our experiences, our studies and our research in order to move forward."
'Moving forward' is a key theme within handball education globally with the sport rapidly developing both on and off court in recent years, something which Dr Boudhina has been very close to.
"Handball continues to progress in the direction of an attacking game based on speed and physicality. Defence has become more strategic and requires undeniable physical qualities.
"In general, modern handball is increasingly based on intelligence in the game and the speed of decision-making but the evolution is continuous and it relies more and more on technological means.
"It is a question of developing the sport for all those involved across the world, just as beach handball is also to be taken into consideration in the sense of a global approach, given its growing popularity."
Developing development
Working in the Tunisian Government at the Ministry of Youth and Sport was key for Dr Boudhina to understanding how a 'strategic approach' could help with developing various projects for development itself, a topic that is close to her heart with her role on the African Handball Confederation Commission of Coaching and Methods.
"I have been President of the commission since 2016 and lead a vast programme for the development of African handball, particularly in terms of training technical and refereeing staff," explains Dr Boudhina. 
"The objective of this programme is to bring elite coaches up to speed with high-level requirements, according to a system of harmonisation of diplomas with IHF standards. This allows the improvement of the level of coaches of national teams and elite clubs.
"We are also working on a technical platform that will be accessible to everyone through the CAHB website. This platform will be a space for virtual exchanges between technicians from Africa and elsewhere.
"We also conduct training on competition analysis for the benefit of African technicians and have worked on the patterns of African competitions in both genders and all categories which we have perfected and adapted to modern handball.
"In addition, I am in charge of coordinating a working group on a development project in Africa piloted jointly by the IHF, CAHB and the French Handball Federation."
Her continental role also sees her part of the IHF CCM, in her role as the African Representative, and ensuring a synergy exists directly between Dr Boudhina and the global federation.

"Hosting structures for both players and coaches are of great importance for the development of handball in Africa and the experience of the African Handball Academy based in Cairo is instructive," she explains.
"It should serve as a model for similar academy projects in Côte d'Ivoire and Congo and our ideal situation is to succeed in setting up a structure for the training of players and coaches in the seven zones of Africa, so it is important to rely on close collaboration with the IHF and the European federations."
Handball in Tunisia – an optimistic outlook
Podium regulars on a continental stage at all levels, Tunisia are well-known as being one of Africa's powerhouses, but despite some key players making a name for themselves at some of Europe's top clubs, the national teams have not been strong on the world stage for a number of years.
After a run of quarter-final places in the IHF Men's World Championship, from 1995 to 2007, which included a fourth place at their own-hosted 2005 edition, Tunisia's men could only finish 25th at Egypt 2021, while the women's side have never finished above 14th, ending in 27th at the 2021 edition of the IHF Women's Championship in Spain.
In fact, the sole World Championship medal is a bronze from the 2011 IHF Men's Junior World Championship, but despite that lack of global success, the sport is thriving in the North African country, with the future looking bright.
"Tunisian handball remains a popular sport in Tunisia and is practiced throughout the country from an early age in the neighbourhoods," says Boudhina. 
"Thanks to its structuring at the level of the federation and the clubs, it was able to reach the top world level, particularly in the 2000s, but the economic situation that has prevailed for 10 years in the country has slowed down its rise.
"The national handball family is aware of the need to unite and combine all its efforts to rectify the situation with new perspectives to be developed by the future office following the May elections.
"In fact, beach handball will benefit from a priority interest just as much as women's handball, which, according to observers, can bring great satisfaction to Tunisia since our country is full of talents in these two disciplines. 
"No doubt too, wheelchair handball will be on the agenda knowing that our country is increasingly advocating inclusive sport, but like all sports, handball has been greatly affected by the COVID-19 pandemic.
"Fortunately, the situation seems to be settling and I hope that the next handball events will take place in optimal conditions that will allow our favourite sport to bring out its incomparable spectacular aspects – this will also will ensure the interest of television and sponsors.
"For Tunisian handball, I remain optimistic, especially if the political and economic situation improves."
Handball is life
For Dr Boudhina, it is clear the sport she holds close to her heart has had a profound effect on her life, but it is a life she will continue to use to help the sport grow in her home continent.
"My ambition is to continue to contribute to the influence of handball in the world and to work more for its development in Africa, which must benefit from more means to allow a greater number of countries to play at the high level.
"Sport is magical: it enhances human relationships," she says. "In the end, I owe everything to handball."
Photos courtesy of Dr Nahla Boudhina