12 Aug. 2019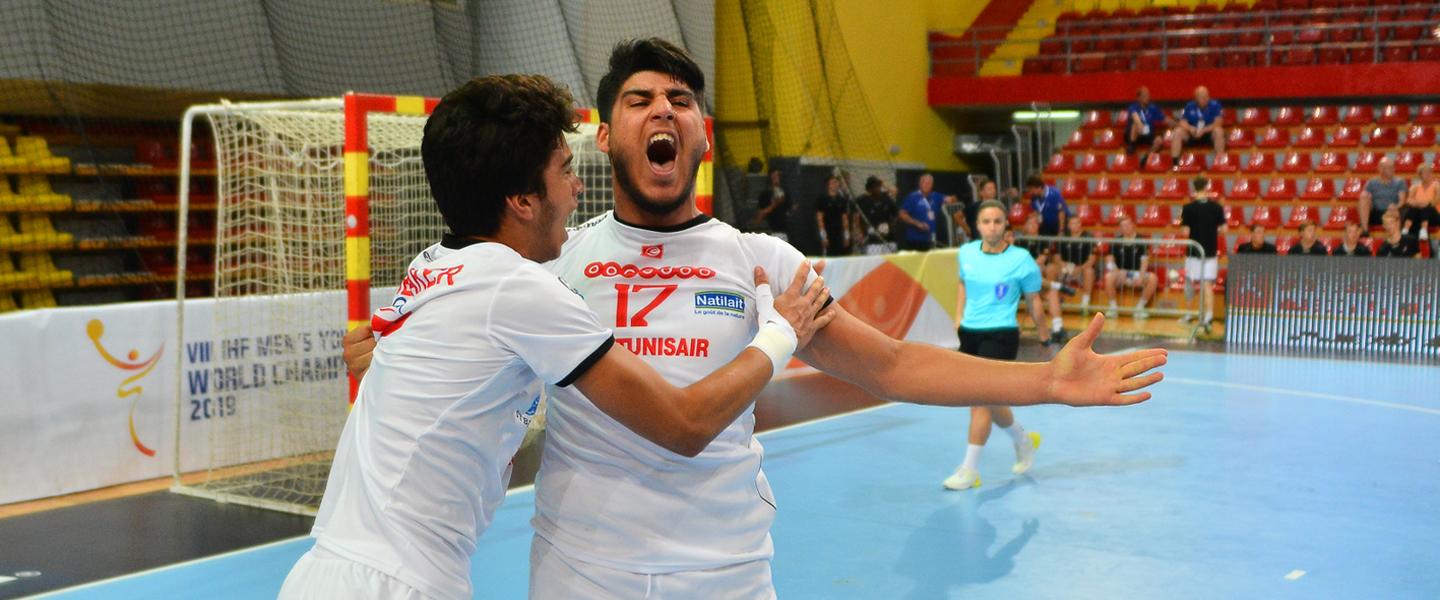 The only game out of all 12 to be played on the final day of preliminary round action at the 2019 IHF Men's Youth World Championship with an eighth-final place to be decided, saw Tunisia come from behind to beat Serbia in group D.
GROUP D
Serbia vs Tunisia 23:25 (13:12)
Boris Trajkovski Arena, Skopje
Serbia could only name 14 players in their squad ahead of this game with right back Jovica Nikolic out due to injury and left back Stefan Petrovic missing with an arm in plaster. 
Nikolic had played all seven games for the U21 side at the junior world championship last month, but his presence was not missed early on as Serbia raced to a 7:2 lead (11th minute) which included a direct disqualification for Anas Ben Slimen after his seven-metre penalty hit goalkeeper Nikola Cirovic in the head (4:2, seventh minute).
With 8 minutes and 17 seconds of the match gone, Tunisia coach Ahmed Rajhi took his first time out and he watched his team gradually come back to within one, although their journey to that point was full of nerves, including goalkeeper Asil Namli – who played eight games for the Tunisia U21 team in Spain – overthrowing to Mohamed Firas Madiouni on the fast-break with his team 10:8 down.
However, they did come back to nearly draw equal (12:11), prompting a Serbian time out, and the goal difference stayed until the half-time break.
Despite Serbia leading at the break, it was Tunisia who could be heard from the court as they loudly motivated themselves into the locker room for the half-time break, no doubt led by the character Namli, who ended with six saves from 18 shots in the first half, while Cirovic registered nine saves from 21 attempts in the opening period.
The game changed with 20 minutes to go as Tunisia went ahead finally, through Khaled Saidi (17:16, 39th minute), and then they moved up to a two-goal difference with a quarter of the game remaining (19:17).
But Serbia kept fighting – for even a draw – and they sensed their chance was slipping away maybe when at 23:22 and a man down, they missed a chance to equalise. With 25 seconds left it was a two-goal lead (25:22) for Tunisia after a 3:0 run and they took a time out.
The Serbia coach, Aleksandar Radosavljevic let out an exasperated breath as he worked out how to motivate his troops, but Tunisia mishandled and turned over the ball straight away. With the goal in front of him, Ivan Horvat went to make it an interesting final few seconds, but Namli was there to bat the ball well away into the spectator seats.
"Thankfully we have qualified to the next round," said Madiouni to IHF.info. "The next match will not be easy against Denmark who finished first in their group, so we will have to work more and more. But we played good today and played very well in the second half - the defence was very good.
"We continue to progress and hope to give a good picture about Tunisian handball," he continued. "We know that we can come back from any score down as we are a good team. Our goalkeeper (Namli) has a strong personality, and he's a very good player.
"Our coach always says we are a family and we have been together three years so we have a good relationship and the coaches make that bigger and bigger - I said to our fans that we are going to the end and we will honour them in this championship."
Best Player of the Match: Khaled Saidi (TUN)

Photo: WCH 2019 / Filip Viranovski