15 Dec. 2021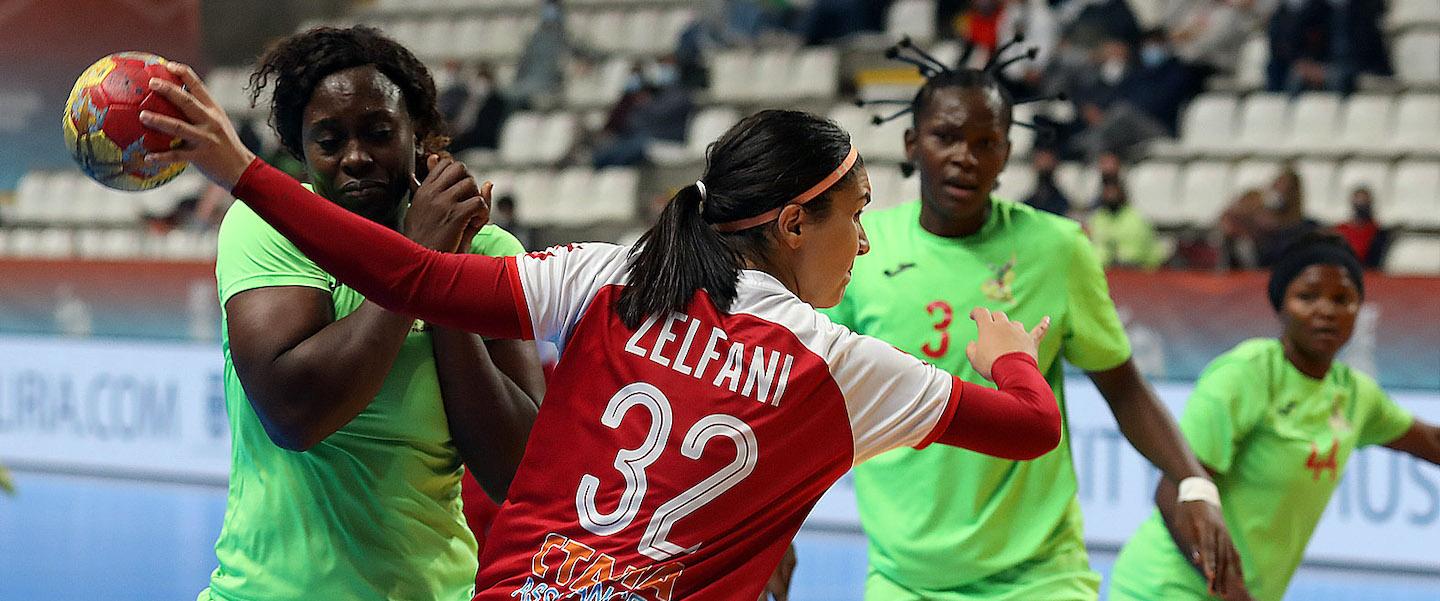 Despite finishing above them at the 2021 CAHB Women's African Championship last June, continental silver medallists Cameroon could not overcome Tunisia in the 27/28 Placement Match in Llíria, running out of steam to eventually lose 29:35.
The North African side took their second win – and bragging rights in Africa – and will return home to assess what worked, what did not and what they have to do ahead of the next continental championship at the end of 2022.
27/28 PLACEMENT MATCH
Cameroon vs Tunisia 29:35 (15:20)
A depleted Cameroon side featured three goalkeepers in a squad of 11 and it was that lack of bench depth which ultimately cost them dear against a motivated Tunisia side, perhaps looking to remind Cameroon that they are the second-best team in the continent behind the might of Angola.
Under coach Serge Christian Guebogo Cameroon play a relaxed form of the game, enjoying their time before, during and after court, but with a steely hard inner core, however, any team with just eight players available on court will struggle.
"I remember we played in 2019 during the African women's championship and Tunisia came with a very young team," said Guebogo following the match.
"Today they have demonstrated a better maturity, they have developed their skills. We played with our strengths, we tried to set up a strategy, but obviously, we have a lack of players, some are tired as well, because the competition has been very long, we tried to play with our mind and our physique but we are short on that.
"We lost but it was a good game to learn from," he added. "We have learned a lot, plenty of details, we have seen that we need to have a lot of involvement to prepare for this competition. We will return to Cameroon with plenty ideas in our mind; plans to develop, skills to develop to come back better and stronger for next time."
Early on, Cameroon powered out of the starting blocks, going 5:2 ahead (7th minute), but this spurred Tunisia in attack and a 4:0 run followed (6:5), then a 5:0 run a few minutes later to put themselves 13:7 ahead (14th-17th minute) and they never looked back, despite an almost even second half. Cameroon did not help themselves, losing Gisele Nkolo with 15 minutes remaining thanks to a direct disqualification for a foul against the attacking Amal Hamrouni.
"We started quite badly, we changed the tactic, we urged the players to play fast and to go on the breaks faster," said coach Moez Ben Amor.
"We knew Cameroon were short of players and if we could play fast we knew they would suffer physically. If we miss out the game against Congo (in the preliminary round), it was a very good competition for us and we can expect a bright future."
Ultimately, it was a game in goal, not in front of goal which was exciting as Berthe Abianbakon Onoukou made 14 saves (36%) for Cameroon and Tunisia captain Fadia Omrani made one less (13 for 34%). Her fellow leader on the Cameroonian side, Anne Michelle Essam, in her 51st game for the side later announced her retirement from the national team, a team which never gives up whatever the odds.
This was best illustrated by an overthrown fast-break pass from goalkeeper Onoukou, but still hunted down by Claudia Jossy Eyenga Djong who squeezed herself into the remaining legal part of the court, to flick it back to the impressive Cyrielle Ebanga Baboga, who had not given up herself, joining her teammate in front of the Tunisia goal and gleefully smashing home.
hummel Player of the Match: Sondes Hachana Ep Kerkeni, Tunisia