09 Aug. 2019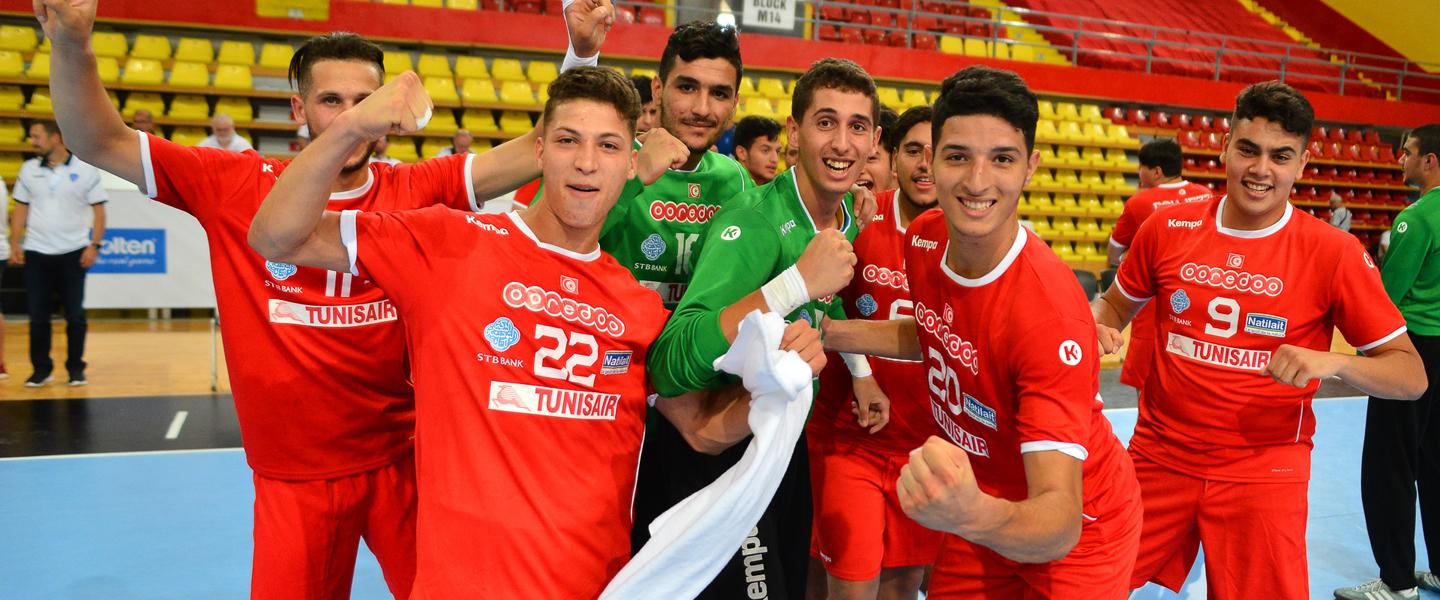 After losses to both Iceland and Germany in their first two matches, Tunisia finally got some points at the 2019 IHF Men's Youth World Championship with a win against Brazil, taking the victory in the last seven seconds.
GROUP D
Tunisia vs Brazil 26:25 (13:16)
Boris Trajkovski Arena, Skopje
A wide-open Brazilian defence with 59:53 on the clock allowed Tunisia's right back Taha Smaoui to cut through and score, ending the possibility of the South Americans getting anything from the match and allowing the Tunisians to get off the mark in Skopje.
It was the most important Tunisian goal in the match, despite 12 strikes from the best player of the match, Tunisia's centre back Khaled Saidi, who is the most experienced player in his side with 43 international appearances before North Macedonia 2019.
The win came after a half-time deficit of three (16:13) for the North Africans, despite leading the South Americans for the first 15 minutes of the match. Brazil had worked their way back equal (7:7) before going ahead by five (16:11) just before the half-time pause, following a 4:0 run which was rounded off by two goals from Washington Silva Santos.
With his side five ahead Brazil coach Alberto Gallina was maybe already thinking about his half-time team talk, but Jose Luciano Costa da Silva made it a little harder as he was directly disqualified for a high tackle on Saidi, and then Tunisia grabbed a pair of goals before the break (16:13 to Brazil).
Brazil kept their noses in front in the early part of the second period but an eventual 7:1 run (20:19, 44th minute) put Tunisia back in front as the momentum shifted, with Saidi's slow-motion lob seemingly hanging forever in the air and both team benches shifting into silence wondering where it would land. But when the ball buried itself into the Brazilian net, the Tunisian bench exploded into happiness and Saidi ran back, full of adrenaline, as his side were just one behind (19:18).
Eventually, it came back square (19:19) and when Asil Namli saved, the Tunisian bench exploded in joy once again as Saidi then put his side in front (20:19), prompting an immediate time out from Brazil.
The last 15 minutes was a tense affair with saves from both sides, and then the game pausing while Namli received treatment for a coming together, but Tunisia eventually opened up a two-goal lead in (23:21 – 51st minute, 24:22, 53rd minute) to appear to be safe.
However, Brazil came back again and with just under three minutes remaining Carlos da Silva Santos equalised (25:25). But late drama saw a time out from each team and when Brazil's final attack failed from Santos, he was out of position in defence and Tunisia secured their victory.
"This win is very important for us," said Tunisia captain Ouael Badi to IHF.info after the match. "The losses in our first two games gave us the energy to able to win today, we spoke as a team and now we hope to win our other matches, tomorrow against Portugal and then against Serbia so we can achieve qualification through to the eighth-finals.
"Brazil were very good; we could only win in the last seconds which was good for us and this will give us much energy.
"Our junior team result in Spain (IHF Men's World Championship) have given us motivation and power and have made us proud, and we want to do our best here, taking the matches one by one."
Best Player of the Match: Khaled Saidi (TUN)

Photo: WCH 2019 / Filip Viranovski