24 Sep. 2022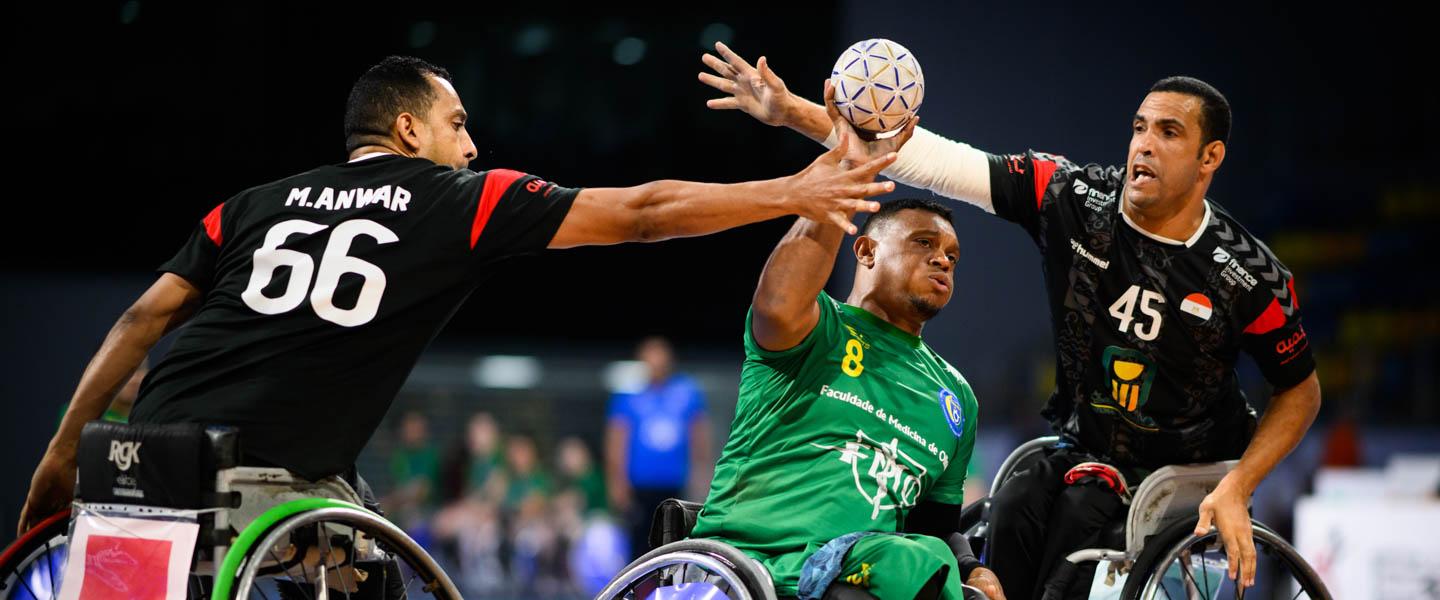 The first IHF Four-a-Side IHF Wheelchair Handball World Championship will conclude tomorrow with a high-profile final. The only unbeaten side after the round phase, Brazil, take on Egypt, a team that has surprised many throughout the competition and took four wins out of their first five games.
Brazil definitely have the advantage of chemistry and experience. With wheelchair handball introduced in the country in 2005, the years of development and training have yielded a well-oiled machine of a team, propelling four players into the top 12 scorers at Egypt 2022.
However, Egypt have their own advantages: strong home support and the sheer will of their players, always displaying their heart on their sleeve whenever they take on the court. Yet, their lack of experience might be their undoing in this final, as Wael Sayed's side had been starting training only a month ago.
Brazil have not dropped a set so far, winning all 10 of them, and are topping the scoring charts with 74 points, with Egypt following in second place with 60 points. The top two sides also have the best defence, with Brazil conceding only 24 points, while Egypt conceded 37 points.
But in the first match between the two sides, which took place on Friday, Brazil really struggled in the first set, only to come stronger in the second and take a 2-0 win. The South American side needed a golden goal through Shirlei Januário, to clinch the first set, 5:4, but ran riot in the second, where they secured a 10:3 win.
The top three scorers of the competition will also clash on the court in Sunday's final, with Egypt's Magdy Talaat Abdo Abbas, who scored 31 points, being the African team's main goal scorer. At the same time, Brazil will rely on Jordean Rodrigues and Guilherme Lourenço, who scored 23 points each.
The bronze-medal game will feature another South American side, Chile, and Slovenia, who have mounted a massive comeback in their last match of the round phase, to take a 2-1 win against India.
Both of Slovenia's wins have come in a tiebreaker, as the European side proved they could withstand the pressure. But they did lose the match against Chile in the round phase, 0-2 (5:6, 4:9), after another disappointing start, which seems to be plaguing them at Egypt 2022.
The first game of the day will see Netherlands and India facing off, with the two sides failing in their quest to secure a medal after dropping four matches. It was astonishing for the Netherlands, who entered the competition as one of the favourites. Still, they lost four games in a row after their first win against Chile, 2-0. The two sides met on Friday, with India taking a shocking win, 2-0 (7:2; 7:6), their first in history in the IHF Four-a-Side Wheelchair World Championship.
Matches 25 September 2022
15:00 EET – Placement Match 5/6
17:00 EET – Bronze-medal game
19:00 EET – Final