01 Apr. 2021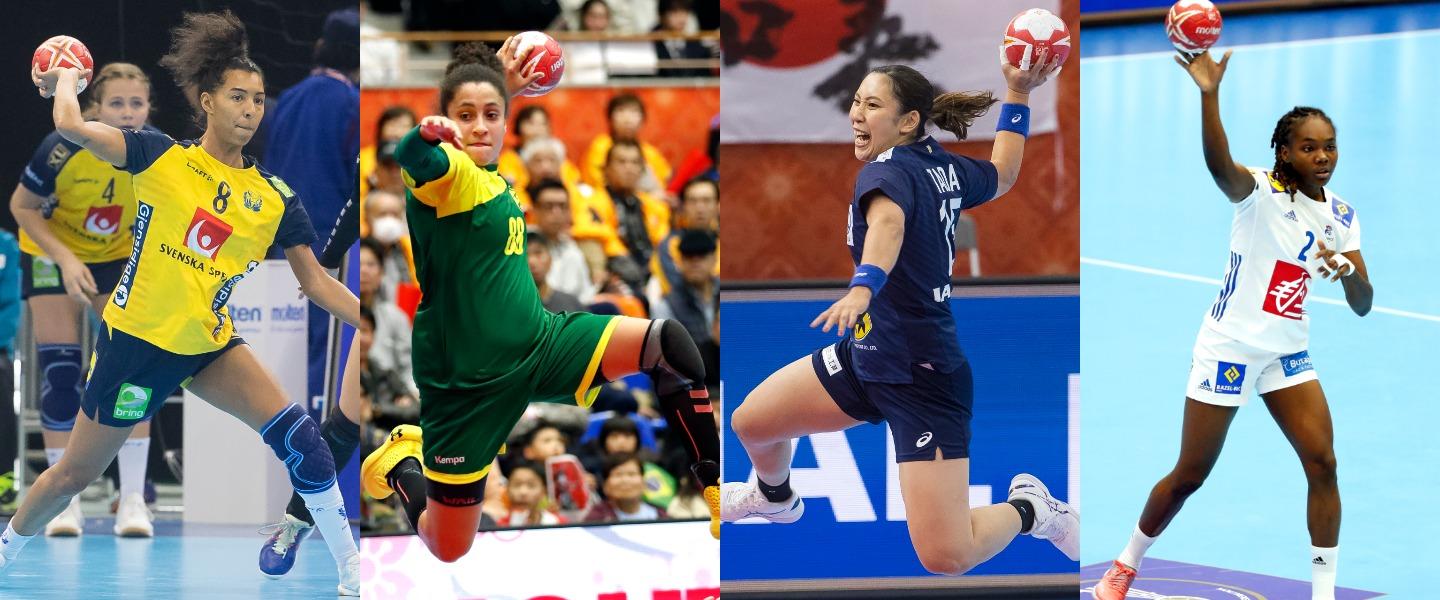 The draws for the Men's and Women's Handball Tournaments of the Olympic Games Tokyo 2020 were completed this morning at the Head Office of the International Handball Federation (IHF) in Basel, Switzerland.The two groups are:
Group A: Angola, Republic of Korea, Norway, Montenegro, Netherlands, Japan
Group B: Brazil , France, Hungary, Russian Olympic Committee, Spain, Sweden
The women's competition in Tokyo will start on 25 July with host nation Japan taking on the reigning World Champions the Netherlands. In the meantime, participating players and coaches are abuzz about today's draw.
Ulrik Kirkely, Japan women's national team coach: "Everything will be tough, it will also be tough in group A, we know that but we are looking forward to playing these Olympic matches in Tokyo. For our fans it will be amazing to see the best players. With a group including Norway, and their players who have won a lot of medals, [plus] it will also be interesting to play against Korea in Japan. We have two very good world championships behind us, in 2017 and 2019. The last one in Kumamoto, in 2019, is very close to our hearts because it was also home soil and we had a good feeling about that and we have had good results so we are looking forward to Tokyo."
Jorge Dueñas, Brazil women's national team coach: "It is certainly a very strong group. I believe, at this moment, that it is more balanced and stronger than group A. There are five teams from Europe playing at a very high level and Brazil, Pan American champions are also looking for the classification. I believe that none of the six will pass to the quarter-finals undefeated. Everyone must lose at least one game, such a balance.
 
"Surely the strongest team is Russia [Olympic Committee]. In addition to being the current Olympic champions, the level of Russian athletes is very high and have 14 players at a very high level, playing for clubs in very strong leagues. Spain won silver at the 2019 IHF Women's World Championship playing very well, so much so that they only lost the final by just one goal. They will arrive very prepared in Tokyo. Hungary manages to unite the tradition of a strong handball school with a squad made up of experienced and younger players and will arrive in very good condition.
 
"Sweden have shown in recent years they are always among the best. They played their Olympic qualification tournament at a very high level and are very difficult to beat. France, on the other hand, [we] all know their level. They qualified for Tokyo 2020 as European champions and have a well-mixed squad featuring players who are key for their clubs across Europe. 
 
"As I said, the group is extremely balanced and everyone is in a position to win their games. Victory will come in the details."
Carlos Viver, Spain women's national team coach: "We are happy to play against rivals which we have already played against, so we know where we are. To be fair, we played recently against most of the teams, therefore we know each other and we have data on each other. We will prepare thoroughly for the games, with one or two weeks of training and a friendly against other qualified team."
? El sorteo más complicado de todos para las #Guerreras?? en @Tokyo2020es

? La selección debutará el 25 de julio ante Suecia @hlandslaget??

?️ @carlitosviver: "Si Japón ha elegido tan rápido, es sintomático del desequilibrio entre los grupos"

#⃣ #Tokyo2020 #UnitedByEmotion

— RFEBalonmano (@RFEBalonmano) April 1, 2021
Olivier Krumbholz, France women's national team coach: "With Japan choosing Group A, it shows that our group is a bit tougher. We are five European teams here, therefore one of them will be out of contention in the group phase. It is good that we are not facing the Republic of Korea, a tough team to play against in the start of the competition. With two friendly games against Norway in July, we are happy that we will not meet them in the Olympic Games."
? Retrouvez les réactions des deux sélectionneurs

➡ https://t.co/719R5uwUON #BleuetFier #DirectionTokyo

— Equipes de France de Handball (@FRAHandball) April 1, 2021
Thorir Hergeirsson, Norway women's national team coach: "This is a super draw, as I always call it, because we cannot control the outcome of it. I have a feeling that it will be a strong competition. There are many good teams in both groups. We faced Montenegro only a fortnight ago, it is a very tough team, we lost against them.Teams like Japan and Angola have improved a lot in recent years, and South Korea are always targeting the Olympic Games. No matter who you draw and meet, if you want to fulfil your expectations, you must win against every side. We remember the Olympics in London in 2012 well. We barely managed to advance to the quarterfinals, we finished fourth in our group. But we won the competition, after we improved. So anything can happen."
Nå vet vi hvilke land Håndballjentene og Håndballgutta skal møte i gruppespillet i OL i Tokyo! ? Les mer her:https://t.co/S3zyu4cUTJ

?: Charly Triballeau / AFP / NTB pic.twitter.com/TjuvtLxvDE

— Norges Håndballforbund (@NORhandball) April 1, 2021
Tomas Axner, Sweden women's national team coach: "It is definitely a tough draw, but it could also have been worse. But we are in a group with five European teams plus the South American champions, so there will be five very tough matches. France and the Russian Olympic Committee team are two teams that are always difficult to beat, but we also must win against Hungary and Spain if we want to avoid facing a group leader in a possible quarterfinal".
Och nu är damernas motståndare i OS också framlottade. Vi ställs i gruppspelet mot Spanien, ROC (Russian Olympic Committee), Ungern, Frankrike och Brasilien. I den andra gruppen gör Nederländerna, Montenegro, Norge, Japan, Sydkorea och Angola upp. pic.twitter.com/HbuEf0rjo1

— Handbollslandslaget (@hlandslaget) April 1, 2021
Ryu Eun-hee, Republic of Korea women's captain: "All the teams participating in the Olympics are strong, so it is impossible to judge which group is better.
"We recently met Norway and the Netherlands at the 2019 IHF Women's World Championship in Japan. There are no easy games, but we will do our best based on our good experience from Kumamoto."
Kang Jae-won, Republic of Korea women's national team coach: "Every match will be tough in the Olympics. Therefore, our first goal is to pass through the preliminary round. I think we will meet strong teams in group A.
"Our first game against Norway is the most important, but if we win one of the two matches, against Norway or Netherlands, we will be able to advance to the quarter-final stage.
"If we advance to the quarter-finals it will be difficult no matter which team we face, still, if we go through to the quarter-finals I think there is hope for a medal.
"We will play every match thinking it is the final."
Eduarda Idalina Amorim Taleska, Brazil women's national team captain: "It's not an easy task for Brazil. We are in a very difficult group, but this gives us an extra motivation to give our best in the preparation. It will not be easy to get the classification, but we hope we can make it. 
 
"Along with Norway, France and Russia are Olympic, world and European medallists in the past few years, so they are not only big favourites in our group, but for Olympic gold.
 
"Spain are also in good shape and won silver in the 2019 world championship. They have a good mix of young and experienced players and can play different defensive formats and attacking systems. 
 
"Sweden are physically very strong and have a very compact defence. They have a dynamic attack with good options for long range shots and play with a pivot. Hungary are highly motivated and have a very fast team.
 
"I really wish we can have a good tournament and can enjoy the fact we can play the Olympics even with the COVID-19 situation."
Felipe Cruz, Angola women's national team coach: "It will be very difficult since Angola has been without sports activity for a year as a result of the COVID-19 pandemic so, from this point of view, we have a great challenge.
 
"We think that the group is balanced and we will analyse all opponents; each game has its history. The European teams are the main favourites [and they] will have a say more than Korea, Japan and ourselves.
 
"We believe in our potential and aspirations, and during the tournament we will approach the games with great courage and desire to win, naturally respecting all opponents."
Emmanuel Mayonnade, Netherlands women's national team coach: "It is difficult to say anything about the draw in advance because one does not know how the tournament will go. The quarter-finals will be crucial given the strong opponents in group B. We will have to finish within the first four teams to get to the quarter-finals. We played against Norway in the last two tournaments, the IHF Women's World Championship and the EHF EURO. We also met the Republic of Korea and Angola at the in 2019. That tournament had a good ending for us. I have not yet played against either Japan or Montenegro. "
Een nieuwe aflevering 'Van Hier Tot Tokio' ? Vanavond een terugblik op onze trainingsstage van maart, waar de voorbereidingen op de Olympische Spelen begonnen zijn ‼️ Vanavond om 18:00 uur op Ziggo Sport ? pic.twitter.com/QsWrIIoXqc

— NLteam Handball (@nedteamhandbal) April 1, 2021
Gabor Elek, Hungary women's national team co-coach: "It is hard to say whether Spain or the Netherlands are the better sides from the first pot, but we have the toughest opponents possible from the other pots. It will be a huge challenge to get to the quarterfinals, but, of course, that is our goal! Our group is very difficult."