13 Aug. 2023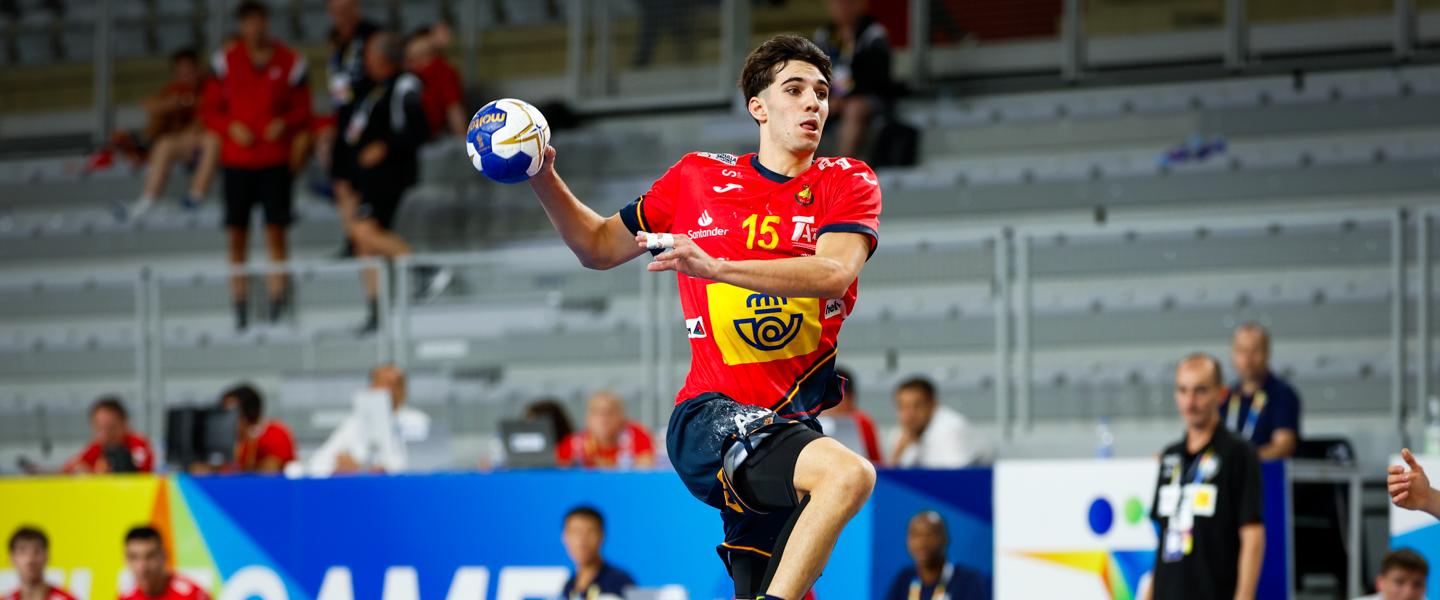 Heading into the IHF Men's Youth World Championship, Spain were undoubtedly one of the favourites, with this generation sealing the gold medal at the M18 EHF EURO 2022 last summer. But, as Spain proved earlier this summer at the 2023 IHF Men's Junior World Championship, when they were also the reigning European champions but finished on the ninth place, surprises might happen all the time.
This is why this group of highly talented players needed to work even harder and avoid any potential surprises, trying to balance their act and create the perfect environment to achieve the double, following up with the title at the IHF Men's Youth World Championship, after their success in the continental competition.
For now, the plan seemed to have worked like a charm, as "Los Hispanos" are in the final at Croatia 2023, riding a seven-game winning streak, with the lowest margin for a win so far coming in the quarter-final against Germany (32:28), but in a match, they have thoroughly dominated.
"Everybody talked about we being the favourites, but we knew that we needed to keep our heads down, work more and more and I think we have achieved that over the last year, we always played as a team and we became better and better and mastered all the challenges we faced so far," says back Djordje Cikusa I Jelicic.
Cikusa I Jelicic and his twin brother, Petar, both playing in Spain's back line, are crucial for their team's success over the last years. Their surnames do not sound Spanish, and the explanation is quite simple: both were born in Girona, Spain, where their father, Zoran, who hails from Croatia, was playing handball then.
They have been bred in Barcelona's academy, with Djordje also making the All-Star team at the M18 EHF EURO 2022 as the top right back in the competition, and both have been making some waves for Spain here, albeit without putting up otherworldly numbers, rather than aligning to Spain's philosophy.
That is a team above everything, with the best Spanish goal scorer, line player Victor Romero Holguin, making 38 goals, enough for the 19th place in the top goal scorer standings.
"We are truly a team; yes, this is the main reason I think we are here. The team is above everything else. We are always playing all for one and one for all. We are striving to put up the best performances and these, I think, are our secrets, if you can call them like that," adds Spain's right back.
That mindset helped Spain create their best-ever streak at the IHF Men's Youth World Championship, winning seven games on the trot on the way to the final, with an average of 35 goals scored per game and only 25.2 goals conceded per game, underlining an excellent balance in the team.
Now Spain will aim to secure their first-ever goal medal at the IHF Men's Youth World Championship after losing the finals against Denmark (22:24) at Argentina 2011 and France (25:28) at Georgia 2017.
"You can say it is a dream to be here because we worked hard and we managed to overcome all challenges to reach the final. Winning it would be amazing, just confirming our status as the best team in the world, so two titles in two years, yes, that would feel excellent," adds Cikusa I Jelicic.
It will also be a crowning achievement for himself and his twin brother, who have followed in their parent's footsteps and started handball at a very young age, becoming one of the hottest talents for Spain, a hotbed for players with huge potential.
Now, Petar and Djordje are going further and further, flourishing under the keen eye of Spain's senior national team coach, Jordi Ribera, who has attended every match at Croatia 2023.
"We have started handball together, and we are playing side by side together, spending a lot of time together; I think this is an excellent proposition for every kid out there. We get on each other very well. Therefore it is a superb scenario for both of us because we develop together," concludes Djordje Cikusa I Jelicic.
Photos: Croatia 2023/Kolektiff images