22 Jun. 2020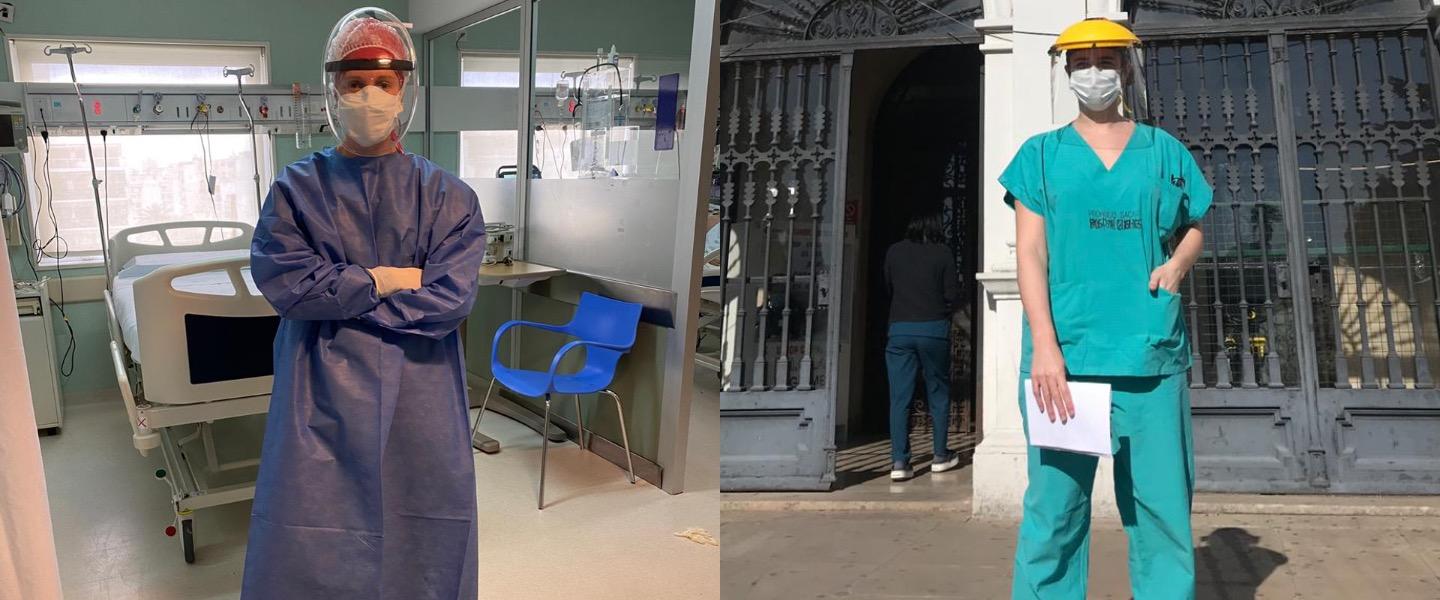 Many members of the global handball community have contributed to the fight against COVID-19. We share their stories in the special handball in healthcare series.
Former Argentina women's beach handball national teammates Carolina Rossi and Jesica Presas are used to fighting together side-by-side on the sand – in 2014 they picked up silver and bronze medals at the South American Beach Games and Pan American Women's Beach Handball Championship respectively and appeared at the 2014 IHF Women's Beach Handball World Championship in Brazil.
But the COVID-19 global outbreak has seen them fight a very different battle altogether.
Presas is currently a medical specialist and member of the professional staff of orthopaedics and traumatology at the Hospital Interzonal General de Agudos Professor Doctor Luis Güemes, in Haedo, and the Casa Hospital San Juan de God, Castelar Medical Center, both situated in the province of Buenos Aires, while Rossi is a medical specialist in anaesthesia working in private clinics across Buenos Aires city and the public Hospital General de Agudos Dr. Teodoro Alvarez.
"Faced with the pandemic, my tasks continue to be the usual ones, restricting a little attention to what are serious and urgent pathologies," said Presas to ihf.info from her home in Argentina. "We specialise in polytrauma patients and in this situation, we consider everyone as a 'suspicious case', so based on this we take all the preventive measures already established.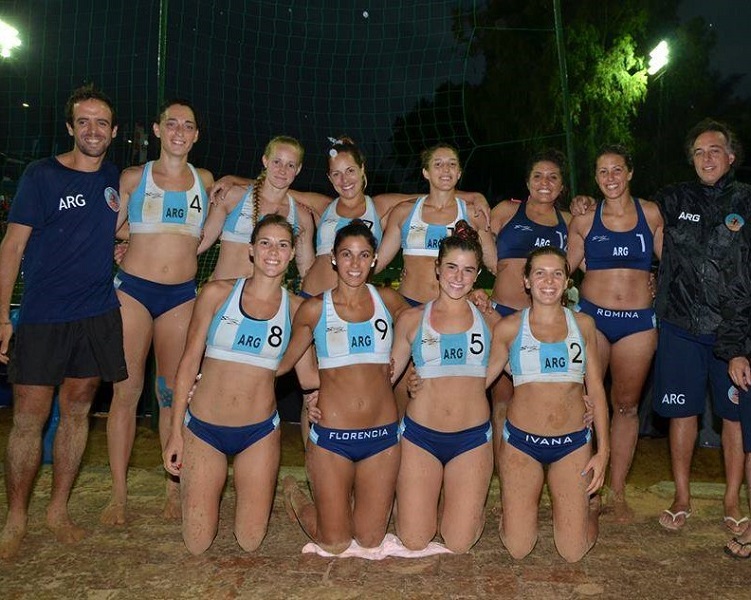 "On the other hand, we are at the disposal of the hospital to perform triage of febrile patients, which is a kind of 'classification' of the patient, with the aim of defining whether or not the patient is suspected of having COVID-19."
For Rossi, it is her first year working in anaesthesiology after completing her residency and it is a very testing time for all involved in healthcare in the South American country.
"Across the world everyone is living in a difficult situation which is getting very complicated," said the 31-year-old, who wanted to be a doctor ever since she was a child. "Here in Argentina things are getting worse and there are a lot of people getting COVID-19. The hospitals are becoming saturated with patients and we are working a lot.
"Like in every part of the world we don't have a lot of things to work with; we are always fighting to get all the equipment that we need which we don't have, or have little of, but it's not scary and I'm not scared – we only think about our patients and not anything else, but I think the worse moments are about to come and we have to be prepared."
Away from their day jobs, Rossi and Presas have retired from national team duty on the sand but still play at club level, continuing their handball careers which started when they were children.
Presas has played indoor for top-flight team Club Atletico Velez Sarsfield since the age of 15, as well as for their beach team in recent years, including the Metropolitan Beach Handball League Tournament (FeMeBal) which took place in Buenos Aires earlier this year. Her first international beach handball medal was won at the 2012 Pan American Women's Beach Handball Championship in Montevideo (Uruguay), when her side took bronze.
Rossi started with indoor handball aged just 11 and went on to play for Buenos Aires team Club Deportivo Ferrocarril Mitre Handbal, before discovering beach handball and then representing the women's national beach handball team after being invited by coach Salvador Comparone to join them in 2012.
After that successful 2014 with Presas, Rossi moved up to Pan American silver in 2016 in Venezuela and silver again at the 2017 IWGA World Games in Wroclaw, Poland, which she credits as the most important in her career. 
And the skills learnt and developed on the handball court have proved transferable for Rossi into her medical career.
"All the things I have done and experienced in the beach handball team are some of the most important things I have ever done," she revealed.

"You learn how to work in a team, learn how to win and how to lose, how to share and how to play with, and against, equals. These kinds of things leave a mark in your personality; they help you to grow, to understand a lot of thing – this is very important for sport, for yourself and for your life as a doctor as they matter a lot in my speciality."
Both Rossi and Presas also had their own messages for the global handball family who are experiencing these unique times due to the COVID-19 outbreak.
"My message to all handball fans is to find out your information from reliable sources and to take good care of yourself and your loved ones," said Presas, who gained her medical degree in 2014 as she was preparing for the 2014 IHF Women's Beach Handball World Championship, before specialising in orthopaedics and traumatology, and then finishing her residency in 2019.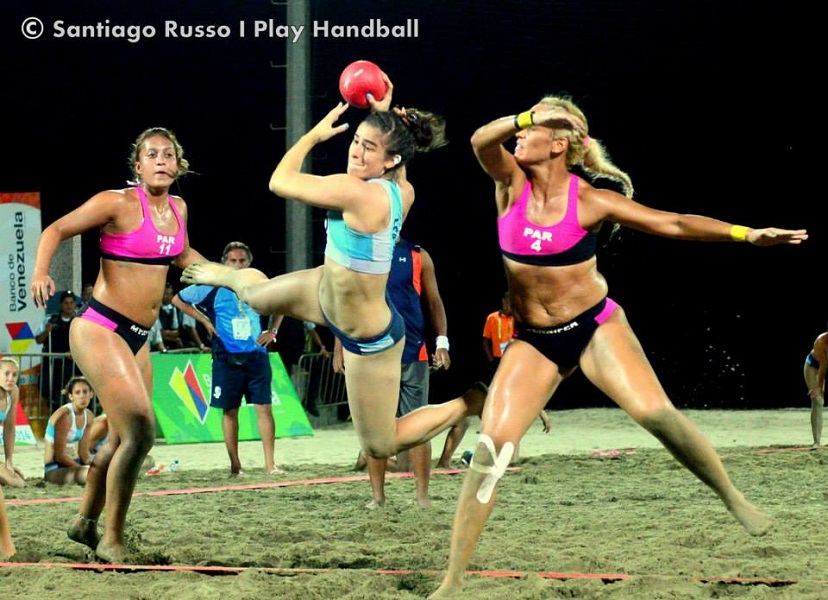 "Use this time to take advantage of everything that is left out during a normal year; to train, to read, to draw and project everything you are going to do once all this is over; because it will be over and then we will be stronger than ever."
Rossi, who finished fifth with Argentina at the 2018 Pan American Women's Beach Handball Championship in Oceanside, USA, was also keen to enforce that people should look after those close to them and to try and to continue to be as normal as they can. 
"For all handball fans who have to stay at home currently and who are not training, playing or watching the sport, we all need to take care of our family and friends," she said. "In Argentina the way we have to do it is by staying at home, but we can continue to train at home, there is so much on Instagram, Facebook, online – we can all share our ideas with each other.
"The most important thing to remember is that our doctors – and all of those in healthcare across the world – are doing their very best during these difficult times."
The IHF would like to thank Carolina and Jesica and all the healthcare heroes on the frontlines in the fight against COVID-19.