06 Aug. 2019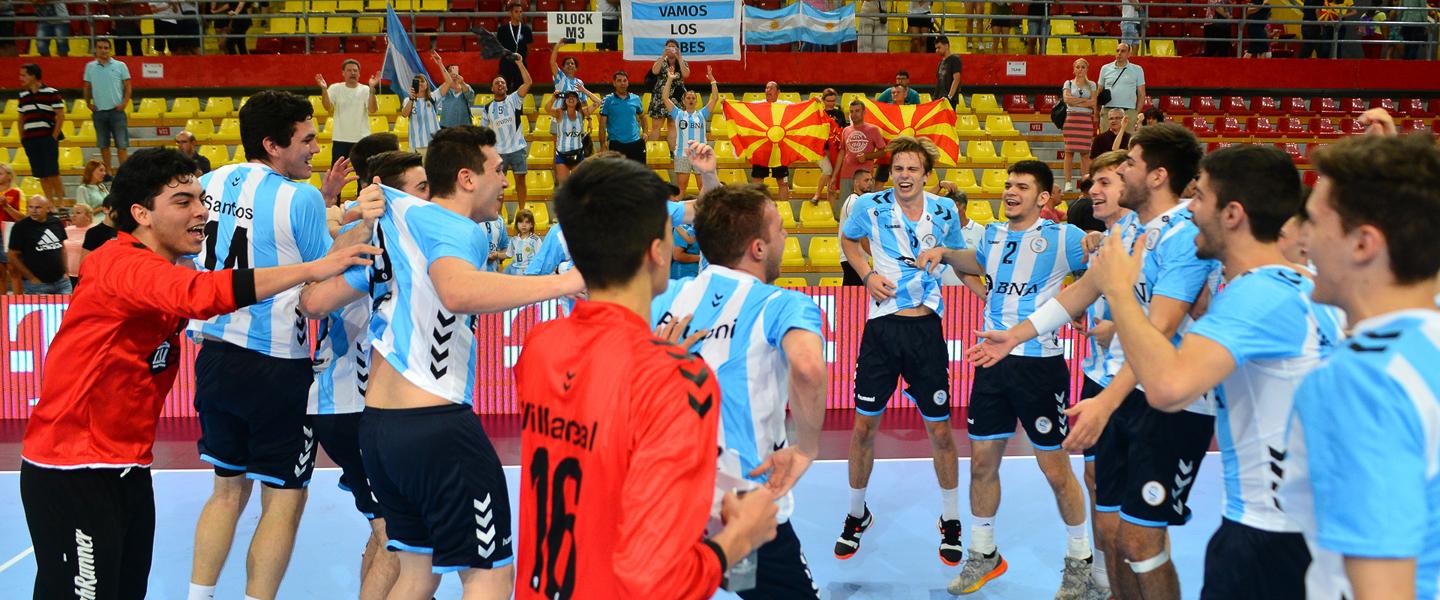 Joaquin Barcelo Garcia opened the scoring for Argentina against host nation North Macedonia, who were making their debut in the IHF Men's Youth World Championship, and it was another Barcelo Garcia again, but this time brother Santiago, who struck in the 58th minute to put his side 21:20 up to ensure the home nation and their passionate fans left the court disappointed, eventually winning 23:20.
GROUP C
North Macedonia vs Argentina 20:23 (13:9)
Boris Trajkovski Arena, Skopje
Argentina knew what to expect from their opening match at North Macedonia 2019 even before the game had started when they were whistled and booed by the passionate home fans after taking to the court to start their warm-up a full 30 minutes before throw-off. 
Maybe the atmosphere of the occasion, with an opening ceremony preceding the game and those fans was too much early on, but they were down by four goals at the break (13:9) and searching to find something at half-time which could re-ignite the team, the tallest-ever from Argentina at this level.
The Macedonians had opened up a lead by the 10th minute (6:3) thanks to a 4:0 run and then kept a 3-4 goal lead up to the break and all seemed perfect with Mihajlo Mladenovic writing himself into the Macedonian handball history books as scorer of their first-ever goal at this world championship level and teammate Nenad Kosteski scoring five from five attempts in the opening period.
At 10:7 (24th minute) Argentina coach Fernando Capurro had taken a time out to ensure his side were not too far behind at the pause and moments later his counterpart Danilo Brestovac took a break to readjust his side, but it was the break at half-time which was what Argentina needed to ignite a comeback, eventually resulting in a seven-goal turnaround by the end of the second 30 minutes.
Maybe they were inspired by the heroics of their senior men's team, who won gold at the Pan American Games in the early hours of this morning, booking a direct ticket to Tokyo 2020, or maybe they simply knew they could do better, but it did not turn around straight away as they found themselves five goals behind going into the last 20 minutes.
Santiago Barcelo Garcia had other ideas though, with five of his goals coming in a 7:1 run for the South Americans (42nd-51st minute) in which they were simply unstoppable and shocked and stunned the home team who found themselves behind suddenly (18:17).
Despite going ahead again, North Macedonia could not cope with the force upon them and Argentina had all the momentum despite going behind again, 19:18.

Capurro took his second time out (54th minute) but his side could not find the net on their next attack, although North Macedonia also failed in their attack, instead letting Argentina back in despite a heroic effort from Nenad Kosteski in intercepting an Argentina switch pass.
As the game entered the final five minutes, Martin Serafimov shot wildly over to hand the South Americans a chance to go ahead at 20:19, which they did quickly as Jeronimo Elst found a gaping hole in the European defence.
The Macedonians came back again (20:20), but when Mladenovic showed his displeasure at his team conceding a seven-metre, he was given a two-minute suspension, putting his side down a man going into the crucial final period.
Santiago Barcelo Garcia duly converted the penalty but his side then conceded their own, with Tomas Fillol sent to the bench and Capurro shown a yellow card for his protestations.
But this was to prove a turning point as the tall Juan Villarreal in the Argentina goal pulled off a miraculous double save from the resulting penalty, denying Serafimov from the spot and then again to his right from the follow-up. 
With just over one minute remaining Capurro took his third time out and he saw Joaquin Aravena embody the spirit of his team as he received the ball from mid-court and ran past and through three Macedonians to put his side two ahead with 40 seconds left. North Macedonia needed a goal quick and Martin Karapalevski tried his luck from range, but Villarreal saved, and the game was decided.
"We managed to get our defence to rise in the second half," said Capurro to wch2019championship.com.mk. "When we did that, the score was even, and all the pressure was on the host team."
"There are days when things simply don't go the way you want," said Brestovac. "We threw away one joker today and now we'll have to compensate in our other four matches."
Best Player of the Match: Juan Villarreal (ARG)
Photo: WCH 2019 / Filip Viranovski