03 Aug. 2022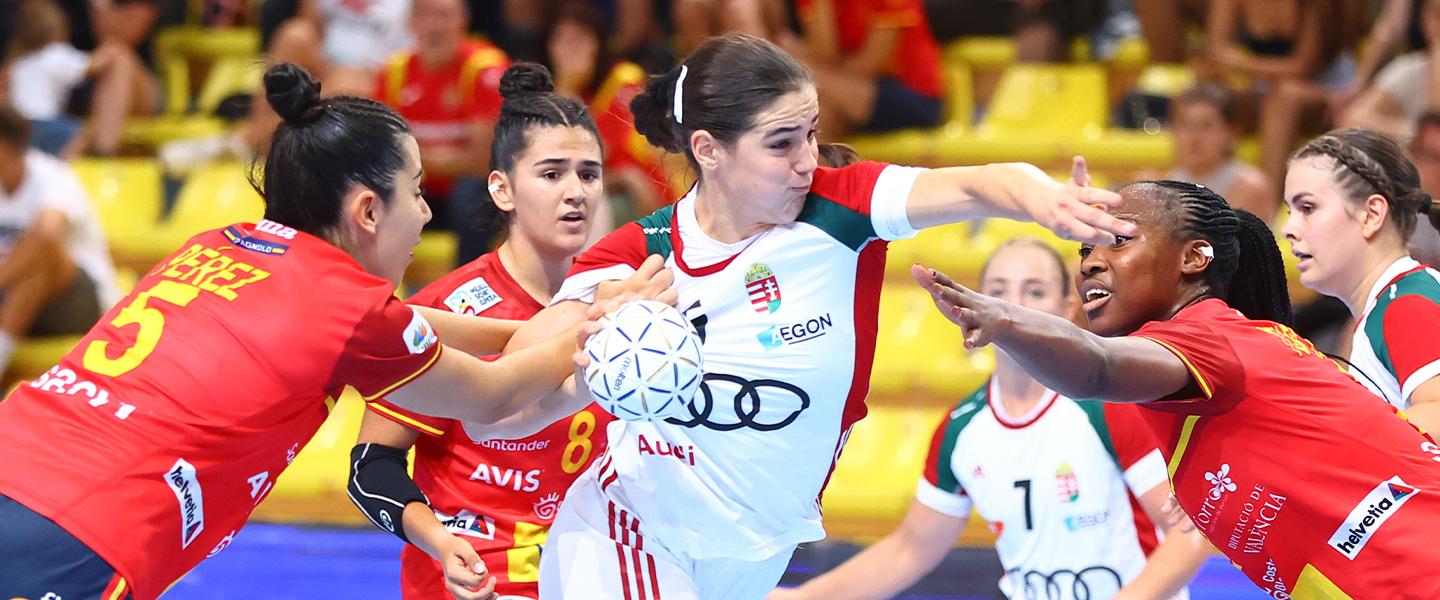 The main round at the 2022 IHF Women's Youth World Championship continues on the seventh day of the competition, with three teams aiming to clinch their quarter-final berths in Group III and Group IV, joining Iceland, Egypt and Denmark, who have already sealed safe passage to the knock-out phase.
Those three sides can progress to the next phase if they secure their fourth win in a row in the competition, edging closer to a much-coveted medal.
Elsewhere in Skopje, another eight teams enter their first day in the President's Cup, as a 100% European clash between Slovenia and Slovakia could decide Group III, while Spain look definite favourites to challenge to win that part of the competition.
Main round Group III
Netherlands vs Germany (18:30 CEST, Boris Trajkovski Sports Centre, Skopje)
Republic of Korea vs Romania (20:30 CEST, Boris Trajkovski Sports Centre, Skopje)
After their impressive performance in Group F, where they defeated three European rivals to earn the maximum of points, the Republic of Korea are entering the main round with two points. Notably, two of their players, Kim Minseo and Kim Seojin, were among the five best scorers of North Macedonia 2022 following the group phase, with 27 and 25 goals respectively. If the Asian side extend their winning run and beat Romania, they will secure a main round berth. However, the Romanians, who have one point, will also fight hard, as a victory will considerably improve their chances of progressing.
Netherlands were close to beating Romania in their last group match on Tuesday, but ultimately settled for a draw and start the main round with one point. In an all-European clash, they will face Germany, who have zero points and will lose a chance to reach the quarter-final in case of a loss, so it will extremely important for both teams to win today. 
Main round Group IV
Norway vs France (18:30 CEST, Jane Sandanski Sports Centre, Skopje)
Hungary vs Brazil (20:30 CEST, Jane Sandanski Sports Centre, Skopje)
After conceding a loss in the last game of the preliminary round, 21:22 against Hungary, this will be France's last chance to enter the battle for a quarter-final berth. A loss would see them out of contention, but Norway have not been exactly in stellar form. However, the Scandinavian side have conceded the second-lowest amount of goals (54) in the tournament, with France being in the seventh spot in that standings, with 69 conceded goals. However, among the sides that made it to the main round, France have the lowest amount of goals scored (75), followed by Iceland (82) and Norway (84). This has the potential to be a tight game, where defences will surely shine.
On the other hand, Hungary aim to extend their winning streak to four matches at North Macedonia 2022, as they face Brazil. A win would virtually see them through to the quarter-finals, as only a hard loss against Norway in the last game of the main round would derail their campaign. The reigning European champions have struggled to find their rhythm, though, but will be favoured against a side whose only win in the competition came against Uruguay, their South American rivals.
President's Cup Group III
Switzerland vs Guinea (14:30 CEST, Jane Sandanski Sports Centre, Skopje)
Slovenia vs Slovakia (16:30 CEST, Jane Sandanski Sports Centre, Skopje)
Playing their first-ever World Championship, Switzerland missed a chance to reach the main round on Tuesday, as they lost the direct duel for the second place in Group F against Germany, 23:30. Now the Swiss, who start the President's Cup with two points, will face another debutant, Guinea, who are yet to earn their maiden points at this level. The African team had a chance to do it on Tuesday but lost to Slovenia 32:33 in their last group encounter.
In that entertaining game, a goal by Azra Zulic 11 seconds from full-time handed Slovenia a win and allowed them to carry two points over to the President's Cup. Now, Slovenia will face Slovakia, who lost all of their three matches in Group F, but now are looking for redemption in the President's Cup. 
President's Cup Group IV
Spain vs Uruguay (12:30 CEST, Boris Trajkovski Sports Centre, Skopje)
Czech Republic vs Argentina (14:30 CEST, Boris Trajkovski Sports Centre, Skopje)
Spain have been one of the underdogs in the competition, but having been drawn in Group H of the preliminary round meant that they faced Hungary and France, two of the powerhouses at this level. After failing to qualify for the W17 EHF EURO 2021, they bounced back in stellar style, despite losing by three goals against France (28:31) and two goals against Hungary (26:28). A 13-goal win against Argentina followed, as Spain will once again be heavily favoured against Uruguay, if not for the entire President's Cup, as they could be the team finishing on the 17th place in the overall standings.
Argentina dropped two heavy losses against Hungary and Spain, by a combined margin of 29 goals, yet they stood tall against France, conceding a three-goal loss. Now, they will face the Czech Republic, whose only win came against Uruguay, 24:23 in a hard-fought match. The Czech Republic side boast the fifth-lowest average scored goals per game ratio in the competition (23.6), while Argentina have the third-lowest average at North Macedonia (23) and, therefore, this game might be one for the defences.