27 Jan. 2023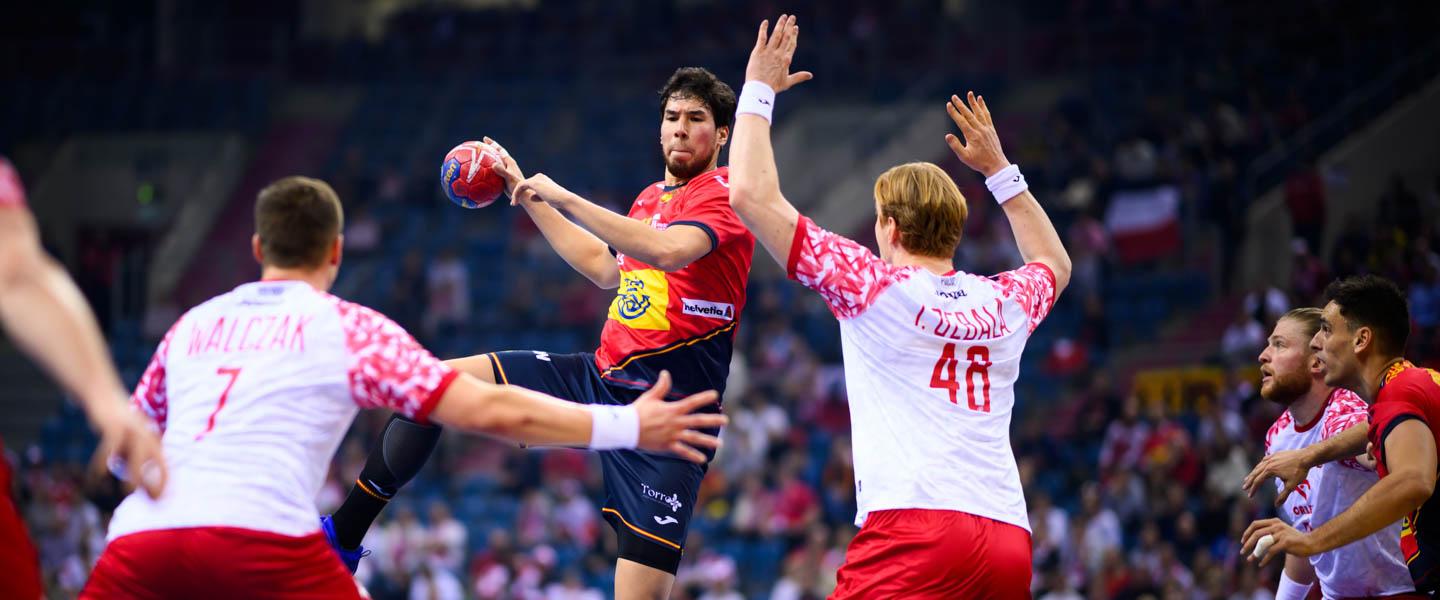 At the 2021 IHF Men's World Championship in Egypt, Denmark beat Spain 35:33 in the semi-final on their way to winning gold.
Now, at the 2023 IHF Men's World Championship co-hosted in Poland and Sweden, the two teams meet in a semi-final again – the winners going through to the final in Stockholm on Sunday (29 January).
Spain's 25-year-old left back Daniel Dujshebaev scored seven goals in that match two years ago and he is likely to feature heavily in the repeated clash in Gdansk on Friday: with his 4:35:26 of playing time in seven macthes so far, he has the most in the squad led by coach Jordi Ribera.
"It was our objective from the start to be back in the fight for the medals," said Dujshebaev to ihf.info on the eve of the match. "We have a great chance to try to get a medal again and to try to win this championship."
But it could have been very different. 
With 18 seconds left in their quarter-final, Spain's opponents Norway were a goal up (25:24) and in possession. 
As Dujshebaev and his teammates desperately tried to cover the court without committing a foul, the Norwegians were signalled for passive play and with five seconds left, the turnover of possession was called. 
Spain got the ball and Dujshebaev, in the perfect position, received the ball and slotted it home to take the match to additional time.
"I was so tired, really. I just tried to press a little bit, but when I saw they went to our corner, to our half of the court, I thought we still have to score one goal," said the Kielce player about those last few seconds of regulation time, which saw him intuitively hang back around the centre circle for a possible break.
"There was no one there, so I said, okay, I will go up just to try to take the ball if we have some time. Finally it happened. I don't know why I stayed there, but I did it [and got the ball]. I couldn't look as there was not so much time, so I just tried to shoot as fast as possible because I didn't know if I had enough time or not."
The rest was history - an eventual double period of additional time and ultimately a Spanish victory, but one demanding emotional, physical and mental reserves. 
With the match taking well over two hours to complete, it took a while for the players to flush out the adrenaline and emotion.
"We went to dinner directly after the match, then tried to rest. The players just tried to lay down because it was a really, really hard match," explained Dujshebaev, who has made over 60 appearances for Spain, which included the 2018 and 2020 European Championship titles.
"I don't know what time I went to sleep, but it was late. After matches, and especially after a match like that, for me, it's always difficult to sleep. Maybe it was 3 am or 4 am in the morning. I really don't know."
Like anyone else, after a hard day at work, loved ones and those closest to you help you unwind, and Dujshebaev, who is in the team with his older brother Alex, could rely on that support, including that of their father, legendary coach Talant.
"As always, I speak with my friends and family after matches, I write back to everyone to say thanks, but I just try to stay with teammates, to talk with them and relax a little bit.
"Alex and I didn't talk with him (Talant) directly afterwards. He just wrote in the family group chat and sent some voice audio to us. He doesn't use emojis too much," said the left back, laughing when asked if his father was a fan of using the picture icons.
"However, the next morning after a match, you're already focused on the next one as you don't have too much time to recover. You have to be fast."
Dujshebaev and his brother have been in demand in Krakow, Katowice, and now Gdansk with the Polish media, thanks to their long playing careers in the country where they have been at Kielce since 2017 with their father as coach.
And minutes after leaving the court following such a draining quarter-final, it was impressive to see Dani speaking Spanish, Polish and English to the variety of media in attendance, one after the other, without pause.
"I think in Spanish, so everything that I do is from that translation," says Dujshebaev to ihf.info in English. 
"I've already been living out of Spain for six, seven years, so I have improved my English, and now I've been in Poland for five years. I talk Polish almost every day during the year, but it's already something normal.
"At the start you talk with your teammates, but I take some lessons. It was fast. Maybe after two or three months, I started to speak Polish, so it was okay. I live here, so you have to go to restaurants, to buy things at the market. If you go for a walk and some fans say something to you, it's nice if you can reply to them in Polish."
"I will always say I love Żurek," added the former Barcelona player with the biggest smile of the whole interview when asked what his favourite Polish food is.
"It's a soup and they make it inside the bread. It's really something for cold days like they have here. It's so, so good. When I'm in Kielce and my friends come, they really like it, but I don't make it, it's so difficult. I let the professionals do it."
On Friday, it is the turn of the handball professionals, with some of the world's best on court in Gdansk hoping to cook up a tasty soup of handball excellence on court and warm everyone who is watching.
But the ingredients are familiar to both teams, who are well aware of their own – and each other's – strengths and weaknesses.