07 Aug. 2019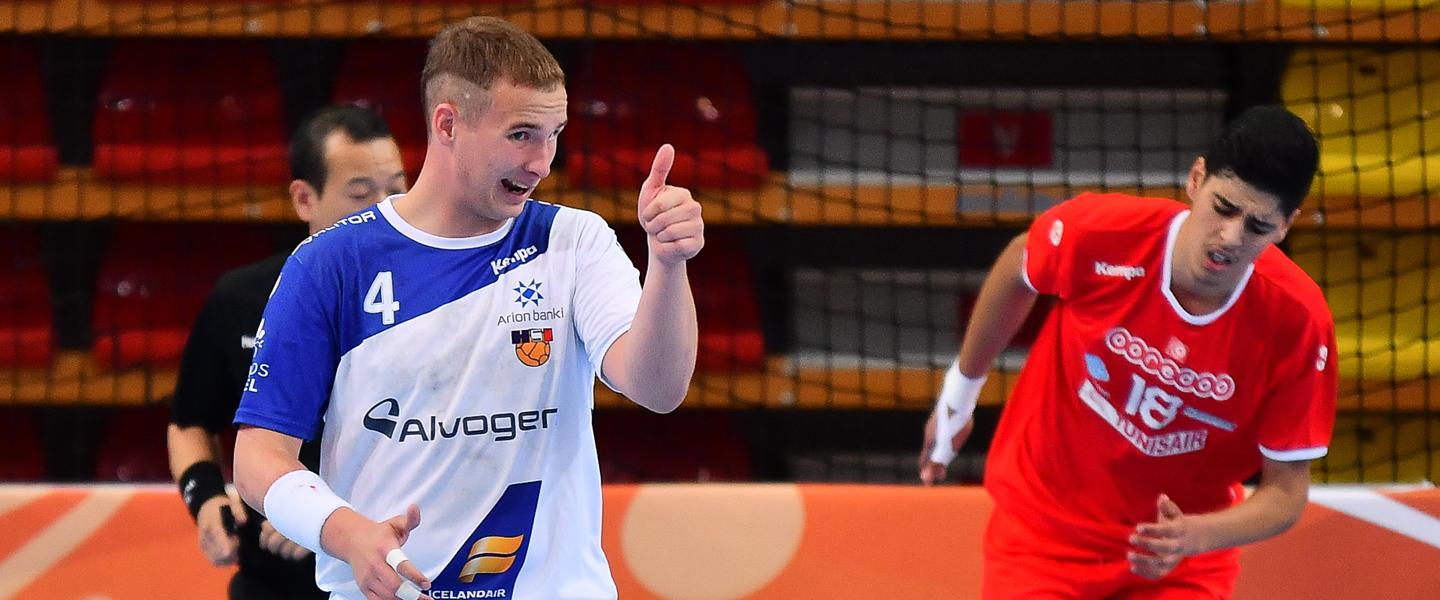 Iceland opened up their 2019 IHF Men's Youth World Championship campaign with a 25:20 (12:6) victory over Tunisia in their first match in preliminary group D.
Their captain Arnor Snaer Oskarsson spoke to IHF.info after the match.
IHF.info: It must feel good, after all the preparation period, to finally start the world championship?
Arnor Snaer Oskarsson: Yes, we feel good, it was a good game and Tunisia are a good team. We started very good, with a good defence that we didn't have in our friendly games (before Skopje) and now it has clicked together, and it got us the win.
IHF.info: Your defence was particularly good, only allowing six goals against it in the first half. You must be very happy as a team?
Arnor Snaer Oskarsson: The team is very close and the players in the number three spot and defence just clicked today.
The defence was strong, and the goalkeepers were fantastic.
IHF.info: You were also six goals ahead at the half-time break. What did the coach Heimir Rikardsson say to you?
Arnor Snaer Oskarsson: He just said to keep on going with a good defence and do not slow down, basically, to continue with the good stuff.
However, in the second half we were not as good and in the time out near the end of the match he just told us to watch their goalkeeper a lot and shoot a lot. He told us to not relax with the defence and continue with the same stuff we did in the first half to get the win.
IHF.info: You play Brazil next, what do you know about them and how exciting is it to play against teams and styles from all over the world?
Arnor Snaer Oskarsson: I really don't know anything about Brazil, but we will watch the video clips. 
As a player it is very exciting to play against African teams, Asian teams, South American teams – it's different, different styles, but it's fun.
IHF.info: Even though Iceland have only appeared in three IHF Men's Youth World Championship, the country has won a silver (2009) and bronze (2015) medal already. Is it time for a gold and what is your message to your fans?
Arnor Snaer Oskarsson: The message to handball fans is that we are going one game at a time and we will see where it ends.
Of course we want to go as far as we can, and we want to go all the way.
Photo: WCH 2019 / Filip Viranovski