09 Dec. 2021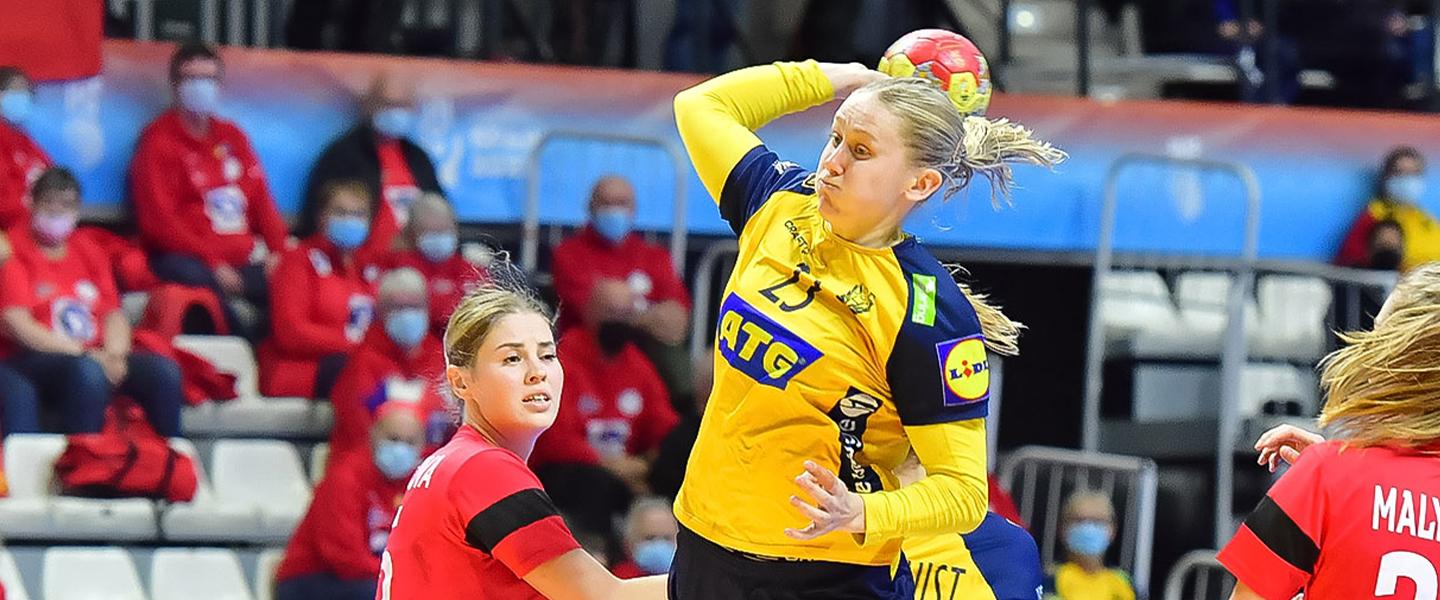 Sweden extended their unbeaten streak at the 25th IHF Women's World Championship to four games, after taking their third win, 55:20 against Kazakhstan, with right wing Nathalie Hagman helping her side with 19 goals.
The Scandinavian side tied the Netherlands on five points, but jumped to the second place in the standings thanks to the superior goal difference before facing Norway on Saturday in Castelló.
MAIN ROUND GROUP II
Kazakhstan vs Sweden 20:55 (10:21)
By the time Kazakhstan scored their sixth goal of the game, Sweden's right wing Nathalie Hagman was already sitting on the bench, being replaced by Evelina Kallhage after putting 10 goals past Iuliaa Poilova and Tatyana Davydova.
Hagman's scoring prowess is nothing new at Spain 2021, after she had already displayed a 19-goal outing against Uzbekistan in the preliminary round, cementing the first place in the top scorer standings against Kazakhstan.
But her being replaced did not mean that Sweden stopped for a second against their Asian opponent, with the Scandinavian side running for goals to improve their goal difference, which could prove crucial in a tie with the Netherlands when Group II of the main round comes to an end.
Sweden had only two turnovers, as opposed to Kazakhstan's 13, boasted a 68% scoring efficiency and opened an unassailable 11-goal gap at the break, 21:10, in a game where Kazakhstan led by 2:0, after a flurry of mistakes made by the European team.
A 10:2 run turned the game on its head and basically handed the win to Sweden, who were left with the sole objective to win by as many as they can and avoid any potential injuries.
But that did not mean Sweden failed to be relentless in attack. They scored 14 goals in 11 minutes to start the second half, with Hagman taking advantage of every chance she had, to ultimately improve her tally to 19 goals. Hagman is also leading the top scorer standings by a huge margin, scoring 48 times in the competition, 14 goals more than Montenegro's right wing, Jovanka Radicevic.
Sweden sealed an expected win, 55:20, but fell short of improving on their biggest-ever win in the competition, which is still a 45-goal drubbing of Australia (66:21) in the President's Cup at China 2009.
Taking their third win in four games at Spain 2021, Sweden leapfrogged reigning champions the Netherlands in Group II's standings, with the Scandinavian side boasting a better goal difference, +73, with the Dutch staying at +41 after their 31:30 win earlier against Romania.
However, the Scandinavian side might have lost influential defender Linn Blohm, who went out with an ankle injury with only two minutes to go on the clock.
Kazakhstan are fifth in the group, with zero points, tied with Puerto Rico, but with a better goal difference, before facing them on Monday. Until the tie against Puerto Rico, the Asian team will also face the Netherlands on Saturday.
hummel Player of the Match: Emma Lindkvist, Sweden
Photo: RFEBM / Á Bermejo