22 Jan. 2023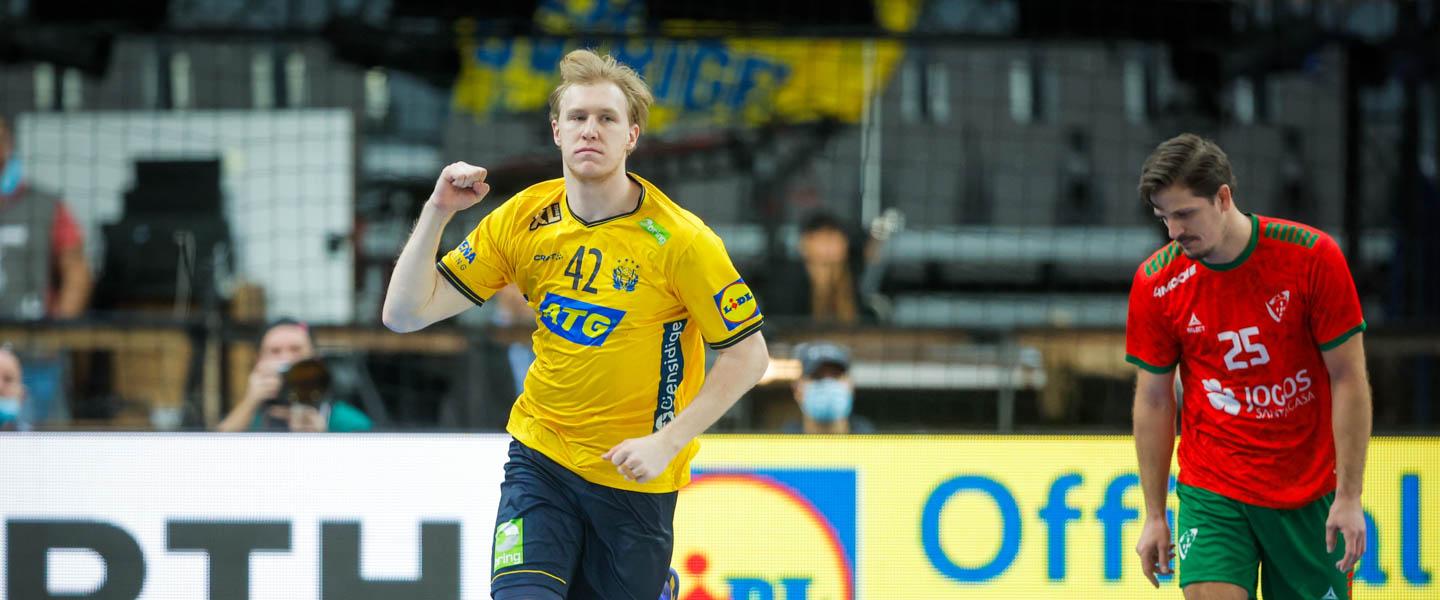 What a match it was. Portugal had everything in their hands but failed to stop Sweden or even snatch a draw. It was a close contest until the 40th minute of the match, when Sweden made a six-goal lead, a big challenge for the Portuguese side, even though they came close five minutes before the final whistle. The co-hosts claimed their sixth win in a row and pushed Hungary into the quarter-final with them.
Main Round Group II
Sweden vs Portugal 32:30 (13:14)
More relaxed, Sweden entered the match without Andreas Palicka, introduced Mikael Appelgreen between the posts and gave some deserved rest to Albin Lagergren. Still, Sweden entered the match in a high manner, with a strong, in-depth 6-0 defence, which created a lot of problems for Portugal.
With goalkeepers' saves and missed shots, we saw an opening goal in the fifth minute, with Eric Johansson being the Swedish top scorer, as the scoreboard showed later on 2:1. Portugal finally had the necessary precision in their shots and scored easily for taking over the lead.
Mid-way through the first half, after trailing by two, Johansson went for four out of four and grabbed an equaliser (8:8). Daniel Pettersson ended the Swedish 3-0 run and forced Paulo Pereira to a first time-out in the contest. Two two-minute suspensions in succession helped Sweden to keep level and prevent Portugal from widening the gap.
A one-goal lead was switching between two sides, with Portugal holding it for longer as both sides' defences were keeping their lines tight. We saw two really nice in-flight goals from both sides, raising the heat in the Scandinavium Arena. António Areia was unassailable from seven meters, scoring his fourth goal right before the half-time break for a 14:13 Portuguese lead.
Sweden started the second half with Tobias Thulin between the posts and, since coming in, he got two saves and helped his teammates to level again (15:15). It seemed as if it would go down to the wire. However, Oscar Bergendahl lifted Sweden to the first lead after the last one in the 22nd minute, making Portugal sweat.
Portugal could not score for four minutes and desperate Portugal began to drown in the Swedish fast breaks and defence. They were in trouble as Lucas Pellas netted for 22:18. Minutes later, a six-goal lead for the co-hosts. 15 minutes before the end, the quarter-final spot was far away for Portugal.
Portugal never gave up and were giving their last strength in an attempt to catch up with the co-hosts. As Miguel Ferreira stopped Pellas' penalty shot, Rui Silva soon scored and narrowed it to only two goals. Good defending forced Sweden to make mistakes and Victor Iturriza netted his seventh of the night for 26:27. Glenn Solberg could only ask for a minute break as they dropped their significant lead.
Hungary will have to thank Daniel Pettersson, who was on fire against Portugal, gaining back the 29:26 lead with three consecutive goals five minutes before the end. Portugal were angry, which produced hasty shots and left them heartbroken at the end of the road in Gothenburg. Instead of being among the top eight teams, they finish Poland/Sweden 2023 in fourth place in the Main Round Group II.
Swedish head coach Glenn Solberg was satisfied after a sixth win in a row: "We are very satisfied with the match and with a win. We showed great morale, even though this win didn't give us anything but six wins in a row. We started fantastically in the second half and they came back close with seven against, but we had planned and stopped their game for a win."
"Very tough match, and Sweden do a good job for our sport. We must continue to work and find out how to get that one goal that we are always short of. I am proud of my players as they are always fighting. When we came close, there was a missed call and we need to work on that. I was really sad. Despite everything, I told my players I love them, before and after the match", said Portugal's head coach Paulo Pereira.
Portuguese centre back Rui Silva confirmed his teammates were fighting until the end: "Since the beginning, we knew Sweden would not make it easy for us. They showed how good they are. We made a very good game and we were fighting throughout. We will continue to fight and come back stronger and better than at this World Championship."
hummel Player of the Match: Daniel Pettersson (Sweden)