10 Aug. 2019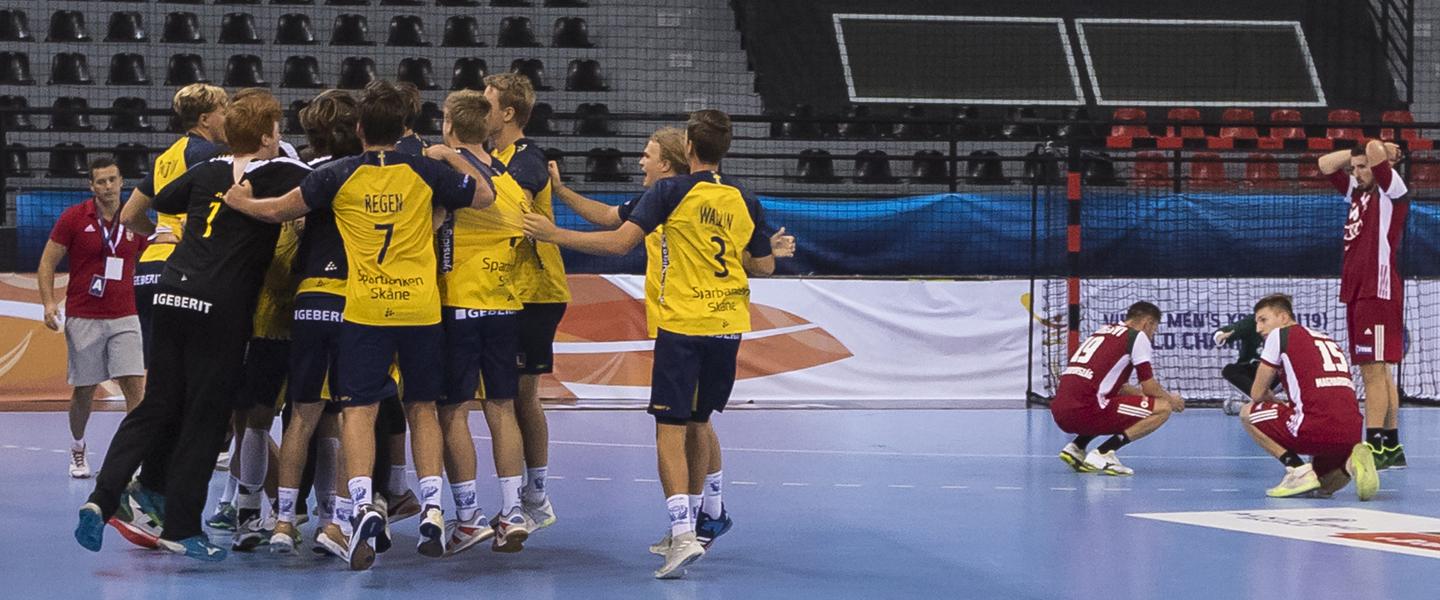 Sweden moved top of preliminary group B with a last-second strike from William Moberg taking both points against Hungary.
The result means Sweden, Hungary and France sit on six points each, with Egypt set to join them too with an expected victory over Canada in the evening match.
GROUP B
Hungary vs Sweden 28:29 (16:12)
Jane Sandanski Arena, Skopje
It was a classic game of two halves with Hungary winning the first 16:12 and Sweden taking the second period 17:12, and the game.
The winning goal, scored by Sweden's William Moberg, could quite easily be added to any coaching presentation on how to make the most of every second in a game.
With just over 10 seconds left Moberg broke through an open Hungarian defensive line to bury the ball home and make it 29:28 to his side, or so he thought, but play had already been stopped moments earlier for a foul in the build-up, and with the Hungarian goalkeeper Kristof Gyori holding the ball, awaiting for a Swedish player to come and collect it for the restart, the seconds kept ticking down.
Sensing this, Sweden's Sebastian Spante sprinted to the goalkeeper, grabbed the ball, threw it to his teammate on the line, and he passed for the restart to Moberg, who bulleted the ball through three Hungarian onrushing defenders into the back of the net.
Moberg himself had to be carried off court due to dizziness afterwards, but it was the Swedish team and their large number of supporters inside the Jane Sandanski Arena who felt light-headed having seen their team come back from as far behind as six goals to take this crucial win for a possible better seeding in the eighth-finals.
Gyori had done his best to put his side in a commanding position for the win, making a number of saves in the last quarter and as the goals went backwards and forwards in the final six minutes, the scoreline kept on even terms.
The first half had seen Bence Hornyak score six times for Hungary as they raced to a 9:4 lead (12th minute) and they went into the break four up, a deficit made up by Sweden early into the second half with a 5:0 run (18:18 – 38th minute).
While there was plenty more action to discuss – not least the defensive styles of both, with Sweden adopting their traditional 6-0 and Hungary going for a 4-2, 5-1 combination at times – the game has to be remembered for that final six-minute period which had everyone on the edge of their seats.
Group B has already been a rollercoaster of a group, but that journey will be even more pressured on Monday (12 August) when the fifth and final round of games will decide the fate its teams will face in the eighth-finals - or President's Cup.
Best Player of the Match: William Moberg (SWE)