30 May. 2023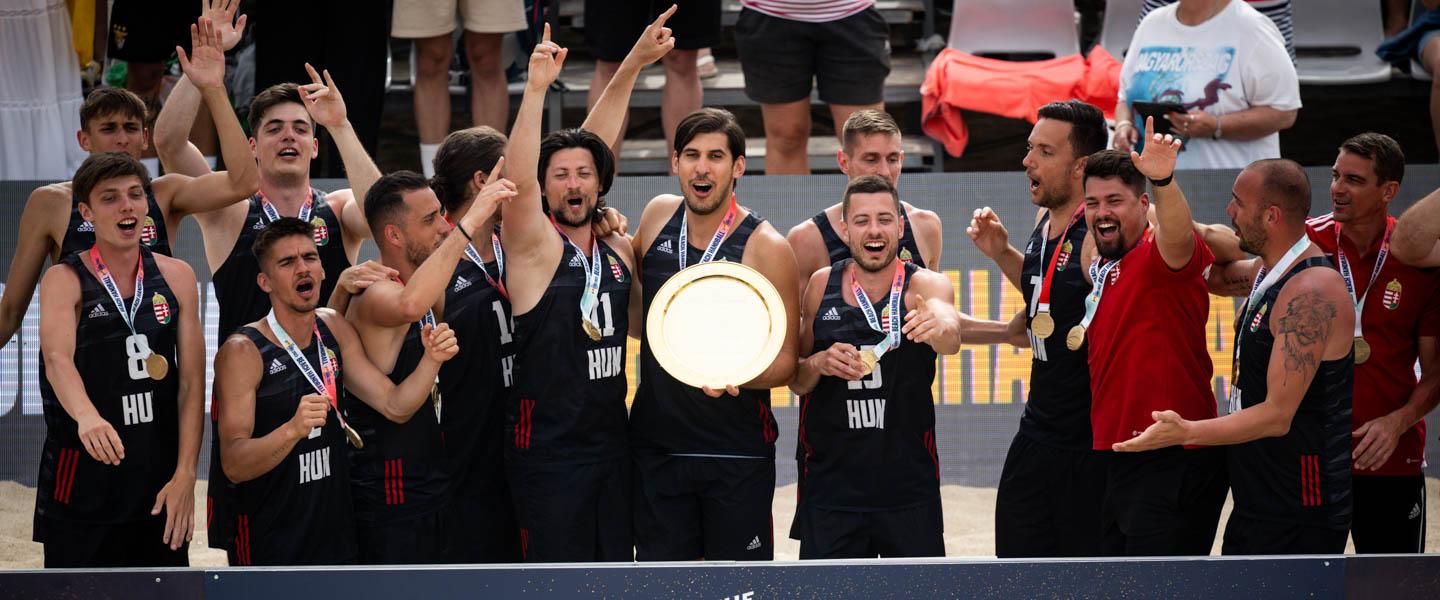 The Estádio do Viveiro on the Praia da Nazaré in Portugal witnessed an EHF Men's European Beach Handball Championships to remember with Hungary's men taking home the title.
The 13th edition was scheduled earlier than normal due to the 2023 European Games in June and it meant many players could not compete due to their commitments to the indoor game, but this did not detract from the quality on show throughout the 68 matches across five days (24 to 28 May) of action.
17 years separated the gap between Hungary's first European Championship final and their second, in Nazaré. But after their silver from 2006, they went one step higher in 2023, defeating Germany 2-0 (20:16, 20:18) in the final. 
"It was amazing, everyone did their best and I am so happy," said Hungary's Patrik Vizes to eurohandball.com. "I don't why, but I had a feeling two days ago that we were going to win this championship [and] that was really cool. I was just waiting for today as I knew something good would happen."
For Germany, it equalled their best-ever result, a second place in 2004. "In offence we made more mistakes than Hungary, so they deserve to win in that regard," said Germany's Stefan Mollath to eurohandball.com. "Our defence was good all in all and Moritz Ebert did a fantastic job again – a little bit of luck and we could have won."
The hosts suffered again in the bronze medal match, the Portuguese men securing their best-ever ranking, but losing 0-2 (16:20, 18:20) to Denmark.
As IHF Men's Beach Handball World Championship and The World Games title-holders, Croatia had gone into the European Championships as one of the favourites. Even with the addition of the 2023 World Championship MVP and top-scorer Lucian Bura for their quarter-final clash against Germany, they came up short, losing to the eventual finalists 0-2 (20:22, 22:23). 
However, they regrouped to win their 7/8 placement match against Ukraine to book the final ranking place at the European Games. 
All games are available to watch again and for free on EHFTV.com (subject to geo-restrictions).
ANOC World Beach Games and European Games qualifications confirmed
With the title on the Portuguese sand, Hungary have now confirmed their spots at the 2023 ANOC World Beach Games in Bali, Indonesia, which is set to take place in August.
They also qualified for the beach handball competitions at the 2023 European Games, which will be played in Tarnów, Poland, next month.
Also joining them in Poland will be the men's sides of Hungary, Germany, Denmark, Portugal, Spain, Norway and Croatia.
The top five men's teams qualified through to the 2024 IHF Beach Handball World Championships, where Croatia's men have already confirmed their spot as defending champions.
Final Ranking
1. Hungary* ** ***
2. Germany* ***
3. Denmark* ** ***
4. Portugal* ***, 5. Spain* ***, 6. Norway*, 7. Croatia* ** ***, 8. Ukraine, 9. Italy, 10. Sweden, 11. Greece **, 12. Poland, 13. France, 14. Netherlands, 15. Romania, 16. Switzerland
*Qualified for the 2023 European Games
**Qualified for the 2023 ANOC World Beach Games
***Qualified for the 2024 IHF Beach Handball World Championships
Photo: European Handball Federation / Kolektiff Images