28 Oct. 2019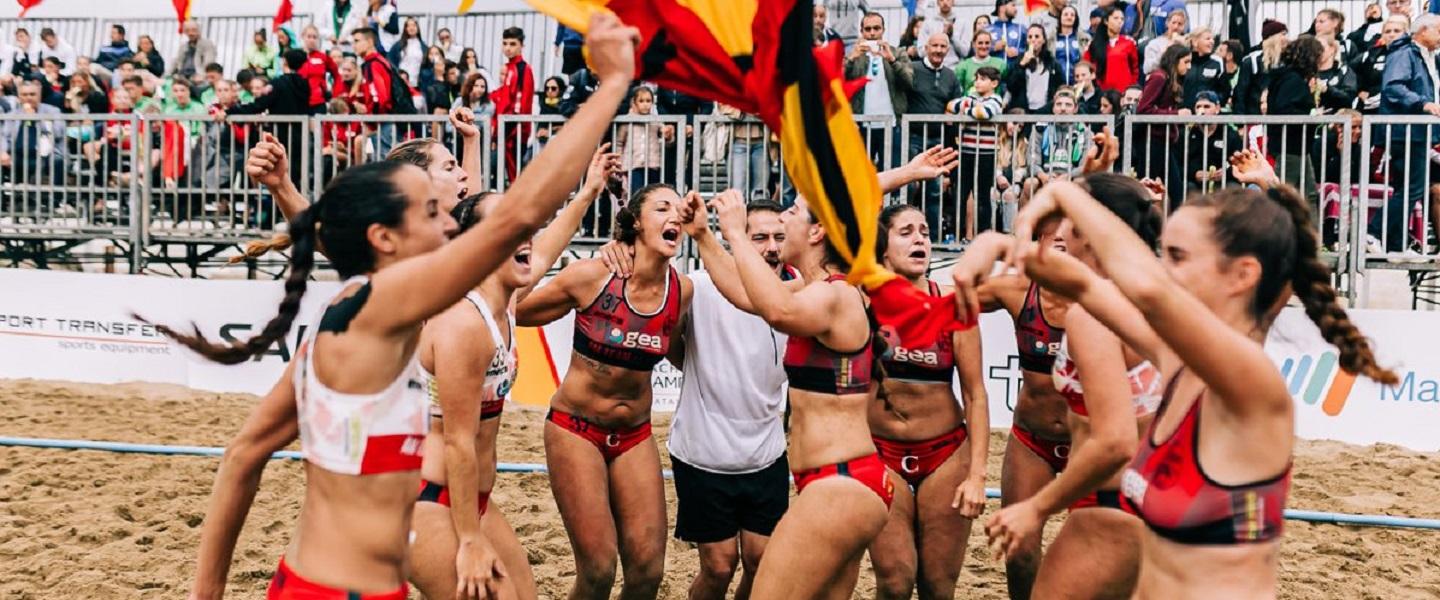 Both the men's and the women's titles at the 2019 Beach Handball Champions Cup were won by Spanish sides, with Taberna El Panduro A M Team Almeria securing the women's trophy and Pinturas Andalucía BM Playa Sevilla taking the men's at the tournament for the season's best club teams in Europe. For Sevilla, it is the second title of the year, after claiming the trophy at the European Beach Tour Finals earlier in the summer. 
Almeria went undefeated Champions Cup in Catania, Sicily, not even dropping one set against their Dutch, Danish, German and British opponents on their path to top preliminary Group C. In the quarter-final, Almeria beat Portuguese side GRD Leça – Love Tiles 2:0, before facing their first big challenge in the semi-final. 
In the semi-final, Almeria recorded a 2:1 victory versus SPORT CLUB Senec-Cannabis Energy Drink from Slovakia. The champions also needed a shoot-out to win the final, where they defeated Italian side Blue Team 2:1 after a thrilling match. Following their semi-final defeat, SPORT CLUB Senec-Cannabis Energy Drink recovered to claim the bronze medal with a 2:1 win against Danish club Odder Håndbold. 
The top scorer of the women's competition was LLOPIS BM Playa Sevilla's Clara Robayo Romero, with 101 points. 
Sevilla clinch trophy after preliminary round rematch
Drawn into preliminary Group B alongside the 2018 runners-up SC Ekaterinodar from Russia, Pinturas Andalucía BM Playa Sevilla had a tough start to the competition. After wins against SPORT CLUB Senec and Blue Team, Sevilla were defeated 0:2 by Ekaterinodar, and thereby placed second in the group behind the Russian team. 
The rank was nevertheless enough to take Sevilla to the knock-out round, where they won the quarter-final against defending champions Detono Zagreb 2:0 and then had the same result versus German team BHC Beach & Da Gang Münster in the semi. 
After Ekaterinodar also won their semi-final, the trophy game became a rematch of the preliminary round clash between the sides – and this time Sevilla were able to push the Russian team into a shoot-out and eventually come out on top. It was a thrilling match, with a 20:19 result for Ekaterinodar in the first set, 12:11 for Sevilla in the second, and then a 6:1 score in favour of the Spanish team for the shoot-out. 
The bronze medal was won by French side Team Tchatcheur by PAUC, who defeated BHC Beach & Da Gang 2:0. 
The top scorer of the men's tournament was Hungarian team HIR-SAT BHC's Benjamin Szilagyi. 
More information on the Beach Handball Champions Cup can be found on the EHF website. 
PHOTO: European Handball Federation