27 Jan. 2020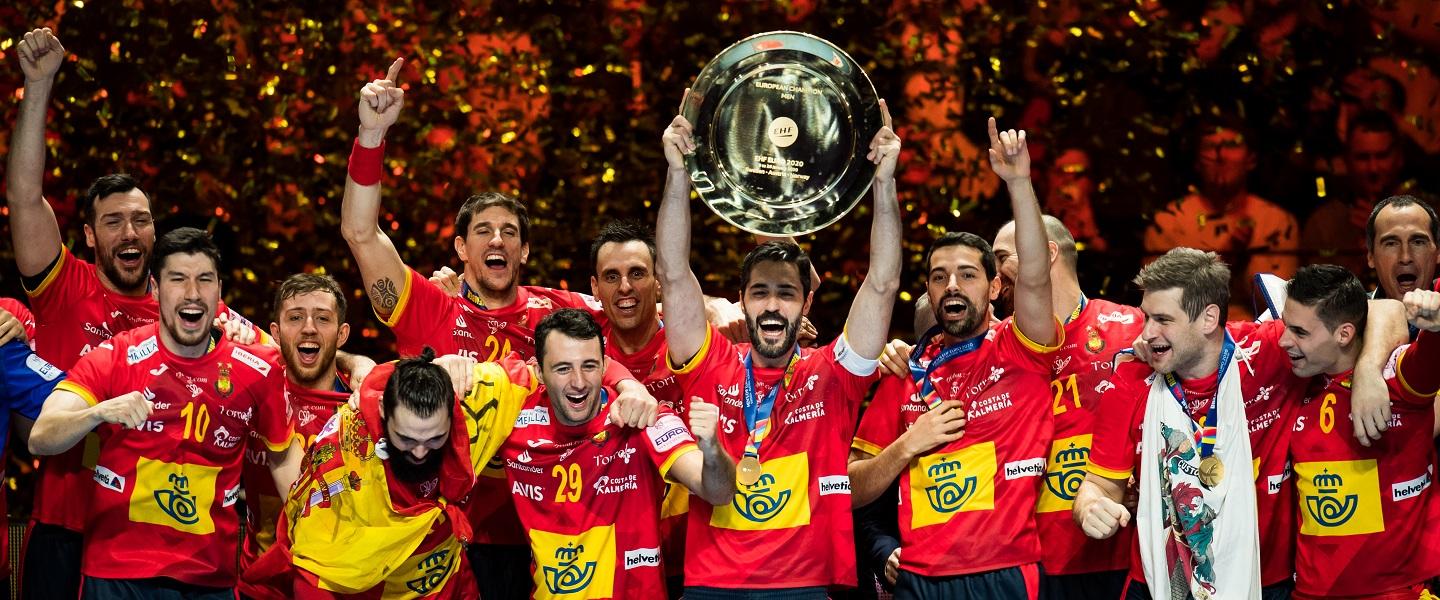 Spain were the team to celebrate the coveted European title when the Men's EHF EURO 2020 finished in Stockholm on Sunday, as they defeated Croatia 22:20 in the final to clinch their second consecutive title. The win made Spain the first to defend the trophy since Sweden did so in 2002, also in Stockholm, and secured their second trophy overall in the championship. 
The final saw an exciting match with Croatia creating a three-goal lead in the first half, then Spain pulling in front by four in the second, before a level race to the final whistle. In the end, it was a penalty goal from 2017 Junior World Championship All-star right wing Aleix Gomez followed by a strike from Alex Dujshebaev with 25 seconds to go, and a final save from EURO 2020 All-star Team goalkeeper Gonzalo Perez de Vargas, that secured Spain the thrilling win. 
On Saturday, Norway made history by winning their first EURO medal, as they won the bronze match against Slovenia 28:20. Norway were led by a great game from their goalkeeper Torbjorn Bergerud, who saved several critical shots to allow Norway the decisive final result in their favour. 
During the match, back Sander Sagosen took his overall tally at the EURO to 65 goals, which not only made him the top scorer, but set a new record for most goals scored in one Men's European Championship. The previous record holder was Macedonian Kiril Lazarov, with 61 scored in 2012. 
Croatia and Spain reached the final by way of different kinds of victories in the semi-finals on Friday. Spain took 34:32 win over Slovenia after leading the game clearly the whole way, before Slovenia managed to come within one in the final minutes. Spain held on to claim the victory and reach their third straight EHF EURO final. 
The Croatia versus Norway semi-final, with a final score of 29:28, was a cliffhanger until the end. The match was decided in two periods of extra time, with the last goal coming from defensive Zeljko Musa with four seconds on the clock to take Croatia to the final after 80 minutes played. 
Spain's win means they are directly qualified for the 2020 Olympic Games in Tokyo – a particularly meaningful achievement for the team, as they missed the 2016 Games in Rio de Janeiro. 
Prior to the bronze medal match on Saturday, Germany and Portugal met to decide fifth place. Germany earned the victory, 29:27, but Portugal still secured their best result ever in the EHF EURO with the sixth-place finish. 
Final Rankings:
1. Spain* (Qualified for Tokyo 2020 Olympic Games)
2. Croatia* (Qualified for Olympic Qualification Tournament)
3. Norway* (Already qualified for Olympic Qualification Tournament)
4. Slovenia (Qualified for Olympic Qualification Tournament) 
5. Germany (Already qualified for Olympic Qualification Tournament)
6. Portugal (Qualified for Olympic Qualification Tournament) 
7. Sweden
8. Austria
9. Hungary
10. Belarus
11. Iceland
12. Czech Republic
13. Denmark
14. France
15. North Macedonia
16. Switzerland
17. Netherlands
18. Montenegro
19. Ukraine
20. Serbia
21. Poland
22. Russia
23. Bosnia Herzegovina
24. Latvia
*Qualified for 2021 IHF Men's World Championship
PHOTO: SASA PAHIC SZABO / KOLEKTIFF