12 Aug. 2023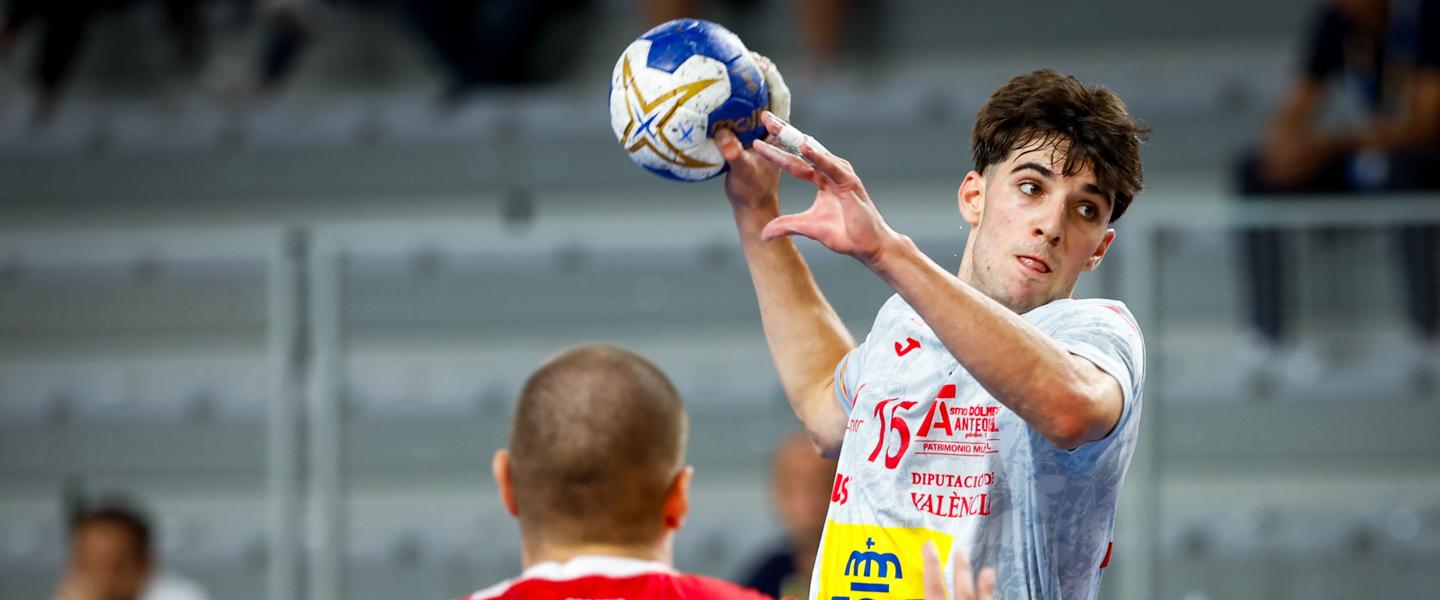 European champions Spain and three-time world champions Denmark will contest the 10th IHF Men's Youth World Championship final after strong performances in the semi-finals. Right before we find out who the new world champion will be, host Croatia will try to get back on their feet and seal the competition with the bronze medal on home soil.
Bronze-medal Match
17:30 CEST Croatia vs Egypt
Hosts Croatia were left disappointed after a tough defeat against Spain in the semi-finals. Still, they are eager to end the IHF Men's Youth World Championship in their country with a celebration and a medal around their necks. Krešo Ivanković's boys had a convincing start to the competition, beating Algeria, Rwanda, Portugal and Slovenia without a sweat. In a game where they didn't have anything to lose, they shared spoils with Hungary and once again showed their strength against Norway in the quarter-finals.
Croatia had the same good start against Spain, too, with their recognisable defence, but Spain quickly turned things in their favour. Now, Croatia relies on Marko Prpić and Tin Herceg to react well between the posts and give additional impetus to a strong attack led by Aleksandar Čaprić and Marko Bajan with Vito Glivetić on the centre back.
"We have a great opportunity to close this World Championship in Croatia with the medal. I am sure our players will give everything against Egypt to do so. Egypt is a great team and has proven its quality in recent years. It's not going to be easy but we know what we are capable of," said Croatian head coach Krešo Ivanković.
Egyptians were unbeatable for four games in a row, winning over Japan, Czechia, Iceland and Brazil, but the Spaniards delivered a fast-paced handball in the main round, leaving them with their first defeat at the competition. The defeat came hard as they were struggling in the quarter-finals against the Faroe Islands, but the Egyptians showed fighting spirit and delivered an express comeback in the last seconds. 59 seconds before the final whistle, they were down by three, managed to overcome the deficit and won in the extra time for their second semi-final appearance.
Fourth-placed attack of the IHF Men's Youth World Championship has its leader in Ziad Hashad and will give their best to come back to Egypt with a bronze medal after the previous generation brought gold. They know their opponents Croatia very well, as the two played two friendly matches ahead of the start of the competition. In the first game hosts were defeated by 21:18, while in the re-match, Croatia won 30:24.
Final
20:00 CEST Spain vs Denmark
Spain have never won the IHF Men's Youth World Championship and hope that the third time's a charm for them. After losing their respective finals in 2011, interestingly enough against Denmark, and 2017, unbeaten Spain have a lot of reasons to believe they will finally claim the throne.
Current European champions played on the same level throughout Croatia 2023 and look like a perfectly balanced team. On their road to the finals, Spain had seven wins and, excluding a win against Germany (32:28), never left the gap between them and the opponents less than seven goals.
Spanish main force so far was a great defensive display, easily adapting to their opponents with the goalkeeper's right-on-time saves, while their recognisable style of play in the attack is something many teams are aiming for. Whether it is Victor Romero Holguín's precise shots, the Cikuša-Jeličić brothers' back shots or easy-flowing wings.
"We are very happy to have come this far. The final against Denmark is going to be very complicated, but we know our goal – we are going for the medal that shines the most," said Spanish head coach Javier Fernández for rfebm.com.
Denmark were flawless at Croatia 2023, just like their last opponents. Scandinavian side overrun their rivals from the first group game to the semi-finals. Scoring 270 goals in seven matches, or 38.57 goals per game on average, places Denmark as the second-best attack, while they conceded only 184 goals or 26.29 goals per game on average.
The Denmark side are entering their fourth final, and so far, they were never defeated. The first gold came to Denmark in 2007, in 2011 they beat Spain and the last trophy came in 2013. Since then, four IHF Men's Youth World Championships were played, including Croatia 2023, and Denmark reached the semi-finals on three occasions.
A true powerhouse of European handball hope, goalkeepers Simon Meinby Lundorf and Malte Julius Johnsson Eichhorst will be the fulcrum of the strong defence while Frederik Emil Pedersen leads the attack with 50 goals scored at the competition.
"Spain are defending European champions, and I don't think they have lost a match yet this year. We will once again face an opponent who can change the rhythm with different defensive variants. In addition, just like us, they have a really broad squad, so it will be exciting for us to be matched up against them. In any case, we are going to do everything we can to win," said Danish head coach Simon Sørensen for danskhaandbold.dk.
Photo: Croatia 2023/Kolektiff images