15 Sep. 2023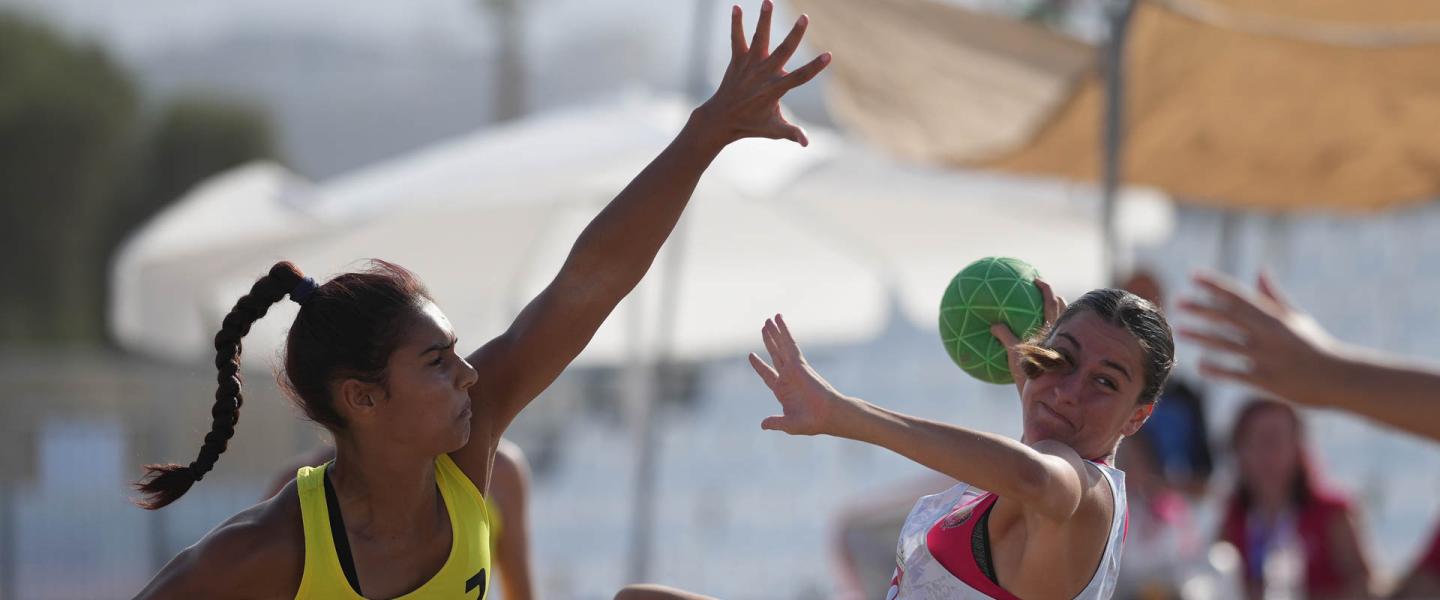 Croatia's men and Spain's women are 2023 Mediterranean Beach Games Beach Handball champions after winning their respective competitions on the Greek island of Crete on Wednesday (13 September).
Croatian men add yet another title to their name
Croatia's men dropped just one set in their six straight wins on the way to the title in Heraklion, defeating Cyprus (2-0), Kosovo (2-0) and Italy (2-1) in the preliminary group stage, before seeing off Morocco (2-0) in the quarter-finals, Cyprus (2-0) in the semi-final and Italy, again, in the final (2-0, 22:18, 23:20).
Italy's Nicolas Dieguez was top-scorer in the final with 18 points, while Croatia's Antonio Fabek grabbed 14 for the winners.
The gold medal is the first Mediterranean Beach Games title for Croatia, who won bronze last time out in 2019 and did not medal in the debut edition of the Games, in 2015. Croatia are also the current The World Games and IHF Men's Beach Handball World Championship title-holders.
"Heraklion is really a very lucky place for us, it's the third gold medal we've won [here] in a year," said Croatia coach Mladen Paradzik in relation to both the senior and youth men's teams winning world titles last year, to Heraklion23.gr.
"We simply cannot lose here. We had great feelings when we came here. We had a completely new team with seven new players, so this title is a great success for us."
Italy were the breakout men's team in Crete though, with their silver the first-ever men's medal for the country in the Mediterranean Beach Games Beach Handball competition.
Italy lost two of their six games – both against Croatia – but it was their hard-fought shoot-out semi-final win over Spain which will last long in the memory.
"What we have achieved is unrepeatable," said Italy goalkeeper Thomas Postongna to the official tournament website after qualifying for their first-ever international final. "All of Europe now knows that we are strong. It's the first final for us."
Title-holders Greece finished sixth.
Former women's world champions clash for gold
It was heartbreak for host nation and 2018 IHF Women's Beach Handball World Championship winners Greece in the women's final as they lost 0-2 (16:24, 12:20) to 2016 world champions Spain, renewing a rivalry on the sand which has seen numerous encounters in recent times.
"We are very happy with our performance and the gold medal, especially against a very good team," said Spain coach Juan Pablo Morillo Baro to the official event website.
"Greece are a team that we respect immensely. We have played them many times and really enjoyed it. Their coaches have done an excellent job."
The two sides had met earlier on in the competition, in the round-robin preliminary stage, with Spain taking a shoot-out victory, 2-1. That was the only set that Spain dropped in their eight victories en route to gold. Portugal reacted well to their semi-final loss against the Greeks, taking a 2-0 victory over Italy.
In total, 52 Beach Handball games were played across five matchdays (9-13 September) at the Karteros Beach Sports Center, the same venue which hosted the four IHF Beach Handball World Championships last year.
Beach Handball was one of 13 sports appearing at the 2023 Mediterranean Beach Games which conclude on Saturday (16 September).
Beach Handball represented in the Athletes' Commission
On the sidelines of the sporting competition, Elections to the ICMG (International Committee of Mediterranean Games) Athletes' Commission are taking place.
Beach Handball is represented through former Cyprus men's national team player, Kyriacos Sofokleous, who is seeking re-election after his election back in 2019. 
Sofokleous has played both the indoor and beach versions of the sport for over 25 years and has an academic and professional background in Physical Education and Sports Science.
All athletes competing at the 2023 Mediterranean Beach Games are eligible to vote, with each entitled to vote a maximum of two candidate preferences (one male and one female). Currently, the Athletes' Commission consists of six athletes with two athletes, one male and one female, elected at the 2023 Games.
Final ranking
Women's Competition
1 Spain
2 Greece
3 Portugal
4 Italy
5 Cyprus
6 Croatia
7 Tunisia
Men's Competition
1 Croatia
2 Italy
3 Spain
4 Cyprus
5 Tunisia
6 Greece
7 Morocco
8 Kosovo