19 May. 2021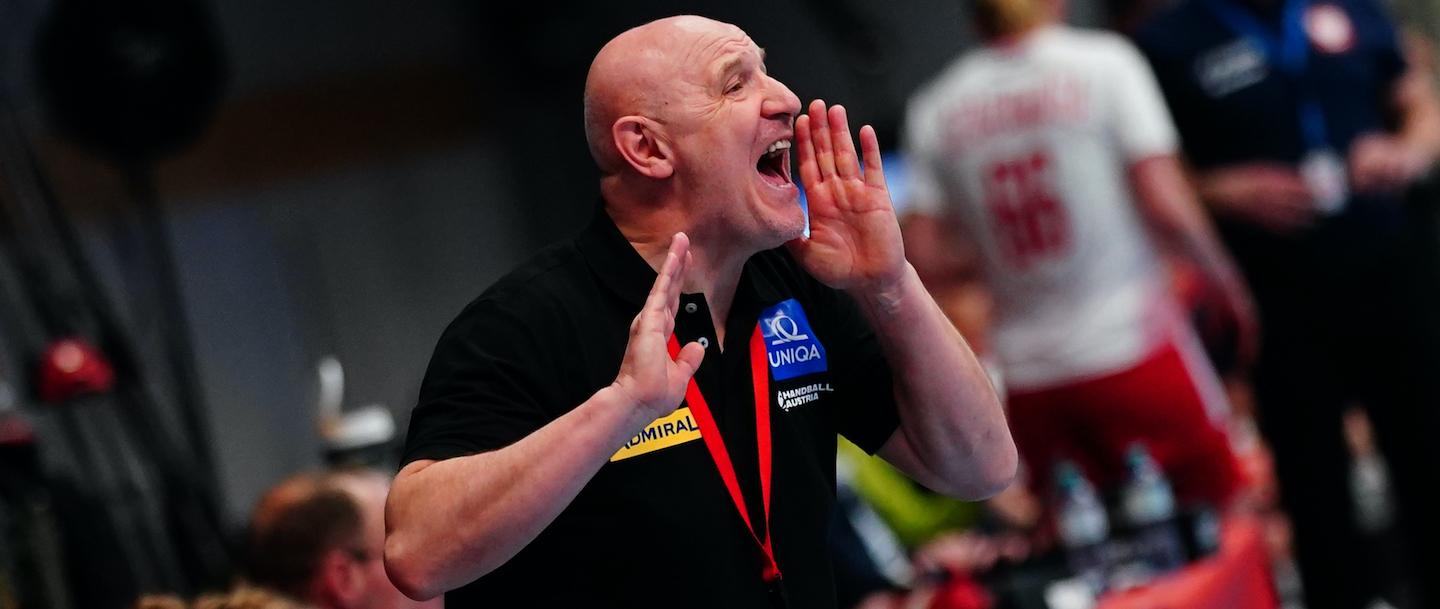 Answering the questions in his native Romanian, despite leaving the country for Germany more than 40 years ago, Herbert Müller is brimming with confidence. 
A brilliant mind both on and off the court, he is now a happy coach, having lifted Austria to their first IHF Women's World Championship berth since 2009 after a superb 58:55 aggregate win against Poland two weeks ago in the Qualification Europe – Phase 2.
While he might be theatrical on the bench in inspiring his players, Müller is an experienced coach – one who has been leading Austria since 2004, with three different World Championships with his side on his tally – Russia 2005, France 2007 and China 2009 – finishing 10th in the latter tournament.
"We have always tried to make our comeback among the top teams in the world, but we are not a powerhouse, so we had to play qualification matches. We ended up facing Denmark, Romania or Hungary, teams we could not fight against.
"But the draw favoured us this time. I knew we were not hitting a brick wall when we were going to meet Poland and this is why I believed in our chances this time," said Müller.
Indeed, Austria snatched a draw in the first game (29:29), played in Maria Enzersdorf, but Poland still had the upper hand, with plenty of experience for the second leg.
"I think they were overconfident. And I told my players to be focused, because I saw Poland's shortcomings. We could take advantage and we did and I am over the moon with what we achieved together," smiled Müller.
Austria took an emphatic 29:26 win and the rest is history.
🎉🎉🎉 𝗝𝗔𝗪𝗢𝗢𝗢𝗢𝗛𝗟 - 𝗪𝗘𝗟𝗧𝗠𝗘𝗜𝗦𝗧𝗘𝗥𝗦𝗖𝗛𝗔𝗙𝗧 𝘄𝗶𝗿 𝗸𝗼𝗺𝗺𝗲𝗻 🎉🎉🎉

Nach 1️⃣2️⃣ Jahren qualifizieren sich unsere Mädels erstmals wieder für ein Großereignis! 🇦🇹🇦🇹🇦🇹

BRAVOOOOOOOO👏👏👏👏👏👏👏

📸 Eva Manhart#HandballAUSTRIA pic.twitter.com/OBoQLtJjyM

— Handball Austria (@HandballAustria) April 20, 2021
"We are just enjoying this moment and I hope to build a powerful team for the future," explained Müller.
A hard rebuild
Indeed, Austria have not qualified for a major tournament since 2009, with their downturn specifically linked to club side Hypo Niederösterreich's downturn. The former Austrian powerhouse, who won the EHF Champions League Women four times between 1994 and 2000, as well as the competition's predecessor, the EHF Champions Cup, four times, downsized, relying heavily on young, domestic players.
That meant women's handball in Austria took a serious hit, despite players who performed at the highest level finding lucrative contracts in Europe, especially in Germany.
However, the Austria women's team as a whole has suffered, with the pipeline of talent suddenly suffering a serious drought. While talents were still up and coming, there was no way to catapult them onto the biggest stage.
Many of them take another career path. 19-year-old Nina Neidhert was superb for the Austrian side in the tie against Poland, scoring 11 goals in two games. She also had a terrific season in the EHF European League Women, scoring 28 goals for Thüringer HC, Müller's club team.
However, she will focus on her studies, taking up medicine this summer in Vienna. This means no more professional handball for Neidhart, the up-and-coming left wing, who will probably still be a part of the team at Spain 2021, barring an injury.
"This is actually the problem, we do not have many players, but some of them are also taking part-time jobs or study. Neidhart is an amazing talent, I always tell her that she can easily beat Uwe Gensheimer in a trick shot contest, she has a superb technique. Yet, she will move back to Vienna this summer," said Müller.
The 58-year-old coach is still upbeat, though. Austria's resurgence could be tracked down to a conscious decision made two years ago, when the Women's EHF EURO 2024 was awarded to Hungary, Switzerland and Austria.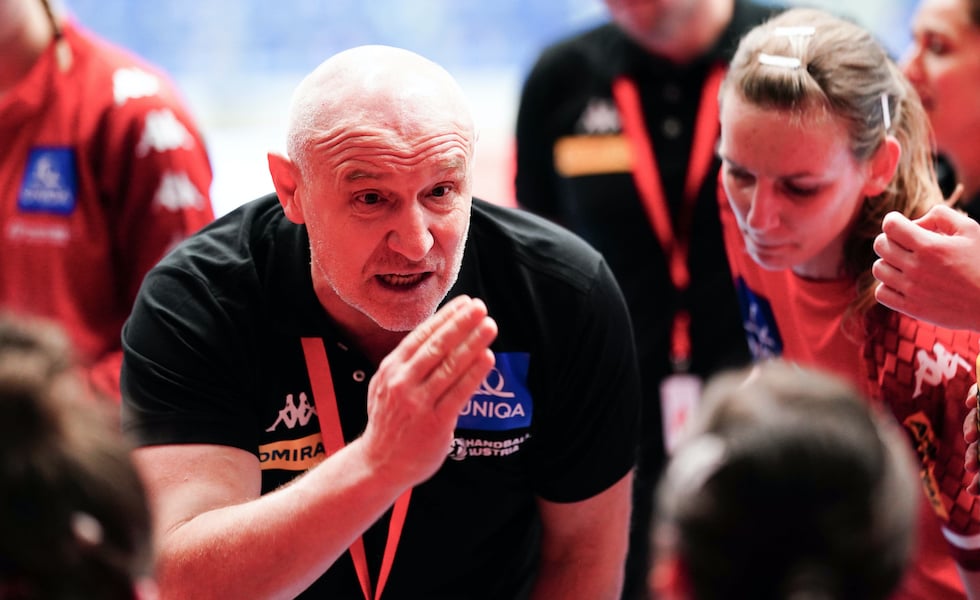 Austria are now finding and fast-tracking new talent through their academies, coordinated by another former Romanian player, Simona Spiridon, who played for Hypo between 2001 and 2006 and for the Austria national team between 2004 and 2014.
"We are trying to get better and better, we have that focus, to do well at the Women's EHF EURO 2024, when we will also be hosts, but also at this year's IHF Women's World Championship. We still be patient to see the draw, but, in my opinion, we can progress from the group phase. We have the talent and the will," said Müller.
The maths lecturer
The 58-year-old German coach is a fascinating character, who deploys an entertaining playing style with fast attacks and out of the box solutions when needed. He was an instant hit in Germany, winning 10 titles with 1. FC Nürnberg and Thüringer HC between 2005 and 2018, but his current side, Thüringer HC, cannot compete with the financial muscle of BV Borussia 09 Dortmund and SG BBM Bietigheim anymore.
Therefore, at club level, Müller develops young players, who are usually becoming crucial in their national teams. 
Austrian centre back Sonja Frey is one of them. Müller has known the playmaker since her national team debut in 2009, when she was only 16, while her experience at Thüringer HC between 2012 and 2016 only consolidated her talent.
Yet, Müller still likes what he does on a daily basis and is motivated by a fierce competitive spirit, instilled at birth. His passion for handball is also next to none, despite being more of a numbers guy.
Few know that Müller is more than a former player and a coach. Indeed, he only started his job at Nürnberg, where he took the team from the fifth league to the Women's EHF Champions League in six years, through maths.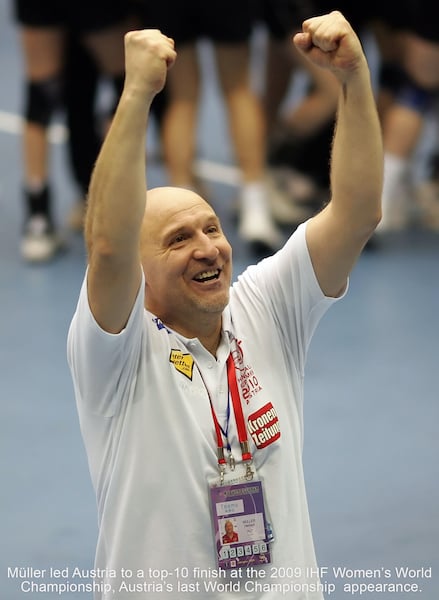 "The story is quite funny, actually. I studied mathematics in Augsburg and the President of a local University in Nürnberg told me he would hire me as a lecturer only if I took over the local handball team. He was an avid fan. So, I have worked 11 years as a maths lecturer and as a handball coach. And it was amazing," says Müller.
Does maths bode well with handball?
"Sure. When you are thinking about tactics, you need to have an analytical approach. Therefore, I think they go hand in hand. The numbers do not lie," adds the coach.
"I must say, that career is over and maybe I cannot solve the difficult equations I taught before. But I can still play some tricks, I tell the players to think about a number and I usually guess it. It is a trick, but they are surprised every time I do that," says Müller.
What's next for Mr Müller?
The latest trick? After qualifying with Austria for Spain 2021, Müller went back to his club, Thüringer HC, where he engineered a teambuilding exercise.
It was Ina Grossman's farewell, as the left wing will retire this summer, and Müller devised a logarithmic equation, the answer to which was "Merry Christmas".
It may sound strange, it may not even be Christmas, but that is Müller in a nutshell. A coach so ambitious, so eager to do well, he might not overlook the smallest details to help propel his team to a better result.
Right now, Müller is living the dream, having qualified a combative, but still inexperienced side to their first IHF Women's World Championship after 12 years.
Who knows what's next? Müller himself does not. But he has just solved an equation that was on his mind for several years. There are only a handful of coaches who are immovable and have spent such a long time with one team.
Müller has been serving as Austria's coach for 17 years, yet he is not tired.
"I only miss Romania a bit. The soups there are awesome," said Müller. 
He will not have to wait long. Austria will face Denmark and Romania in the Qualification Phase for the Women's EHF EURO 2022.
This equation is still a work in progress. But Müller might just solve it. 
Photos (not including 2009 World Championship photo): ÖHB / Agentur DIENER / Eva Manhart