09 Aug. 2019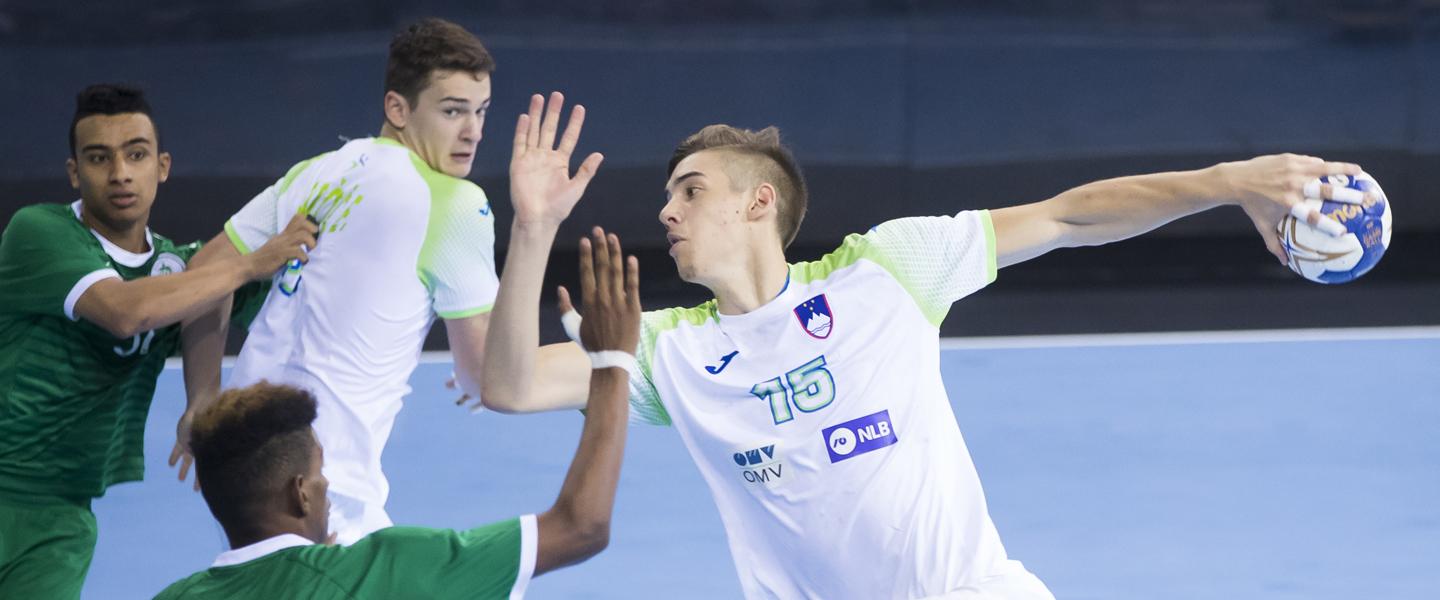 The third round of Preliminary Group A matches in the 2019 IHF Men's Youth World Championship gets underway with the unbeaten Croatians facing fourth-ranked Asian youth side Saudi Arabia.
Next up, Spain take on Slovenia before Chile face Norway in the last game of the day at the Jane Sandanski Arena in Skopje, North Macedonia.
GROUP A
Feature match: Spain vs Slovenia, 18:30 local time
Jane Sandanski Arena, Skopje
After wins against Chile and Saudi Arabia, Slovenia face their first European test, against Spain in the second match of the day of preliminary group A.
While the Slovenians have come off a relatively easy start to their world championship campaign in Skopje, Spain have been well tested in a hard-fought draw against Norway last night.
It had followed a win over the Saudis too, but the Norwegian match was a much more intense encounter and could prove key with two relatively well-matched teams who finished in fifth (Spain) and ninth (Slovenia) place at the U18 Men's EHF EURO last year.
Slovenia can rely on sharpshooter Tadej Kljun, who has scored 18 goals in two games and was leading the top-scorer charts after the second round of matches, while FC Barcelona's Alex Pascual is a threat for Spain with 13 strikes.
Both sides have relatively the same scoring and conceding rate but the clash of defensive styles should be intriguing today with Slovenia's set 6-0 formation lining up against Spain's 5-1 and even 3-2-1 at times in their previous matches.
"We had very good 15-minute periods in both halves, but we also had very bad minutes," said Slovenia's coach Janez Klemencic after the Saudi Arabia win. "But we have to think hard about these bad minutes when we play more powerful opponents in our next matches."
Spain coach Alberto Suarez will hope injuries sustained in the Norway draw by centre back Isidoro Martinez and left back Alberto Diaz will not be too severe for them to miss any part of the all-European clash.
Croatia looking strong, Chile to cause problems for Norway?
A heavy defeat of both Norway and Chile with two different defensives systems – first a 3-2-1, and second, a 6-0, see Croatia enter into their match against Saudi Arabia as strong favourites to make it to six points, but the Asian side did cause Slovenia problems in their clash last night.
The final game at the Jane Sandanski Arena will see Norway take on Chile with neither team registering a win yet at North Macedonia 2019. If Chile defeat the European side, they will go above them on two points, with Norway staying on a solitary one.
GROUP  A
Friday 9 August
Jane Sandanski Arena, Skopje
16:30    CRO vs KSA
18:30    ESP vs SLO
20:30    NOR vs CHI