05 Dec. 2019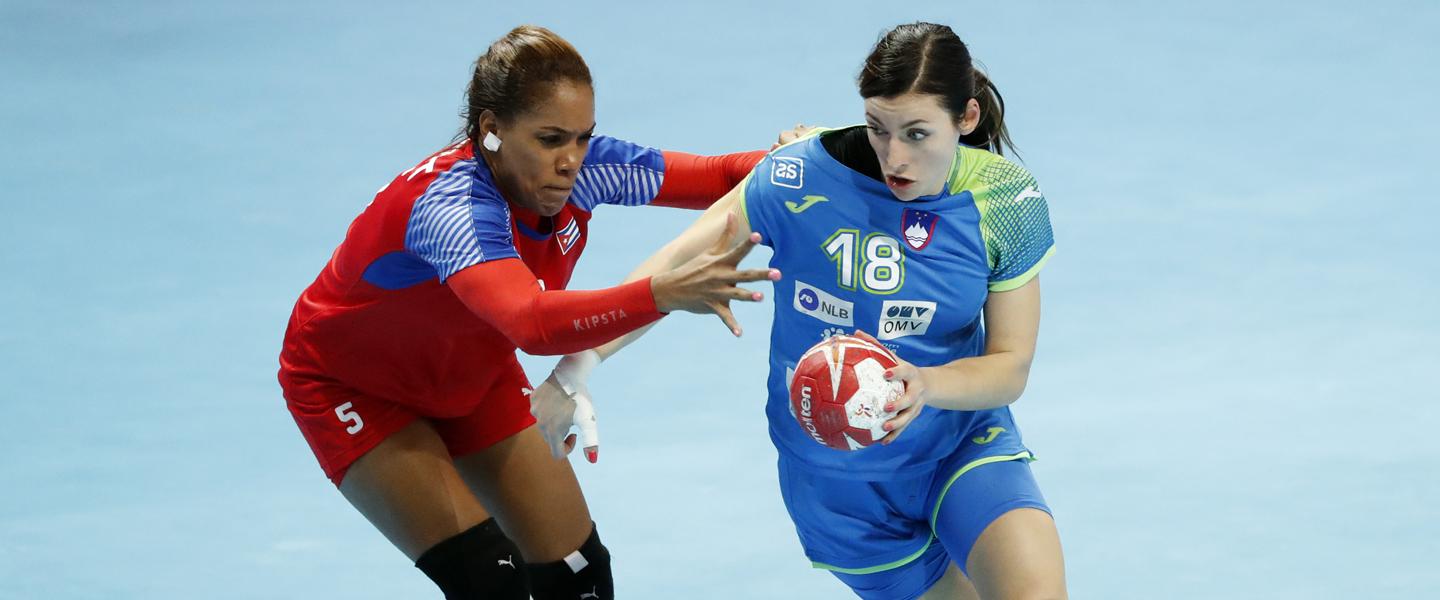 Slovenia went into their penultimate Group A game in the Preliminary Round of the 2019 IHF Women's World Championship knowing that a win against Cuba would be easier than their next match – a winner-takes-all clash against Serbia.
However, after 10 minutes Cuba were 6:4 up against their European rivals, but Uros Bregar rallied his Slovenia side with an early time out to turn it around at the break and win comfortably in the end at the Aqua Dome in Kumamoto.
GROUP A
Cuba vs Slovenia 26:39 (15:17)
"I am not satisfied with the first half, but we were better in the second and the result was clear," said Slovenia coach Bregar in the post-match media conference, neatly summing up the game.
But anyone supporting Slovenia – and there were many inside the arena who were – would not have been happy as a 4:0 Cuban run put them 6:4 up inside the first 10 minutes. 
With just 8 minutes and 24 seconds on the clock, Bregar took an early time out with his side down (5:4) and the body language of his players in it was clear to see: things were not going well and needed to change, confirmed by Bregar to IHF.info following the match.
"In our last match against Angola and now today we started really well with our first two attacks, but then we missed a lot of shots," said Bregar. "Three or four shots were missed – we made a lot of chances but didn't score.
"Tomorrow, against Serbia, if we create good chances to score, we have to score and that's why I took that time out really fast and our defence was really bad too."
By the 20th minute mark the 2019 Women's North American and the Caribbean Championship winners were still leading comfortably (12:10) and playing relaxed handball with a smile on their faces. The Cubans were mixing things up with a number of different attacking styles, causing Slovenia real trouble.

But it was not just their attackers scoring – one example of this was when Cuba goalkeeper Niurkis Mora Arias saved a long-range effort from Ana Gros.
Rather than celebrate the save, she immediately gathered the ball and shot full-length into an unguarded Slovenia net, who had taken off their own goalkeeper for the attack with Nina Zabjek sitting out for two minutes – but Cuba were also down a player, with Eyatne Rizo Gomez also on the bench.
Arias' fellow goalkeeper Indian Cedeno Ramos then suffered bad luck when her two, seven-metre saves rebounded to a following-up Slovenia player who made no mistake but Cuba could have been further ahead and it became only a matter of time before they lost the lead.

With her fifth and sixth goals, Slovenia superstar Ana Gros struck twice either side of a Polona Baric goal to turn the game 13:12 (23rd minute) in the Slovenian favour.
Cuba drew level for a last time (13:13) moments later but a two-goal half-time lead was extended to 10 in the 47th minute (30:20) and the game was over.
"Cuba played different handball and some of their payers are faster than ours," added Bregar. "I knew we would have some problems about moving and this happened – they played really good handball especially in the first half."
hummel Player of the Match: Tjasa Stanko, Slovenia