13 Jun. 2023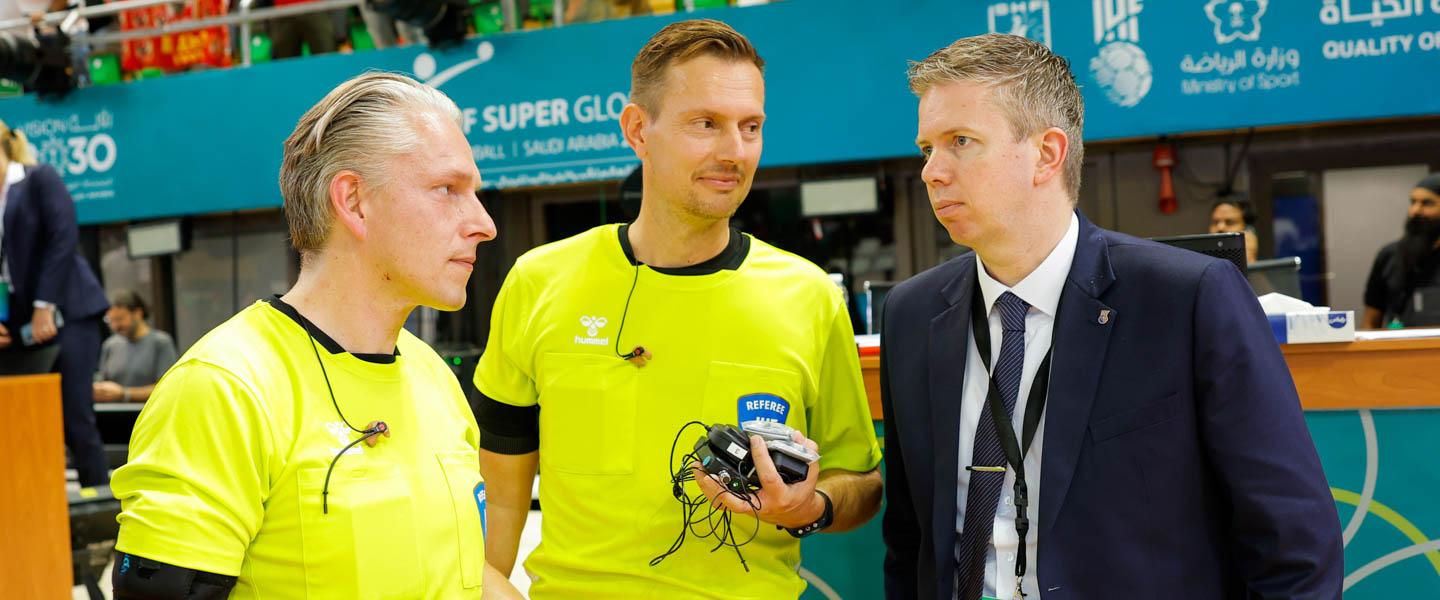 We are halfway through the 2023 IHF Coaches & Referees Education week, where leading experts throughout the world of handball share their knowledge and experience in seven packed days of webinars, broadcasted under the umbrella of the IHF Education Centre, available at ihfeducation.ihf.info. All these sessions are being recorded and will be available on this website for on-demand video.
Five webinars have taken place so far, combining the newest trends in handball, explained by leading coaches and experts, with seven others scheduled until Friday 16 June.
So far, five topics have been presented, with the 2023 IHF Coaches & Referees Education throwing off last Saturday with a lecture presented by Yérime Sylla, Belgium men's senior national team coach, which documented Belgium's road from an emerging nation to a team present at the 2023 IHF Men's World Championship in Poland and Sweden.
On Sunday, Paul Landuré, an IHF Commission of Coaching and Methods (CCM) Member, underlined the new tendencies in player development and the most interesting tweaks in modern handball with video examples from Poland/Sweden 2023 and Spain 2021, while Per Morten Sødal, Chairperson of IHF Playing Rules and Referees Commission (PRC), presented the tendencies related to simulations and punishments.
On Monday, Spain men's national team coach, Jordi Ribera, led a webinar which underlined Spain's defensive systems which has helped "Los Hispanos" become one of the most consistent teams in the world over the last few years, while Master Coach Marko Šibila described the importance of counter attacks and fast throw offs in modern handball with a big presentation using clips from the 2023 IHF Men's World Championship final between France and Denmark.
There are still seven webinars scheduled for this week in the 2023 IHF Coaches & Referees Education week, with other leading figures of the coaching and refereeing domains preparing excellent lectures.
The newest trends in goalkeeper play, wings situations from the referees' perspective and the importance of the line players, seen through both the coaches' and the referees' points of view, will also be important topics, as the balance shifting to these parts of the game has been getting more and more crucial over the last few years.
The 2023 IHF Coaches & Referees Education week is the second Education week of this year in the IHF Virtual Academy, with four other Education weeks to follow in the next months.
13 June – 13:00 CEST 
Trends in Goalkeeper Play – Different styles, role in fast play, technical-tactical behaviour in different match situations, presented by Mats Olsson, Norway women's senior national team goalkeeping coach  – register here 
13 June – 15:00 CEST 
Pivot Play, presented by Per Morten Sødal, Chairperson of IHF Playing Rules and Referees Commission (PRC) and Glenn Solberg, Sweden men's national team coach  – register here 
14 June – 13:00 CEST
Talent Detection in the Light of Changing Playing Styles, presented by Claus Dalgaard-Hansen, talent manager at the Norwegian Handball Federation – register here 
15 June – 13:00 CEST
Wing Situations from the Referees' Perspective, presented by Bojan Lah and David Sok, IHF referees – register here 
15 June – 15:00 CEST 
Defending Against Line Players – Correct and incorrect defence, presented by Jorge Dueñas Galarza, IHF Lecturer and Slovakia women's national team coach – register here
16 June – 13:00 CEST 
Offensive Foul Versus 7-Metre, presented by Angel Sabroso, IHF Referee, and Martin Gjeding, IHF delegate – register here 
16 June – 15:00 CEST 
Isolation Spaces for Successful 1:1 Duels and Possible Follow-Up Actions, presented by Jochen Beppler, IHF Lecturer and assistant coach at Germany women's senior national team – register here