24 Jun. 2022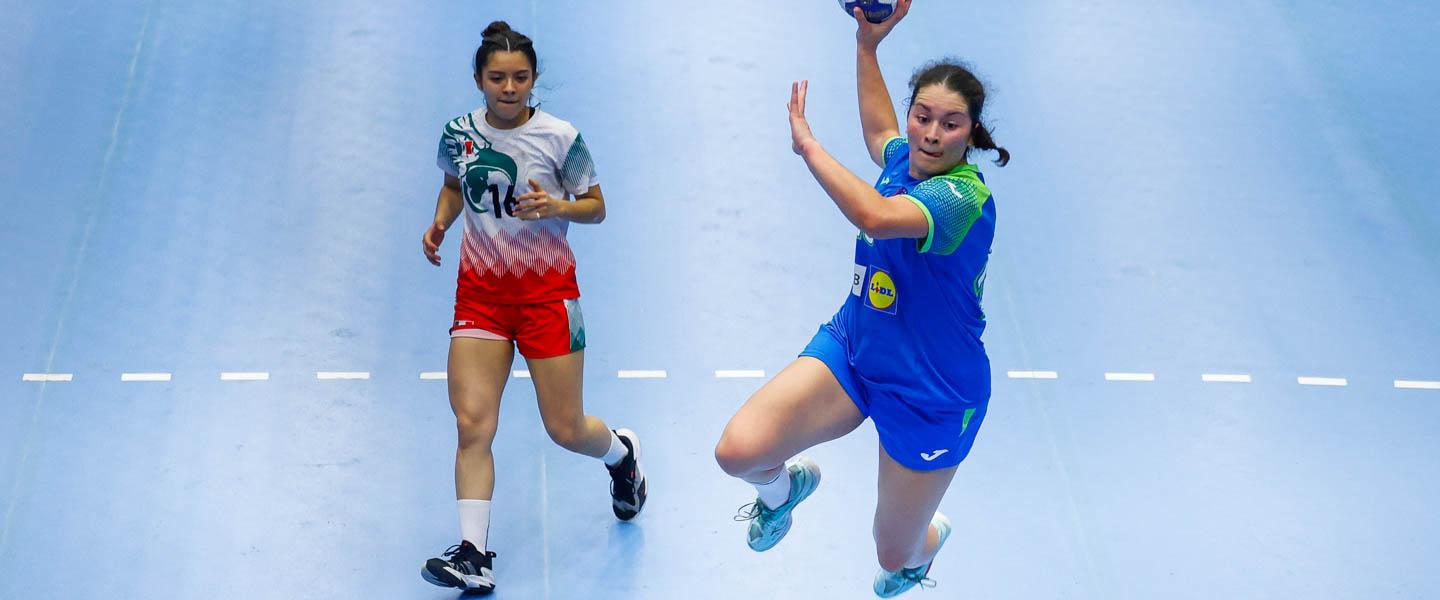 The third day of the 2022 IHF Women's Junior World Championship provides an eight-match card in the Golovec and Zlatorog arenas in Celje, with seven European sides eyeing main round berths.
In Group E, Czech Republic and Romania will earn safe passage to the next round provided they secure wins against Angola and Lithuania, while hosts Slovenia and Germany will qualify if they win against Chile and Mexico in Group G.
Group H could also see two straightforward wins from Poland and Hungary, which would see the two sides qualified, while the two winners from Group G, Croatia and Austria, collide with the winner being virtually safe for progression.
As we are heading towards the end of the preliminary round, scheduled for Saturday, things are getting clearer and clearer for the final main round berths.
GROUP E
Czech Republic vs Angola (12:30 CEST, Golovec Arena, Celje)
Lithuania vs Romania (14:30 CEST, Golovec Arena, Celje)
Czech Republic and Romania can follow Japan, Sweden, Norway and France into the main round, provided they win their games against Angola and Lithuania in the Golovec Arena in Celje, after securing two points in the first round on Wednesday. The two European sides will be favoured once again as they switch opponents on Friday.
Romania did not impress against Angola but took an important win, while the Czech Republic secured one of their biggest wins in the history of the competition against Lithuania and looked like a plucky underdog. Another win would see the Czech side tie their best-ever start in the competition, set in 2012, when they eventually finished 15th in the competition.
GROUP F
Mexico vs Germany (16:30 CEST, Golovec Arena, Celje)
Slovenia vs Chile (18:30 CEST, Golovec Arena, Celje)
After securing big wins in the first round, Germany and Slovenia will proceed to the main round provided they extend their streak on Friday in the Golovec Arena in Celje against Mexico and Chile. The hosts had their ups and downs in the first match against Mexico, but pulled through late in the second half with a 14:1 run that sealed the deal, while Germany had little trouble against Chile, enjoying a 22-goal win.
Germay's back Lucy Joergens and Slovenia's left back Erin Novak will be trying to keep up their amazing input from the first round, as they scored 10 goals each, as they eye the top goal scorer standings, which is currently led by India's Bhawana, with 16 goals, followed by three players with 15 goals, while Austria's Kristina Dramac scored 14 goals in a single game against Switzerland.
GROUP G
Austria vs Croatia (18:30 CEST, Zlatorog Arena, Celje)
Switzerland vs Kazakhstan (20:30 CEST, Zlatorog Arena, Celje)
Austria and Croatia opened the tournament with victories, and the winner of their encounter will be likely to finish top of the group. Now Croatia are first-placed thanks to a better goal difference, as they defeated Kazakhstan 36:15. Austria beat Switzerland by a smaller margin, 33:26, but right back Kristina Dramac stood out with her 14 goals in that game, so the Croats will need to hold her back.
Switzerland and Kazakhstan have no points yet, and each team need to win in order to keep their hopes of progression alive, so their match should also be entertaining.
GROUP H
Poland vs Egypt (14:30 CEST, Zlatorog Arena, Celje)
USA vs Hungary (16:30 CEST, Zlatorog Arena, Celje)
On the opening day, both European sides in this group showed their superiority and claimed two points, so if Poland and Hungary win again, they will both progress to the main round already on Friday.
After a commanding 37:14 win against USA, Poland are top of the group on goal difference, yet reigning champions Hungary also claimed a big opening win, 39:20 over Egypt, so now the European sides will be looking for their second straight victories.