08 Dec. 2019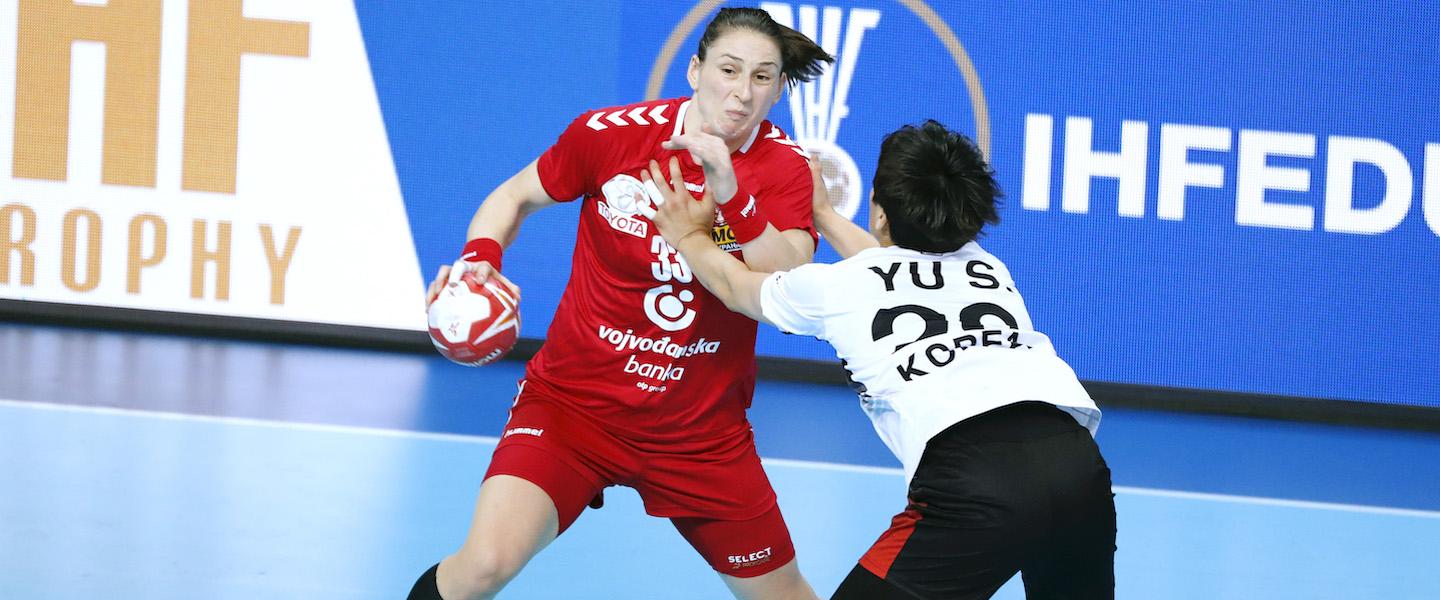 A strong game from Serbia saw them control the opening main round match for Group I at the 24th IHF Women's World Championship from start to finish, finishing with a three-goal win over Republic of Korea that earned their first points of the phase. 
Korea remain on two points, brought to the main round from preliminary Group B. 
GROUP I
Serbia vs Republic of Korea 36:33 (21:16)
Serbia's attack immediately proved effective against Republic of Korea, with the first goal coming from line player Dragana Cvijic in the opening 25 seconds. The fast-moving back court and line players were crucial as Serbia quickly pulled ahead, leading 5:3 in the sixth minute with goals from all over the court and then 10:5 after just 10 minutes. 
Both teams switched to 5-1 defence following the time-out, and while Korea dropped back to a flat system later, Serbia favoured the more offensive formation as the match progressed. Korea tend to be very effective against European sides – or struggle a lot, usually versus the taller, strong defences, as with Serbia's. 
After falling behind by five in the opening minutes, Korea watched Serbia's lead grow, and as the first quarter came to an end, the score was already a decisive 14:7. Serbia in particular changed their line-up constantly, with Sladana Pop-Lazic and Cvijic switching on the line, while both played an important role in the defence. 
As usual, Korea were led by an outstanding Eun Hee Ryu, who contributed a total of 10 goals with six in the first 20 minutes alone. It took some time, but the Asian side found more effective attack, particularly after the entry of centre back Migyeong Lee around the end of the first quarter. By the end of the half, Korea had reduced the deficit against them to five. 
Serbia seemed to be having little trouble holding onto the clear advantage as the second half progressed, holding steady at 30:24 with just 10 minutes to play. But Korea never gave in and as they enjoyed a strong finish while the European side may have relaxed a little too early, Serbia could feel their opponents close behind. 
The record Asian champions decreased the gap to four goals at 31:27 with eight minutes on the clock courtesy of right wing Sojeong Yu, and then came within three at 35:32 – but the effort came too late, as there was just over one minute to play, and Serbia held on to finish with a three-goal win. 
hummel Player of the Match: Jelena Lavko, Serbia