17 Dec. 2021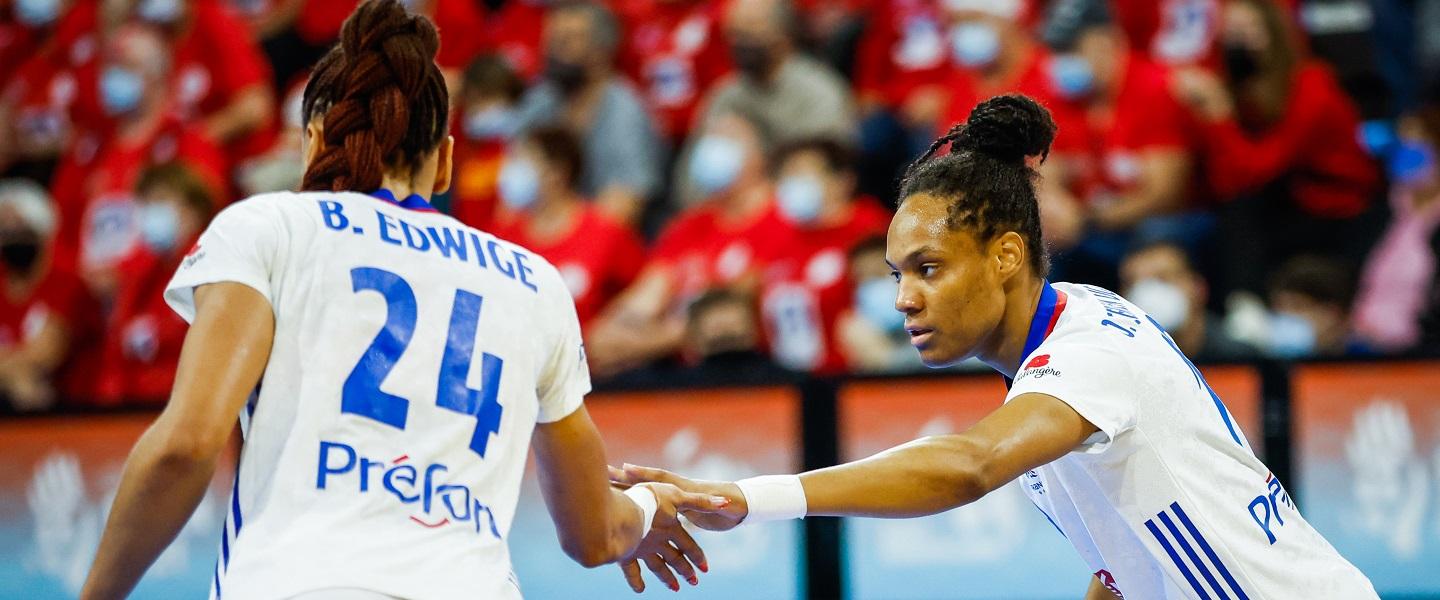 In the last eight championships, France have reached the last four seven times, including Olympic gold (2020) and silver (2016), World Championship gold (2017) and European championship gold (2018), silver (2020) and bronze (2016).
The only time they did not was at the 2019 IHF Women's World Championship in Japan, which was also the last time Denmark beat France in competition, under then Danish coach Klavs Bruun Jorgensen who oversaw a 20:18 victory in the preliminary round in Kumamoto.
Both teams would go on to have a disappointing championship with the Danish players missing out on any chance of Olympic Games qualification, left on court in shock as they drew 26:26 with Serbia which saw their opponents through instead. For France, then reigning world champions and now Tokyo 2020 Olympic Champions, it was worse – they did not even make it out of their preliminary group, eventually finishing 13th.
A clash of concrete wall goalkeeping pairings and explosive defences is on the cards at the Palau d'Esports in Granollers on Friday.
France vs Denmark 17:30 CET
At Spain 2021 both France and Denmark have perfect winning records of seven games in a row – three in the preliminary round, three in the main round and their quarter-finals, with neither side truly troubled.
And it is hard to separate the two European heavyweights on any statistical level. Average height is separated by just two centimetres (177cm for Denmark vs 175cm for France), average age almost the same (26.3 vs 26.5) – they even have almost the same number of total attacks, with Denmark on 382 and France one more ahead, on 383. France have scored 195 goals with 325 shots (60%), while Denmark have more – 224 goals through just five more shots (330, 68%).
But there are some clear differences. Denmark average 32 goals per game and conceding just 18.7, while France average 27.8 and 20.8, respectively. Earlier on at Spain 2021 France coach Olivier Krumbholz expressed his concern in Granollers about the effectiveness of his shooters from nine metres with his scoring from that distance just 13 times (53 attempts), while Denmark can boast 30 strikes from that distance from 71 attempts.
"We just want to win," said France goalkeeper Laura Glauser to ihf.info. "I cannot wish that they don't have a good game because this is not fair for myself," she added about the Danish goalkeeper pairing of Althea Reinhardt and the Brest Bretagne club-based Sandra Toft who top the charts (Reinhardt – 56% save rate with 59 saves from 106 shots and Toft 67/149 – 45%). "I just want that we do a good job and [hope] that we can score the goals that we need to win."
For her coach, who has been there, seen it and won it on the international stage, he is just looking forward to the clash and full of praise for his opposite number on the Danish bench, Jesper Jensen.
"The Danish team with him have started again to move forward," he said to ihf.info. "Maybe at this competition they will be stopped by France, maybe, but if they keep working with [him] they will become among the favourite teams for the 2024 Olympic Games. They are going in the right direction – he makes the team progress."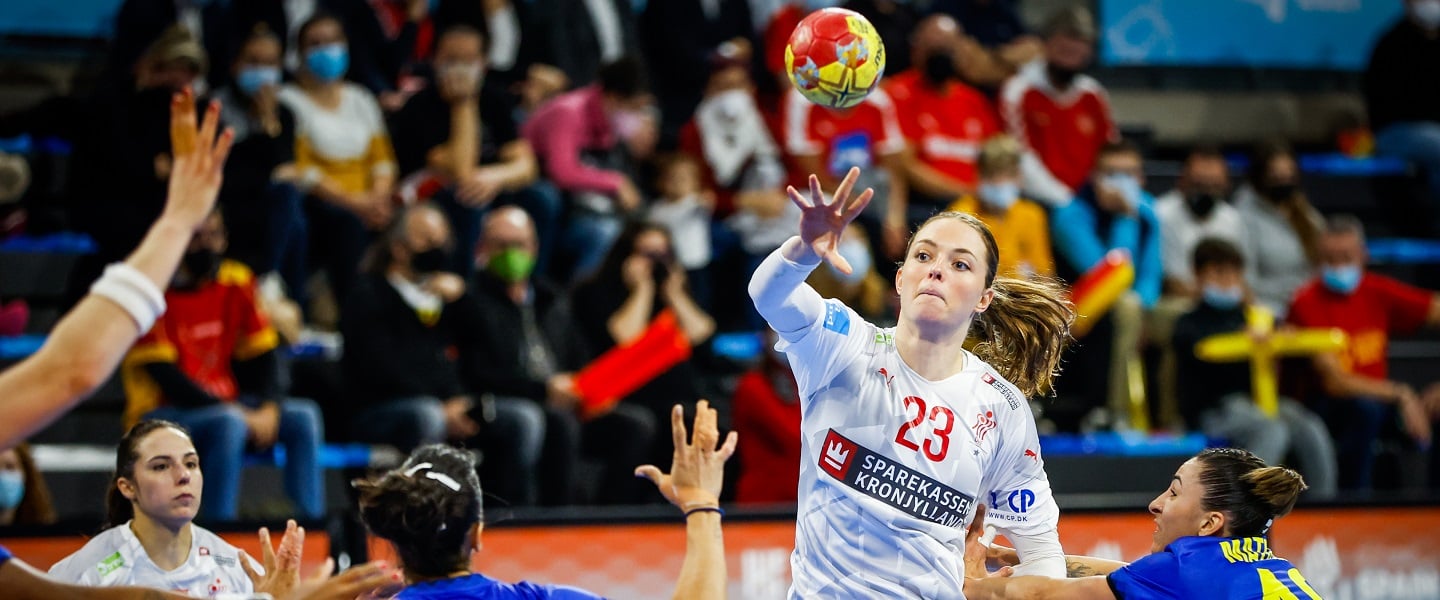 That progression has been impressive with their guaranteed top-four rank the best World Championship place for the Danes since 2013 (3rd) and if they should win and make the final, it will be their best since 1997 when they won in Japan.
"I don't want to beat Olivier, I want to beat his team," said a smiling Jensen to ihf.info when asked about going up against the French master. "When you look at what he's reached so far, you have to just be impressed, you just have to take your hat off [to him].
"They just keep pushing out new, strong, young players and you always say 'oh, she can be the top player in the world, she can also and she can also', then you can just say who cannot be the player of the year. 
"Nze Minko, Zaadi, Edwige, their goalkeepers, Kanor they have so many individual skills and it's very motivating for me as a coach to sit down and watch videos of France," he added.
"We expect a great team with a lot of individuals and a high level of skills. We played them four times now since I became a coach and all four times I think we went into the game thinking a little bit 'okay, we have to top perform and maybe they should be a little bit lower than they normally are, but I think this time we play top, they play top and I think it's more or less at the same level."
Those four times all ended in losses, with one in competition – a 20:23 loss at home in the 2020 Women's European Championship exactly one year ago. 
"There is no mercy because I know the players," smiled Denmark's Louise Burgaard who played in that match one year ago and plays her club handball in France, with Metz, who feature four France national team players. 
"It's more tactical," she explained. "Sometimes it can be hard to watch a player over seven matches at a tournament and see what her strength really is as, maybe, she didn't play so much, maybe she will play more in the semi-final. I can say if I play with somebody every day [at my club] and I can say [to coach] 'okay, this is her classic move'."
Those moves involve some of the very best handball players in the world and this is a challenge that Burgaard's team mate, line player Rikke Iversen, is relishing.
"I'm looking forward so much," said the 28-year-old to ihf.info. "We know the French are coming with everything. They have been evolving so much over the last two years. Japan 2019 was a big disappointment [for them], I think they got a reality check and were like 'this is never going to happen again, now we just bring all the big guns and be ready for many years forward."
"We have to play our own game and not be scared of going into a fight with them or run with them," she added. "At the same time, [we must] remember that they're a good team and their counter phase is so good. So we have to keep the ball in our hands and don't make so many mistakes. Because then they're very fast."
Looking to keep Denmark safe at the back is another French-based club player, Toft, who plays for Brest Bretagne Handball after signing in 2019, the same year France centre back Allison Pineau left.
"We know we have a tough game against Denmark and this is the first time to dream big at Spain," said Pineau who admitted the 100% winning start for the French was the first time she had experienced it since joining the squad in 2006. 
"We've had the perfect start but the first rank is the perfect end – the goal is [to make it] nine and nine, to win all games."