10 Aug. 2019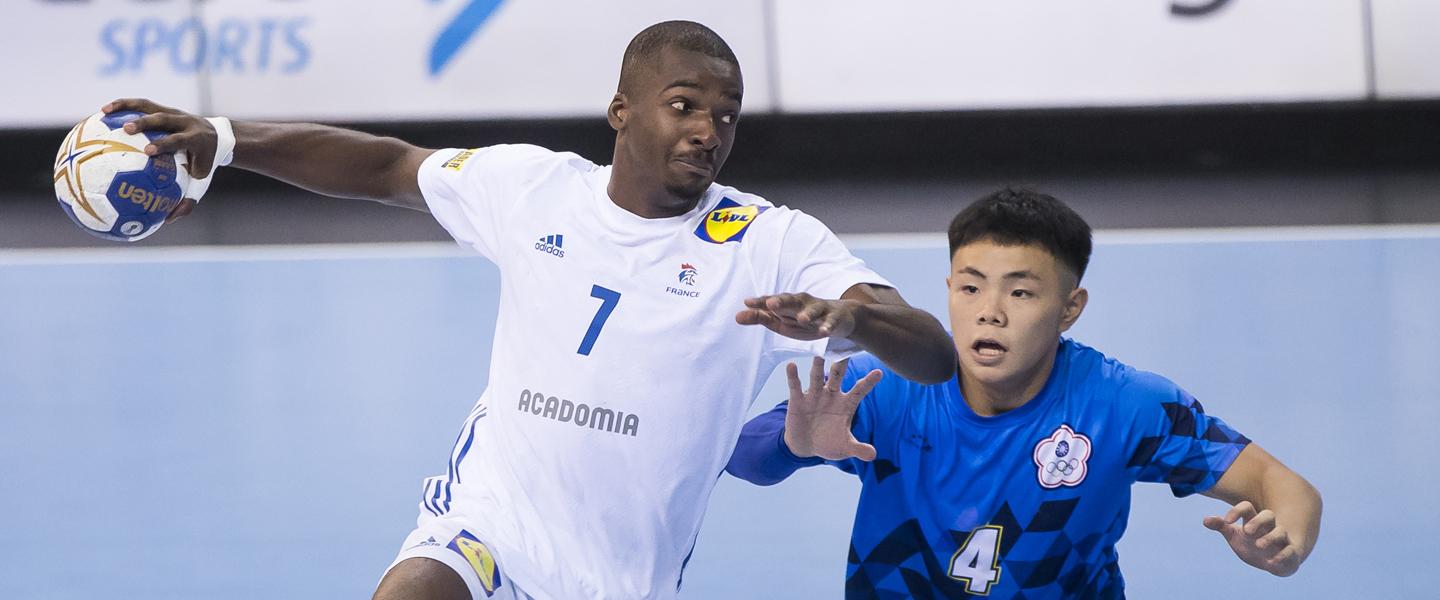 After losing against Hungary yesterday, youth world championship title-holders France bounced back to winning ways against Chinese Taipei today at the Jane Sandanski Arena in Skopje. But their third win of the 2019 IHF Men's Youth World Championship did not show their best side as Taipei did not let France relax for the whole 60 minutes.
GROUP B
France vs Chinese Taipei 32:23 (18:11)
Jane Sandanski Arena, Skopje
Chinese Taipei missed their first two attacks in their encounter against the might of the French side in the opening game of the fourth round of group B games today and with France's attack also misfiring, the Asian side could not open up a shock lead against the Europeans early on.
In fact, the first goal in the game did not come for three minutes, through Drevy Paschal for France and on six minutes, Chinese Taipei finally opened their account through Chi-Hsuan Hsieh.
And in what was endemic of a scrappy French performance, eventual best player of the match, and French captain, Sadou Ntanzi saw his loose pass stolen and His-Shing Ting promptly run down the other end to equalise (3:3, 8th minute)
The loose pass had come about as France kept up a quick attack against the open Asian defence, but had found it hard to put clear daylight between them and their opponents.
By the 18th minute however a Chinese Taipei time out called by Chun Yu Li highlighted the French handball machine starting to roll again and the difficulties it was causing his side, who were now five behind (11:6).
It got worse for his side though as they found themselves with just four players on court following three two-minute suspensions in a row, but – amazingly – Tsai Chih Chang in the Taipei goal managed to pull off a save form Pierre Laden with his three defenders on court beaten.
At half-time the difference was seven (18:11) and following a 5:0 run around the 40th minute, France confirmed their victory (26:14).
"Our team is a little bit fragile mentally," said France coach Eric Quintin to IHF.info after the match. "The game was not in our hands as we were not playing how we wanted, so everyone took the ball and thought he could make the difference alone. That's what we talked about during the preparation for the game, so I was a little bit disappointed.
"We cannot be competitive with the strongest teams in this championship with this level of playing."
Best Player of the Match: Sadou Ntanzi (FRA)