20 Apr. 2020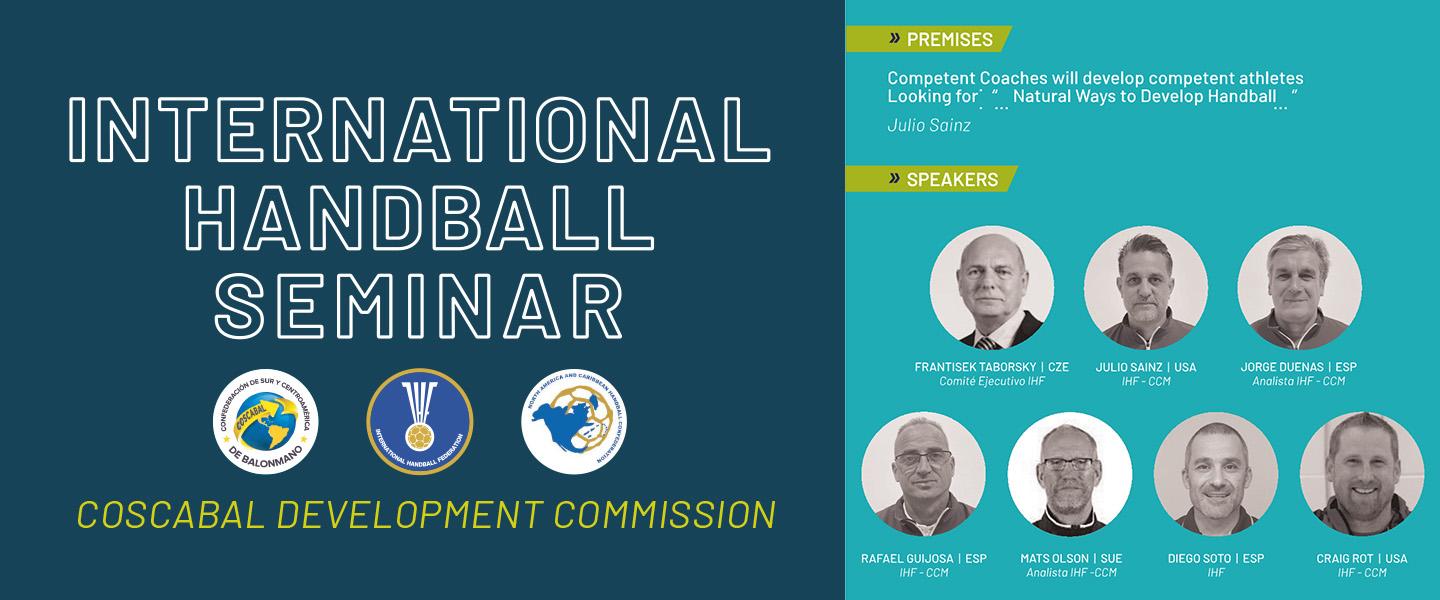 Starting today – Monday 20 April – the Development Commission of the South and Central America Handball Confederation (SCAHC), also known in Spanish as the Confederación Sur y Centro Americana de Handball (COSCABAL), will present 10 webinar sessions over the next two weeks under the heading 'Competent Coaches will Develop Competent Athletes'.
Aimed at coaches in the SCAHC and NACHC (North American and the Caribbean Handball Confederation), a number of IHF speakers and international coaches will be presenting webinars relating to 'Natural Ways to Develop Handball' with the objectives of:
•    Promoting the meeting of highly-experienced handball coaches to share their knowledge as speakers
•    Presenting webinars on specific subjects that are of the interest to coaches in the Americas
•    Strengthening the knowledge of national team coaches in the Americas 
•    Promoting discussion and interchange of experiences between national team coaches in the Americas 
Each session will last 90 minutes, and all are free to attend for national team and high-level competition coaches in the SAHC and NACHC with a participation of eight sessions a minimum requirement.
All 10 sessions will be delivered mainly in Spanish, with some in English. Translation into English and Spanish will take place accordingly. 
A maximum of four coaches per country can participate, with all potential applicants asked to apply via their national federation, or email [email protected]
At the conclusion of the series of webinars, each country has to present a folder with a summary of the presentations, an analysis of the actual game model of their national teams, and a proposal for the improvement of the game models of their national teams.
"The main idea is that the best coaches from all the countries that have experience in high local competition and/or are coaches of national teams from the countries of Americas meet, because, in the first instance, the message must be clear that the development of the teams at every level is an essential, but not the only, part of the development of high-performance handball," said Cecilia Hernandez, President of the SCAHC Development Commission.
"This first online training experience will use an online webinar platform (Zoom) where the speakers can interact with the participants, who could potentially number almost 200.
"The contents of each presentation will be different, but they will include basic and current handball elements so that they can be useful and adapt to a game model in each country."
SCHEDULE
All sessions run from 10:00-11:30 (Bogota, Colombia time)
Monday 20 April
Introduction to the Webinar Series
Frantisek Taborsky (CZE), Marcel Mancilla (CHI), Cecilia Hernandez (CHI) – ENG/ESP
Session 1
1: Physical Conditioning and Sports Psychology for Handball / 2: Video Analysis
Julio Sainz (USA) – ESP
Tuesday 21 April
Session 2
Defensive Retreat in Modern Handball
Diego Soto (CHI) – ESP
Wednesday 22 April
Session 3
Defensive Tactics in Response of the Opponent
Jorge Duenas (ESP) – ESP
Thursday 23 April
Session 4
Development of Individual Technical-Tactical Skills: 1x1
Rafael Guijosa (ESP) – ESP
Friday 24 April
Session 5
Goalkeeper Training Integrated into Team Dynamics
Mats Olsson (SWE) - ESP
 
Monday 27 April
Session 6
Handball at School
Craig Rot (USA) - ENG
Tuesday 28 April
Session 7
Counter-Attack
Jorge Duenas (ESP) – ESP
Wednesday 29 April
Session 8
Offensive Tactics: Game Model
Rafael Guijosa (ESP) – ESP
Thursday 30 April
Session 9
Men's Eurocup Evaluation
Frantisek Taborsky (CZE) – ENG
Friday 1 May
Session 10
Use of the Pivot in Modern Handball
Julio Sainz (USA) – ESP
For more information, visit the website at www.handballsca.tv, follow via Instagram or Facebook.