21 Nov. 2020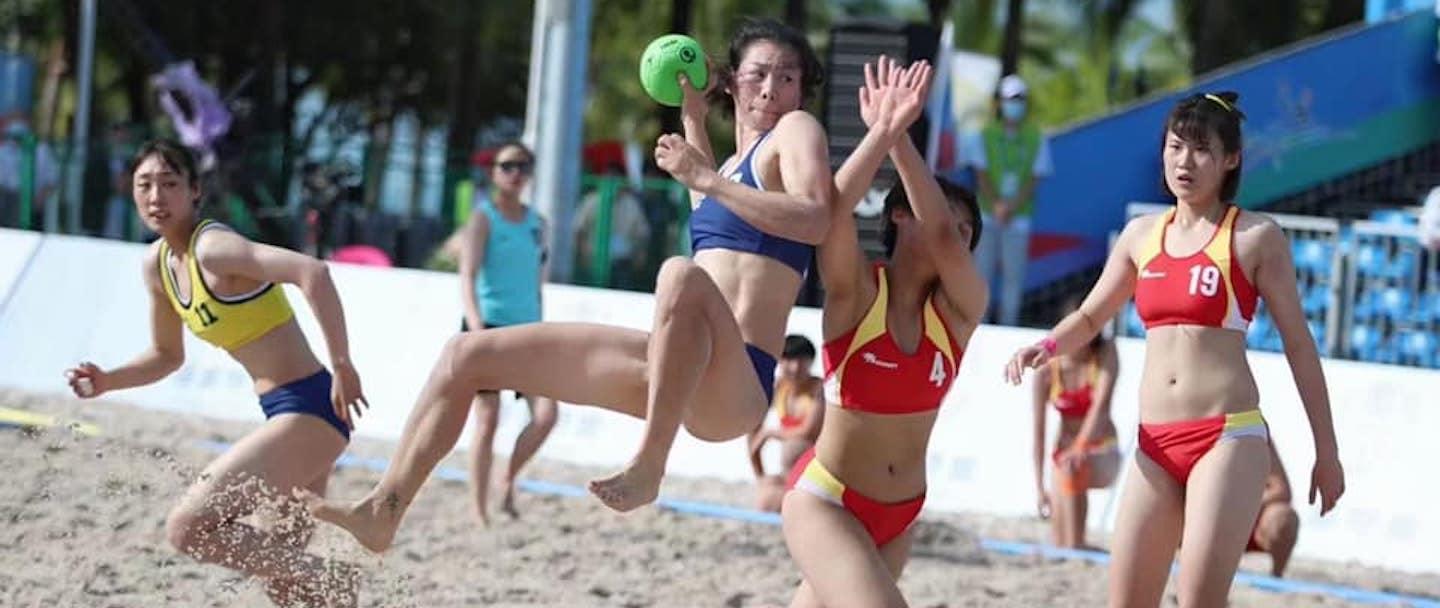 The 'Beautiful Sanya Lishan Distillery Cup Beach Handball Invitational 2020' took place at the 'Beach Handball Arena' on Sanya's Tianya Haijiao beach last week.
The venue will host beach handball at the 6th Asian Games, which will be held in Sanya from 2 to 10 April 2021.
The invitational event opened on Thursday 12 November with a ceremony attended by President of the Chinese Handball Association Wang Tao, Vice Governor of Hainan Province Fu Caixiang and Deputy Director of the 6th Asian Beach Games – Sanya 2020, and Deputy Mayor of Sanya, Zhou Jun, amongst many other dignitaries.
Sponsored by the Sanya Municipal People's Government and featuring 270 volunteers from the Hainan Tropical Ocean College and Sanya Vocational College of Aviation Tourism, the event featured men's and women's competitions held over two days with eight teams competing, including the Chinese Youth team, along with teams from Anhui, Jiangsu and Shandong provinces, amongst others.
A highlight of the opening day saw the newly-formed China women's youth beach handball team lose 2-0 to Anhui, who had an average age of 22, with the national team making their competitive debut with an average age of just 16 years old.
"The players were temporarily selected from the indoor handball team and played better than I expected," said China coach Shang Xi to local media after the match, with her player Ci Haihui revealing that, "…the resistance on the beach is much greater than on the indoor floor and it's very tiring after a match."
Zhang Zhenhua, Director of the Standing Committee of the Sanya Municipal People's Congress attended the second day on Friday 13 November where he witnessed Shandong beat Anhui 2-0 to win the men's competition, after Anhui missed a last second shot to take the second period.
"We won mainly in teamwork and defence, and we showed our usual training level today," said Shandong's Sun Haonan to local media after the victory. Anhui did however have something to smile about, as they took the women's title, beating China 2-0.
At a pre-tournament media conference it was announced that as a legacy of the 6th Asian Beach Games, the Beach Handball Arena will be converted into a three-in-one training base for beach handball, beach volleyball and rock climbing, providing a facility to host large-scale beach events and winter training. It was also mentioned that the sport was approved by the Chinese State Sports General Administration as an official event in the country in May 2009. 
"The venue is well arranged, the on-site guidance services and facilities are very good," said Wang Wenjun, a player for Anqing (Anhui) men's team to local media after the event. "The sand is softer and much better for training than in other areas," he added, referring to the specially-imported sand from Wenchang in the north-east of Hainan Island.
Coach Xi also praised the new venue. "Although Sanya is hosting a beach handball competition for the first time, the organisers are meticulous and considerate in terms of reception services, medical and health care, and emergency protection," she said. "The software package has reached the standards and requirements of world-class beach handball events."
The event took place under strict COVID-19 prevention and control measures, which included all athletes and officials undergoing tests upon arrival in Sanya, further screening and testing at the entrance to the venue, limited spectators, social distancing and constant disinfection.
Final ranking
Women
1. Anhui
2. China Youth
3. Longkou Sports School (Shandong Province)
4. Suzhou Sports School (Jiangsu Province)
Men
1. Longkou Sports School (Shandong Province)
2. Anqing Sports School (Anhui Province)
3. Weifang Sports School (Shandong Province)
4. Anhui Professional & Technical Institute of Athletics (Anhui Province)
For more information about the 6th Asian Beach Games – Sanya 2020, visit sanya2020.cn. 
Photos: Sanya 2021/Feng Shuoshe/Wang Kanghong