01 Dec. 2019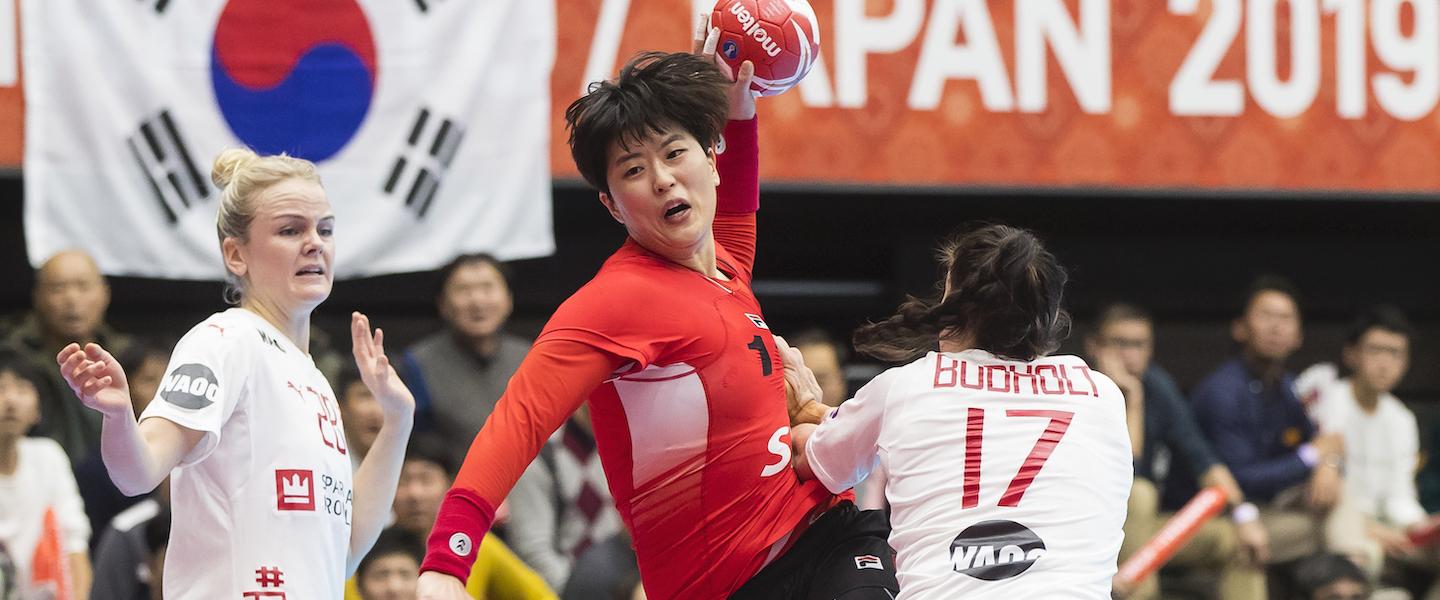 After leading through the first half and falling behind in the second, Republic of Korea secured a draw against Denmark in round 2 of the 24th IHF Women's World Championship thanks to two late goals and a save from Saeyoung Park. 
The result means that both sides are now on three points following wins in their round 1 clashes and one point gained from the mutual clash. 
GROUP B
Republic of Korea vs Denmark 26:26 (13:10)
It was a thrilling match with all the right ingredients – strong defence that meant a fairly low final score, emotion and fighting spirit from both sides, and outstanding attack played at a fast pace. Each team took their turn with the advantage, before all was decided in the final minutes with the last goals scored by Republic of Korea's Eun Hee Ryu and Migyeong Lee. 
Denmark had the chance for the win when Stine Jorgensen had a breakthrough opportunity with little over 30 seconds on the clock, but her shot was saved by Korea keeper Park and the record Asian champions therefore had the chance to take the win. But Korea could not convert their final attack into a goal, and the teams had to settle for a draw that was unsatisfying for both. 
After she scored 12 goals in their opening win against defending world champions France, Ryu led Korea once again, with nine strikes, and earned her second hummel Player of the Match award with her performance. After round 2 has been played for two groups, Ryu sits in first on the top scorer list with a total of 21, two goals ahead of Romania's Cristina Neagu. 
Korea started the match stronger and took the upper hand early. Denmark temporarily levelled the game, but the Asian side pulled away, leading as clear as four goals before a three-goal advantage at the break. 
The second half was pure excitement. Denmark fought back to equalise at 14:14 in the 36th minute, Korea took the lead, then the Scandinavian side did – it was a thrill-ride to the last. Through the last 10 minutes Denmark looked to create a promising advantage, 23:21 in the 53rd, and they held the edge consistently until Korea's fight paid off and they scored the goal that secured the draw with just over one minute on the clock. 
hummel Player of the Match: Eun Hee Ryu, Republic of Korea