24 Oct. 2019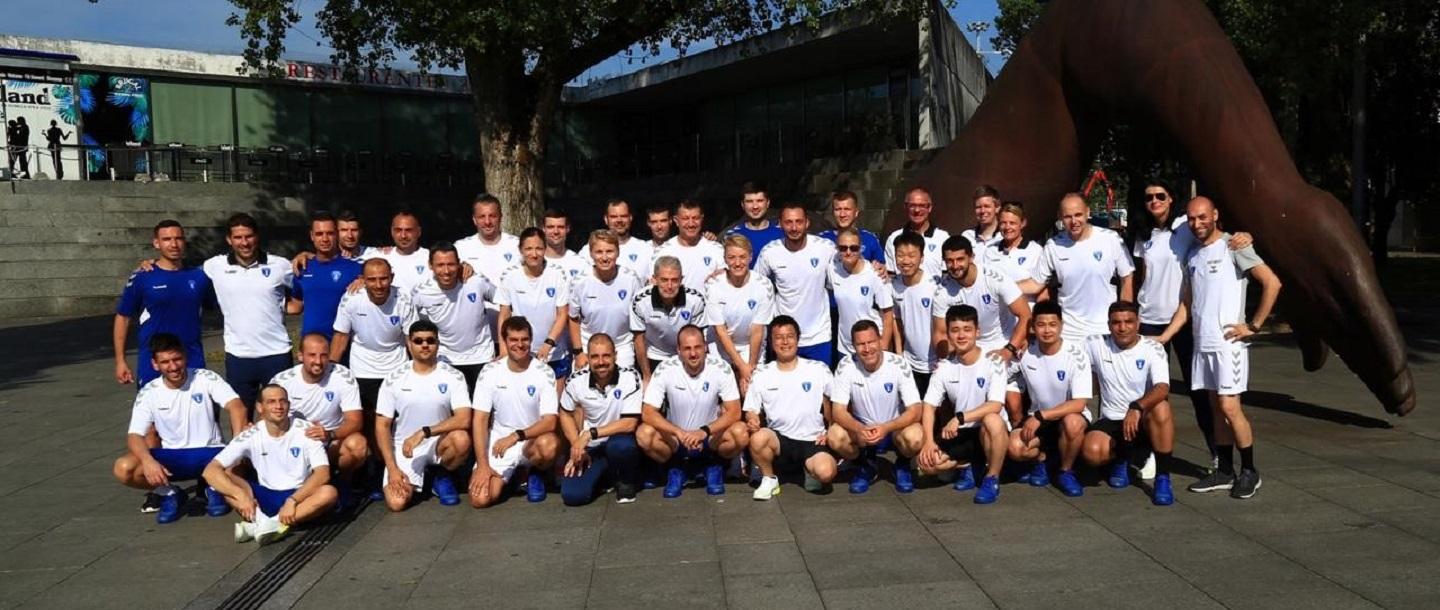 It has been a little more than one year since the IHF Playing Rules and Referees Commission (PRC) implemented a mentorship project designed to help less experienced referee couples learn from referee couples at the top level in international handball. The goal was for the top referee pairs to assist developing couples with not only technical things, but with all aspects and circumstances surrounding life as a high-level referee: mentality, behaviour, crowds, federation matters, continental championships versus IHF events, and so on. 
As PRC Chairman Ramon Gallego acknowledged: "Many times, sharing the experience or advice of expert colleagues is much more important than all the messages of the PRC." 
There were no fixed rules for how the pairs would collaborate. Gallego explained the important aspect was the final target: to help these young referees become top referees as quickly as possible, provided their continued positive performance levels and growth.  
Seven top IHF couples agreed to participate in the project, and the groups were paired as follows: 
•    Martin Gjeding and Mads Hansen, Denmark – mentors for Kiyoshi Izaki and Tomokazu Ikebuchi, Japan
•    Oscar Raluy and Angel Sabroso, Spain – mentors for Mathias Sosa and Cristian Lemes, Uruguay
•    Bojan Lah and David Sok, Slovenia – mentors for Youcef Belkhiri and Sidali Hamidi, Algeria
•    Robert Schulze and Tobias Tönnies, Germany – mentors for Yufeng Cheng and Yunlei Zhou, China
•    Charlotte Bonaventura and Julie Bonaventura, France – mentors for Safia Bennani and Maria Bennani, Sweden
•    Karina Christiansen and Line Hessedal Hansen, Denmark – mentors for Maike Merz and Tanja Schilha, Germany
•    Viktoria Alpaizde and Tatiana Berezkina, Russia – mentors for Yasmina Elsaied and Heidy Elsaied, Egypt
After the first year of the project, the PRC has asked the participants for their feedback and received unanimous positive feedback. Mainly, the focus for the developing referees has been on what is necessary beyond consistently good performances on the court. Specifically, topics discussed between the mentors and their assigned pairs have included how to become mentally stronger, preparation for important matches, self-confidence, overcoming difficult moments, when and when not to talk with coaches and players, preventative decisions to avoid 'hot' situations, analysis of teams, physical preparation including food intake, and the discovery of weak points that need improvement. 
The pairs have analysed matches and clips together – an aspect that has proven a highly beneficial tool for learning but also highlights the difficulties for some referees in obtaining video of their own matches, depending on their home country or continent. The referees and PRC agree this access to video footage is crucial in helping referees develop their performance. 
Based on the feedback, the PRC has drawn some key conclusions for the future, the most important of which will be encouraging meetings in person at competitions in order to allow for greater collaboration between the couples. Further into the future, the project may develop to allow for similar characteristics in the pairings, such as language. 
"Establishing a unitary and shared web space, with the same guidelines and criteria for all participants in this programme, where young talents raise questions or challenges and mentors make their contributions and answers, could mean a benefit for all components of the project," says Gallego. 
The same organisation of pairs will continue until the 2020 Olympic Games in Tokyo, before which the seven less experienced couples are expected to participate in various continental and international championships, as well as qualification for the Olympic Games and potentially the Games themselves. After Tokyo 2020, a new phase of the project will begin.