17 Mar. 2020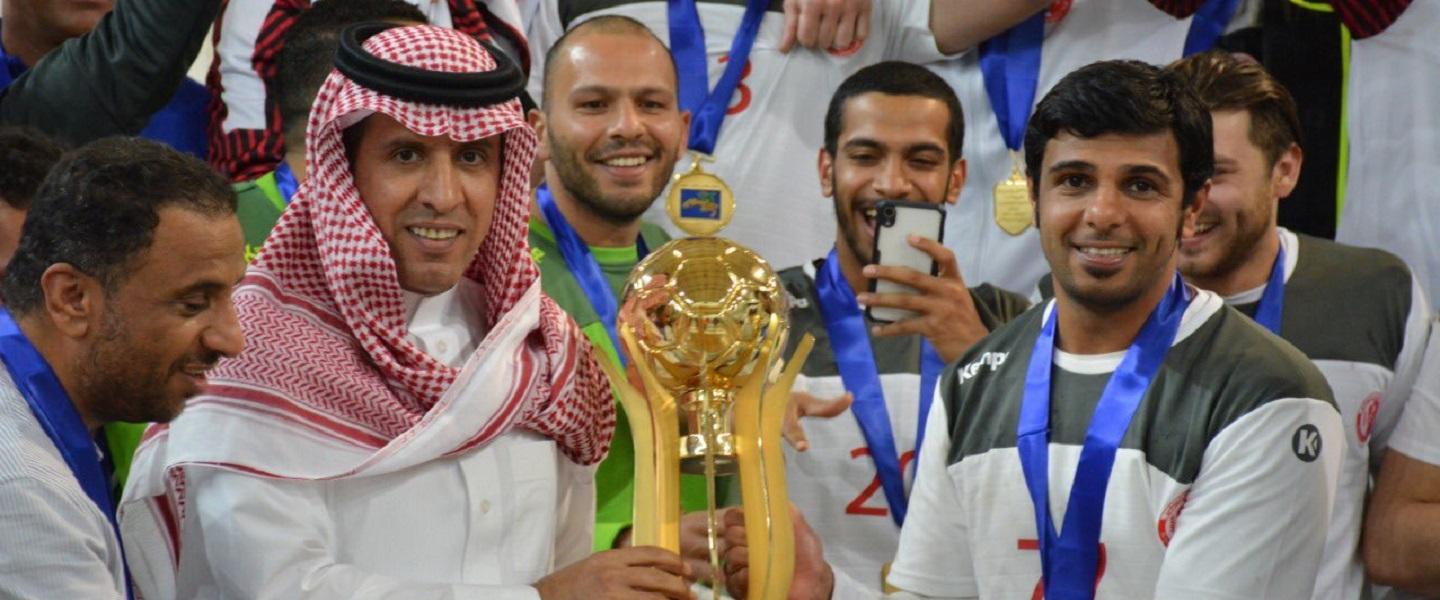 Tunisia hosted the 15th edition of the Arab Handball Federation Men's Arab Championship for Club Cup Winners from 4 to 14 March, which was held in the city of Hammamet.
Six teams from three countries competed for the title: Qatari clubs Al Arabi (ARA), Al-Shamal Sports Club (SHA) and Al Ahli (AHL), Saudi Arabian team Khaleej Club (KHA) and the Tunisian sides, Club Africain (AFR) and EBS Beni Khiar (BEN). Al Nasr (Kuwait), Kazma Sports Club (Kuwait) and Al-Nabek (Syria) were also eligible to participate but could not attend.
In the end, it was an all-Qatari final as Al-Shamal Sports Club took on Al Arabi for the second time, after they met in the preliminary group in a match won by Al Arabi.
The first half of the final saw Shamal, who faced Qatar national team goalkeeper Danijel Saric in the Arabi goal, lead 18:14, and despite a concerted second half effort from his Arabi side, which saw them come back from 22:16 down (38th minute) to within one goal (22:21 – 43rd minute, 24:25 – 48th), Shamal kept their noses in front just enough to win by two in the end, 33:31.
Both teams had reached the final by winning four of their five preliminary group games, with 
Al Shamal losing just once, against Al-Arabi, 33:24, while Arabi lost 25:18 against Club Africain. The results saw the top four in the group play each other in the semi-finals with Shamal defeating Khaleej 32:28 and Arabi getting revenge on Africain, defeating them 25:22.
Khaleej went on to win bronze, defeating Africain 32:28, while Ahli defeated local club side Ben Khiar 32:30 to take fifth place.
The All-star Team was also announced on the final day of competition, with Khaleej Club's Mohammad Farad ending as top-scorer with 58 goals.
To watch the final and for more information about the competition visit the dedicated Facebook page at: https://www.facebook.com/arab.handball.tunisia2020.
For more information about the Arab Handball Federation, visit their Twitter channel (in Arabic): https://twitter.com/arabhandball.
FINAL RANKING
1 Al-Shamal Sports Club (Qatar)
2 Al Arabi (Qatar)
3 Club Africain (Tunisia)
4 Khaleej Club (Saudi Arabia)
5 Al Ahli (Qatar)
6 EBS Beni Khiar (Tunisia)
ALL-STAR TEAM
Right Wing: Mohammad BAHR - Club Africain (Tunisia)
Left Wing: Anis ZOUAOUI - Al Arabi (Qatar)
Right Back: Zarko MARKOVIC - Al-Shamal Sports Club (Qatar)
Left Back: Mohammad FARAD - Khaleej Club (Saudi Arabia)
Playmaker: Sobhi SAIED - Al-Shamal Sports Club (Qatar)
Line Player: Jihad JABALLAH - Al Ahli (Qatar)
Goalkeeper: Maroune MAGAIZE - Al-Shamal Sports Club (Qatar)
Top Scorer: Mohammad FARAD (58 goals) - Khaleej Club (Saudi Arabia)
PHOTO: Arab Handball Federation