14 Oct. 2019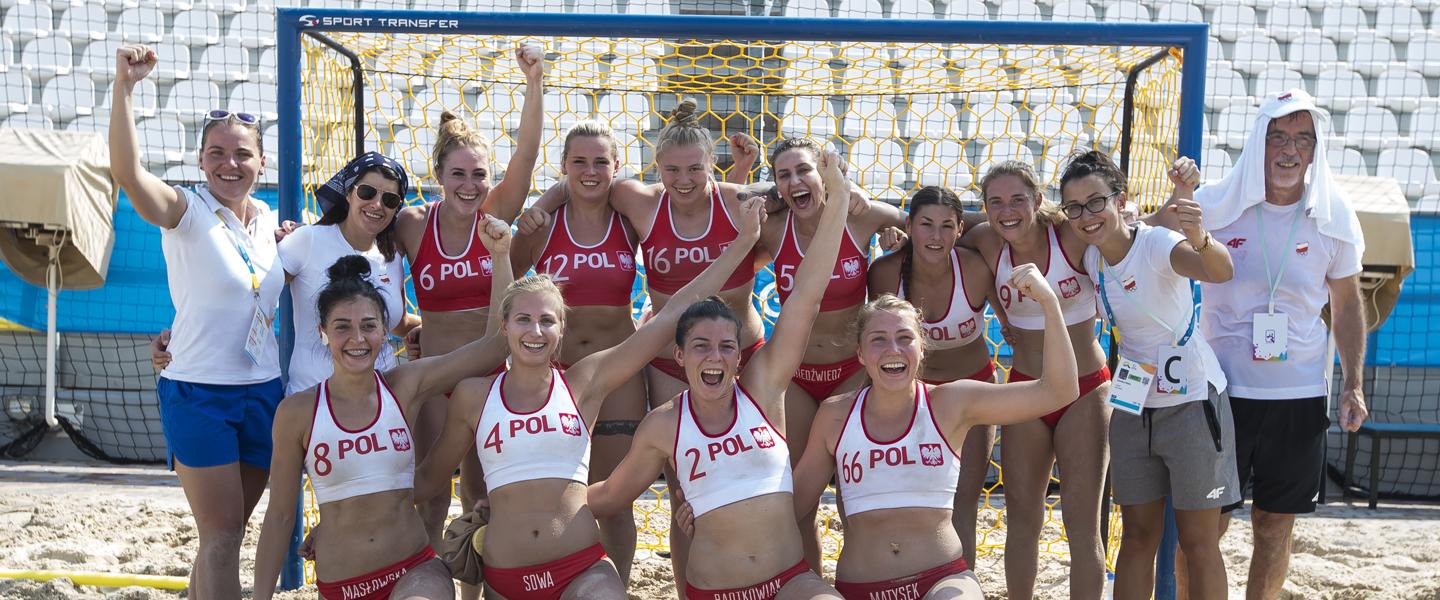 Poland's specialist Paula Mazurek helped guide her side to a quarter-final spot date against Brazil with a do-or-die victory against China in the final match of preliminary group B. 
Both teams had gone into the game knowing a win would see them grab the last qualification place from the group and a loss would see them enter the placement round, and, having lost their previous three matches via shoot-out (vs Vietnam, Spain and Greece), the 28-year-old was relieved at the final whistle.
"We are so happy because we knew that it would be very, very tough game," said Mazurek to IHF.info. "We wanted to win 2-0 because the last three games we lost by shoot-outs so we knew it would be very important to win 2-0. 
"It was also tough because the weather was very hot, but we are very happy because we are playing in the quarter-finals."
Brazil take a perfect record into their last-eight clash with Poland today, having not dropped one period in Qatar 2019, but with her side overcoming the Asian champions and their different style, Mazurek is confident in her team's ability to rise above whatever they face on the sand.
"Beach handball is a very fast sport and we try to play goal-for-goal, but China was a very tough opponent," she said. "They are the Asian champions and they play different handball than us – their passes are very fast, they run very fast, their defence runs very fast and they play fast.
"So, yes, everything is a little bit faster than Europe, so this was a little bit tough for us, but we did enough, had faith and were lucky – it was a very good day."
A second-placed finish at the 2017 EHF Women's European Beach Handball Championship in Zagreb came after Poland lost in the final to Norway, but at the 2018 IHF Women's Beach Handball World Championship they lost out on an automatic qualification place in the 5/6 placement match against Denmark, who would later become 2019 European champions – a tournament in which Poland could only finish 12th, and miss out on Qatar 2019 again.
However, with Norway not taking up their qualification place for Qatar 2019 from Kazan 2018 and Poland the next highest-placed team, they were invited to participate and are taking the opportunity with full force.
"On one side we felt pressure because in Croatia we won a silver medal so we know we can play handball and teams here also know that we are a strong team," she said about her side coming to Qatar as a replacement for Norway and if they had something to prove. "But, yes we are lucky that we are here, and we want to do better than sixth place - place one, of course.
"We know that the pressure is very big, but in every match we try to have fun and try to be happy."
Following the interview, the Poland beach handball delegation travelled to the Embassy of Poland in Qatar to cast their votes in the parliamentary elections being held in the country.