15 Oct. 2019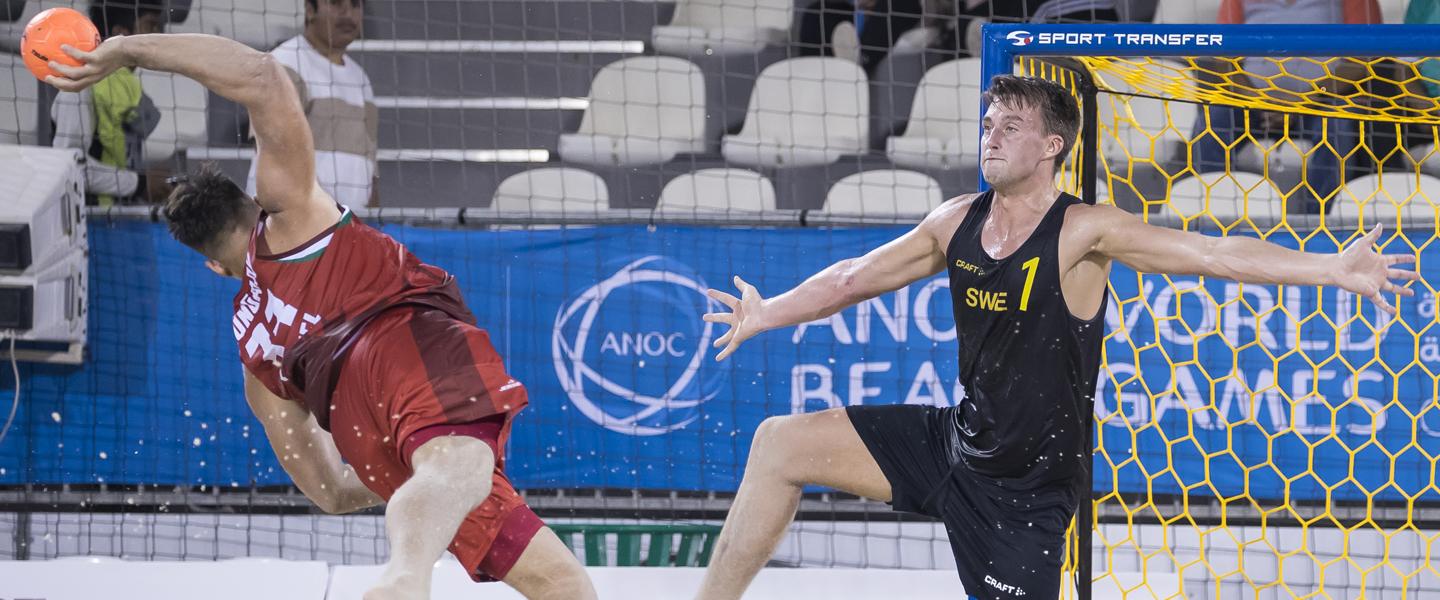 Sweden made it through to the semi-finals of the ANOC World Beach Games – Qatar 2019 yesterday eventually prevailing over Hungary after goalkeeper Johan August Elmberg saved the second and third Hungarian attempts in a shoot-out victory. 
He spoke to IHF.info about the match, studying shooting and their semi-final clash against Spain later today.
IHF.info: What goes through your head when you make a save, or can feel you are about to?
Johan August Elmberg: Actually I am not sure what is going on, I am just focused on what I am supposed to do. I've studied their shots on videos before, so I have an idea of where they like to shoot but, yeah, I don't know what is going on. I am just in the game and trying to act on what I see.
IHF.info: How important is it in beach handball that no matter if you save or they score, both the goalkeeper and attack acknowledge each other after each shot?
Johan August Elmberg: That is one of the best things about beach handball; even if you win or lose it is still fair play and you behave fair to the opponents and they behave fair to you and congratulate you when you win.
IHF.info: The two periods against Hungary were very different for Sweden, what was the difference?
Johan August Elmberg: That's beach handball. I have to admit though that their goalkeeper had a fantastic first half he was amazing, making some really good saves. I believe that we had our opportunities and created really good chances to score but he managed to stop them.
The other period we managed to score them, so I think that was the difference.
IHF.info: You mentioned that you study films of players, have you noticed that as beach handball continues to grow you are able to get more access to footage of more teams and can do more video analysis more?
Johan August Elmberg: You're spot on. As all the teams become better we have to improve in all different ways, and video is one of them. Even though we have played these teams so many times watching videos helps. 
Even if players don't admit it, they have their favourite shots and when the games become as close as this one I guess it's more pressure on the shooter, so they go back to the shots they are comfortable with.
IHF.info: Do you have a favourite type of save then?
Johan August Elmberg: Well, in a game like Hungary it is saves in the shoot-out of course.
IHF.info: You face Spain next who surprised Denmark beating them 2-0 to progress. Up until that point, the Danes had a perfect record and Spain had lost to two European teams already. 
Johan August Elmberg: First of all the result was a great surprise as Denmark have been outstanding since they won the European championship this summer. We watched the game on TV and Spain played very clinical; they played a perfect game.
They are a good team and have been good for many years, so we are prepared for a tough game. As it would have been if had been either of them.
IHF.info: A word on your fans here in the arena and back home, how important are they?
Johan August Elmberg: Our fans are our fifth player on court. They are helping us and as you can see in the shoot-out and the last few minutes of the second period, they were helping us. We really feel that they are hugely important to our team.3.1